Making Social Media Algorithms Work For You In 2022
Social media algorithms are an ongoing mystery and they are changing by the second. But if we can ascertain what makes them tick, it can give us a huge advantage when creating content. In this blog we give you a complete solution for Facebook, Twitter, Instagram and LinkedIn. You can follow the tips, and tricks to create a successful social media strategy for 2022!
Jump to:
First, let's look at some general tips that are applicable for all channels:
Uniform design: On social media, your brand should have good recall value. Apart from your name, your visual representation should be easily identifiable. So, define the logo, the colour theme, font, and other aspects for your brand's creatives. We dedicate a lot of our time as an agency to help brands set up their templates, this makes it easy for the brand to create newer images in the template, and also easy for the audience to recognise which brand the content is from.
Social calendar: Keep a dedicated calendar to track posting. Make sure you populate the calendar with important dates and relevant information. There are two types of content mainly: Hero content, international dates/events, and spontaneous content. You can always pre-plan posts around international dates/events. You can also pre-plan your Hero content, which would involve promotional and informational posts about your brand and its services.
Brand hashtags: Always do detailed research on hashtags, and create a brand hashtag as well. This will make it easier for you to internally find all your posts, and your followers may also get a hang of it, and begin using it to associate posts with your brand's name.
Media-friendly social language: Keep your language simple, and use more bullet points to explain longer concepts. The majority of social media audiences have a shorter attention span, so they may tend to overlook posts that are text-heavy unless it is a topic that deeply interests them.
Avoid misinformation and foul language: This goes without saying that any foul language or misinformation must be avoided. Not only because it is bad for the brand, but the audience will report your page on social media and this may cause your page to either receive low reach or completely be banned.
Paid activity: All platforms require some paid activity. This ensures your content reaches the right audiences and increases your follower base.
Alt text and subtitles: Make sure your images have been described in the alternative text boxes on all channels. Also, ensure that videos have readable subtitles. This makes the content easy for those who have visual and/or audio impairments. To know more about how to add alt text to your content, read our descriptive blog here.
Okay, let's start with Facebook!
Facebook currently has over 1.82 billion daily active users and 2.7 billion monthly active users. Although the organic reach of Facebook has seen a drop. It had a 7.7% organic reach in 2018, which dropped to 5.5% in 2019, which further dropped to 5.2% in 2020. The average engagement on Facebook by the end of 2020 – 0.25%
Facebook has kept working on changing the algorithm quite a few times since it first started. In the initial years, the algorithm changes were a mystery to the users. There were 'hacks' around how to ace the system.
But recently, Facebook released a blog on how their newsfeed algorithm actually works. They have also made a small video to show how content can come on a user's timeline.
Let's take a deep dive to really understand and better apply the algorithm rules.
There is a four-step process through which a post on Facebook is processed. This helps the channel determine which content can work best. Here is a visual by Facebook on the four-step process. We have put a breakdown of the same below.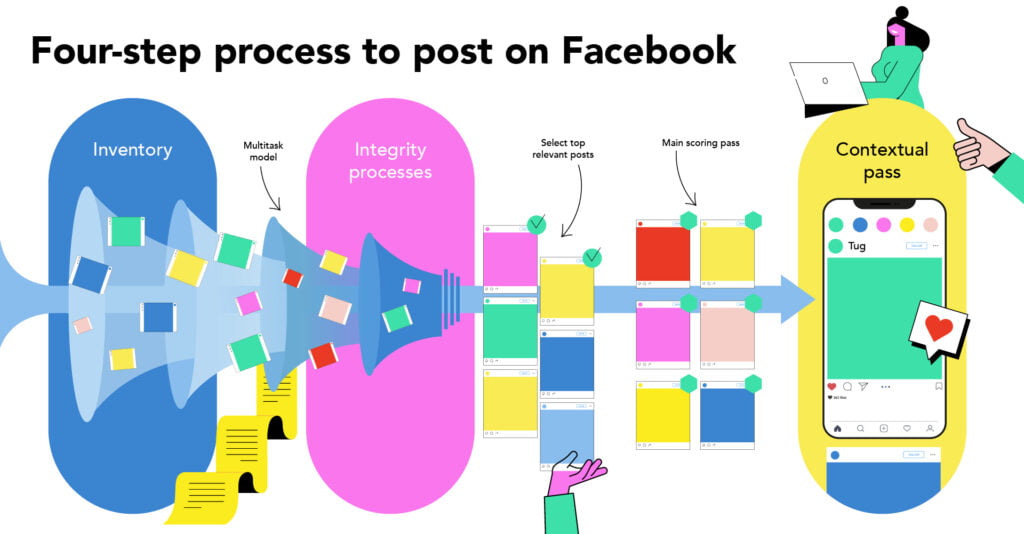 Inventory: This is where all the posts on the platform land. Here the algorithm ranks the posts based on the type of post, date posted, etc. For example, any posts not seen by a user from their previous login are stored in inventory waiting for the user to log in and view it.
Integrity Process: Whenever a user interacts with a post by liking, sharing, and commenting it helps the channel predict whether these posts could be meaningful to the user.
The machine learning tool observes the type of post (photo, video, or a link), people tagged, location, who it is posted by. Signals such as liking the post, sharing the post, watching the video, commenting on the post are given different scores.
When people signal they want to see 'less of something', or flag some content as 'misinformation', or 'spam', that content is demoted from their feed.
Content that is positively interacted with is promoted and pushed on the timeline of the user gets a final score after the process of demotion of unwanted posts. The post with the highest score is where the 'personalisation' begins.
The signals such as share, like, comment on their own do not have any individual ranking. But relative ranking. For example, Person A prefers to comment more than share, and person B prefers to share more than comment. So person A will see posts similar to the ones he has commented on. And person B will see posts similar to what she has shared on her feed.
Finally, the content is made dynamic by ensuring a person's feed has a variety of content to watch like videos, images, link posts etc.
Facebook has the option to share stories, and both pages and individual profiles can use this feature. If your organisation does not have the bandwidth to create individual Facebook stories, we recommend using the Instagram story feature and connecting it with Facebook. This way Instagram stories will be automatically shared on Facebook.
The live video feature will help your audience watch and be reminded of your page as well. Live videos also are an opportunity to interact with your audience and answer their questions live. Sometimes it is best to be a bit candid with the people who follow you and/or your page.
Facebook gives you the option to schedule video premieres. Here you can schedule a regular video as 'premiere' and the channel will send notifications to all your audience twice. The first notification will be well before the premiere, and the second one would be right before the premiere is about to start.
Facebook allows you to test posts to understand their performance. You can test a video, against video posts only. But for images, link posts and text-only posts can be tested in multiple ways. You can also test for different metrics like reactions, link clicks, shares, comments, and reach. We recommend using this feature, irrespective of how huge your following is. This feature will show you what works best for your page and you can always take the learnings and test them as well. This will also help you standardise your content.
Facebook has the option to set up auto-replies for your customers. If you are a service-based company, this feature will help you get in touch with your customers easily. Read our blog to understand how to set up easy communication with an auto-responsive messenger.
On Post 1: Ask users to click on a blog/website link to learn more. On Post 2: Encourage users to share the post on their timeline. On Post 3: Ask users to 'react' to the post with their favourite choice of reaction. On Post 4: Request users to comment on the post with their thoughts or questions.
How will this help? Since different people on the channel use the signals differently, as we saw in the example above, we can ensure that all signals are applied to your posts and maybe receive a better reach. Because you want to target both Person A and Person B. If person A prefers sharing, then they will be encouraged with a sharing CTA, and person B will be encouraged to comment with CTA asking them to comment.
Always make sure you have a variety of CTAs on your post. For example, you have four posts going out this week on the channel. Here is how you can vary the CTAs:
Engage with the audience in the comments. Respond to their comments or like and react to them. This will continue to keep the conversation going on your post and keep it more 'alive'.
Post different types of content. While the channel does like good native videos which encourage and keep the users on the platform, it is important to diversify the brand's voice with image posts, link posts, live videos, and image albums. Also, never forget your Facebook Story. While they do not show on your time, they are on top of the timeline and hover around.
Keep your images and videos clear, with readable text (if any). Also, remember to make your content accessible. Read our blog to know how to add alternative text to images, and subtitles to videos.
Push more Facebook lives. This will encourage users to participate and watch. Schedule them in advance and create teaser posts around the live video session.
Long-form videos: Facebook's audience enjoys long-form video content when they add value. This is also favoured by the channel as it keeps the user on the platform for longer.
For short or long videos, remember to keep the important information in the initial few seconds of the video. Sometimes audiences tend to drop off after the first few seconds. So if you have a call-to-action or a piece of important information to disseminate, then keep it in the initial few seconds.
Encourage users to share your post, especially employees or peers. Personal profiles have higher advocacy value, and post shared by them is more likely to influence their 'circle' of friends to watch your brand's content.
Add a minimal amount of text on images, the channel usually demotes image posts that are text-heavy.
Never post click-bait or any posts which are misleading or misinformed. These posts will be demoted, and your page may receive 'reports' which may make it disappear on major timelines of people.
Also, verify the links you post from. If the website is not credible, then avoid sharing those links.
Never share video content that is plagiarised. This will work against the page and cause it to be demoted.
Facebook also has an option to keep your information transparent. Since Facebook is observing your activity closely, they record bits and pieces of your likes and dislikes. This tool helps you to understand how your activity is being recorded and why does your timeline show so many cat videos instead of dog videos 🙂
LinkedIn was founded in 2003 and today it has more than 20,000 employees.
The channel has over 770 million users from more than 200 countries. This is one of the most popular social media channels, helping job-seekers, businesses, and professionals network and connect more effectively.
The channel was acquired by Microsoft in 2016 for 26.2 billion. And 39% of LinkedIn users pay for LinkedIn Premium.
With more than 55 million companies listed on the site and 14 million open jobs, it's no surprise to find out that 87% of recruiters regularly use LinkedIn.
How does the channel's algorithm work?
LinkedIn's dwell time preference: Like any other social channel, LinkedIn prefers users to spend more time on their platform.
The LinkedIn algorithm prioritises content which allows users to increase their time on the channel. For example, it will prioritise a video post instead of a link post. Most of LinkedIn's revenue comes from ads on the platform. Therefore, it benefits the channel when users keep scrolling through the platform.
If you have interesting links to show to your audience, you can add them to your post with image and video assets. In the post copy, there can be a call-to-action to visit the link. The LinkedIn algorithm can give you data on how to look at link clicks, which will show you how many users did visit your website. Simultaneously the algorithm will not demote your post.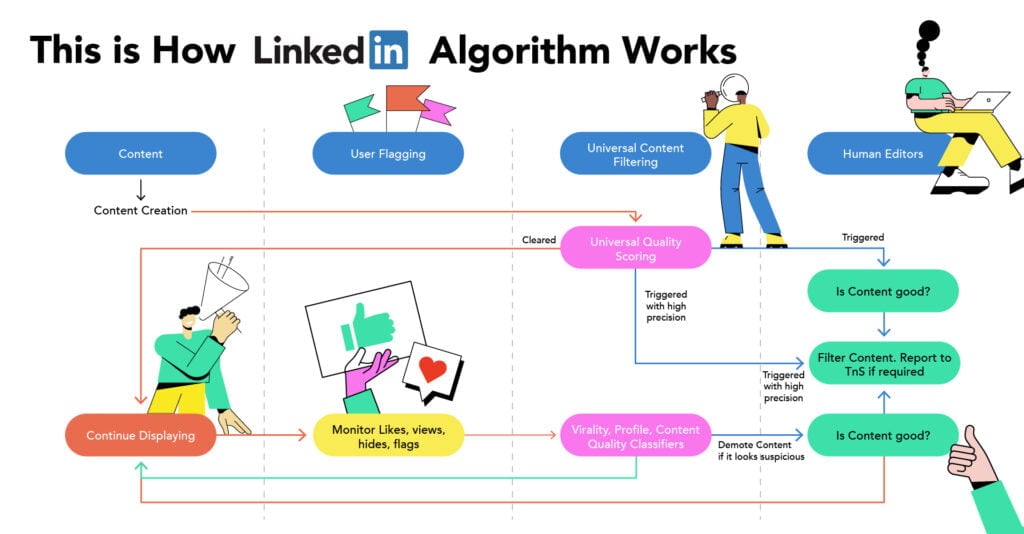 For Pages,
This is the channel where pages and personal profiles and pages, both can post content regularly for increased reach.
For Profiles:
Important to have banners on LinkedIn. Show who you work with, or what you work for. The header should say who you work for.
Make your profile picture pop. And match your audience. Have a statement saying I help x to y to achieve z.
The featured section should have posts you've done. And have videos of you telling your story. Have a customer talking about you – having testimonials will really help.
What are the features you can experiment with?
Polls:
LinkedIn polls perform well and give high engagement. When you post a poll from your page, you understand audience insights, and also help with the reach of your content. Always make sure to add a call-to-action that increases engagement such as asking the audience to comment on any answers which are not listed in the poll. Or for example:
What kind of workspace plan is best? Elaborate your choice in the comments.
> Open
> Close
> A mix of both
> Other (please comment)
PDF carousels:
LinkedIn has a distinct post option feature compared to other platforms called PDF carousel. These have guaranteed to deliver higher engagement. As a business, you can use this feature to post your yearly reports, new brochures about new services or products, or simply a manifesto of your company.
This option can be used by individuals to post their portfolios, and resume. This way they can promote their achievements on the platform.
Events:
Webinars have taken over the world, mostly the professional world. Promoting your events on the LinkedIn event page can help you reach out to relevant businesses and customers. Moreover, you can encourage employees to promote the event, which will reach their circle of influence.
Articles:
LinkedIn also has a feature for users to write long-form articles. Individuals can use it as a knowledge-sharing device to impart their ideas to the audience. These can be used by CEOs to write opinion articles or press releases. Businesses can also promote their own articles on the page. For example, A publishing house can regularly publish small book excerpts that will direct the reader to purchase books published by them.
Bloggers can also use this feature to publish teaser posts of their long blogs and redirect audiences to the website. While LinkedIn, just as other platforms, wants the audience to stay on their own platform – one can always experiment with the features to build a loyal audience base.
Hashtags and mentions: Using hashtags will help you reach the right audience. Always ensure the posts are filled with relevant keywords, hashtags and tag the companies, or people you are speaking about. Even if they don't reshare the post they may engage with it. This will present your post to their audience and thereby increase the overall reach.
Interactive: Whether you are a business page or an individual with an account, we would suggest you keep on interacting with posts of interest. This will help your page, and/or account grow in terms of connections. This will also give you a better chance to understand how others are using the platform in your industry.
Employee-generated content: By now we definitely know the value of user-generated content. LinkedIn has a bonus value, where you can encourage employees to generate content about your company. They can post and this can be reshared. This will create more authenticity and you will have the benefit of having multiple voices talking about your brand.
Language: Simplified language will ensure audiences from all industries understand the content.
Dynamic posting: Mix up your timeline with videos, photos, PDF carousels, and polls. As we have seen above, the channel will show different types of content to different audiences depending on their preference. So make sure you have a little bit for everybody.
Arguments or disputes: Be it a business, or an individual, never ever interact negatively with any profile or page. This could reflect badly. Moreover, the website is for professionals, and many people expect professional behaviour. Always tackle any form of complaints, or problems with a composed response, and catch them early on.
Technical content: If your page or profile only posts technical content, then your audience base might never grow. If you want to expand, deep dive into other topics and trends which could be relevant to your industry. For example, if you are a nanotechnology company, make sure to once in a while talk about other scientific discoveries or celebrate important science-related events. You can also throw in regular polls as quizzes for the audience to engage with.
Incomplete profiles: As a company or an individual, keep your profile complete. The platform regularly gives new features which can describe a bit more about yourself or your brand. Use them as this will prove to be insightful for others.
Instagram ditched chronological order on feeds in 2016. As of 2022, Twitter is the only channel to have an option for a user to go back to chronological feeds. The rest of the big social media platforms do not have that option.
Instagram was released in 2010, as a photo-sharing app. It was acquired by Facebook in 2012 for approximately US$1 billion in cash and stock. This is a popular app, which continues to update itself with new features.
It has also recently become a great platform for brands to start selling their products directly to consumers. We shall look at how the channel classifies your content on the feed, and how a brand can bank upon it.
In 2021, Instagram explained in a blog post the most important signals it looks in order to bring the right content on our feeds:
Information about the post. These are signals both about how popular a post is – think how many people have liked it – and more mundane information about the content itself, like when it was posted, how long it is if it's a video, and what location, if any, was attached to it.
Information about the person who posted. This helps us get a sense of how interesting the person might be to you, and includes signals like how many times people have interacted with that person in the past few weeks.
Your activity. This helps us understand what you might be interested in and includes signals such as how many posts you've liked.
Your history of interacting with someone. This gives us a sense of how interested you are generally in seeing posts from a particular person. An example is whether or not you comment on each other's posts.
While the above was for feed and stories, Instagram had also given information about the Explore page and the important signals for users:
Information about the post. Here we are looking at how popular a post seems to be. These are signals like how many and how quickly other people are liking, commenting, sharing, and saving a post. These signals matter much more in Explore than they do in Feed or in Stories.
Your history of interacting with the person who posted. Most likely the post was shared by someone you've never heard of, but if you have interacted with them that gives us a sense of how interested you might be in what they shared.
Your activity. These are signals like what posts you've liked, saved or commented on and how you've interacted with posts in Explore in the past.
Information about the person who posted. These are signals like how many times people have interacted with that person in the past few weeks, to help find compelling content from a wide array of people.
Instagram is a very user-oriented channel, wherein the user may choose to interact with a brand or may not.
The channel also doesn't prescribe videos over photos, it looks at how the user interacts with content. If user A scrolls past videos, but looks at image carousels, then it will show more of those content on their feed.
For brands, we recommend diversifying content on the platform and posting both videos and image carousels.
Instagram seems to be prioritising reel content on the platform. We recommend posting a weekly reel on the channel to enhance the overall reach of your page. Reels can be fun and also have an audio factor to them. While not everyone may listen to an audio in a video, Reels – which are very similar to TikTok – have an audio factor that the audience seems to love.
While there is no proof that Instagram live increases your reach or engagement, it gives a higher brand recall value. Instagram live will put your profile's thumbnail on top. This helps a brand reach audiences who never interact with the page. It brings them to the forefront and reminds them to see the page.
Instagram live also has the added bonus of interactive factor to it. Audiences can actually interact with the employees, or anyone who is conducting the live. It can help build a stronger relationship with customers if a brand is looking to answer their questions.
Post stories, and make sure you use the interactive stickers. If the audience misses your grid post, there is a higher possibility they will come across your stories. Stories are shown on the top of the feed. Promoting stories will also reach a wider audience.
Stories have many features like 'Question', Polls, Links, and more. Use your stories to gain insights from your audience.
Adding links to Stories could drive traffic to your website.
Polls and Questions options in Stories will give insights into how your audience thinks.
We recommend posting regularly instead of frequently. Consistent posting will help build a stronger audience base. Erratic posting may sometimes lead to a drop in engagement. Consistent posting is a must for any brand.
2. Grid look: One must keep in mind to post visually good content. In the fight for frequency, never ever compromise on the grid's look. The grid should always have a consistent feel to it. Keep the grid colourful and visually bright. Audiences love to see a good grid. Moreover, your grid tells your brand's story. It is the final representation of all your posts.
3. High-quality content: Make sure your images and videos are high quality and high definition. Instagram started out as a photo-sharing app. This app still prioritises posts that have good quality images.
4. Responsive: Engage with your audience on the channel. Engage with positive comments as this will keep the conversation going. Create polls and questions to understand the audience better. For example, in Instagram stories, the question feature can be used to create an ask me anything type of post. Here you have the best opportunity to interact with the audience and understand their needs and demands.
5. Dynamic posting: Post Reels, Stories, Grid post. All the posts have a tendency to reach different audiences. This would increase the scope of reach for all the posts. Posting with more people-oriented images. Instagram has regularly favoured profiles that show faces and humans in images and videos. The platform has not admitted this openly, but this has been a recurring pattern observed by audiences.
Text-heavy images: You can always make images with texts come in a carousel, but make sure you don't populate the grid with text-only images. This is a guaranteed way to lose engagement. If you have regular text images, for example, if you are a news website putting out breaking news, make sure to mix it up with some generic images sourced from agencies. This way your grid won't look very dull.
Inconsistent posting: To get your audience hooked, or habituated to your content, you must create a consistent habit of posting.
Problematic content: Much like Facebook, Instagram downvotes content that is generally foul. We also recommend not engaging with any comments which are harsh. Simply reporting should help.
Landscape images: By now we know that this channel prefers square images. As far as possible avoid posting any landscape images as they will take up lesser space on people's feed, and individuals may scroll past it.
Instagram says it does not shadowban anyone and has regularly put out multiple explanations for individuals being banned. The platform has said it is working through its mistakes. It receives millions of reports a day, and sometimes even a small mistake may lead to thousands of accounts being wrongly affected.
Instagram has also openly stated that most of the followers may not see your content as many don't see half of their feed. Instagram users have their feed populated and not everyone scrolls by everything. That said, with consistent posting we believe that authentic users can be reached out by a brand.
Twitter has come out with its own helpful 2022 Twitter planner which you can use to plan your content ahead of time.
The channel started out as a micro-blogging site – it encouraged users to type out their thoughts in 140 characters. From there, it has now grown to a 280 character platform. That said, the channel is no longer text-oriented. To perform well on Twitter, your brand should create videos, images, and link posts.
The channel has given out #10 resolutions that people must follow to increase their engagement and reach in 2022.
Videos: Post regular video content on Twitter. Twitter in the past has admitted that videos get higher engagement on the channel. We recommend posting shorter clips and preferably redirecting the audience to longer videos on the brand's website.
Photos: Keep your photos square if there is a single image in the tweet. Otherwise post landscape images for image carousels as this may provide a cleaner look for desktop users.
One can always ignore the landscape images completely and use square images for image carousels. But, if your images have any text on them, remember to keep the dimensions in the landscape for carousels. As text tends to get cut off in square image carousels.
Polls: Posting polls increases engagement. Polls also give you a better understanding of your audience preference.
Polls can also help you create intrigue on any future events held by your company.
The channel also has introduced two new features called Spaces and Revue. In 2022, we can see more users being inclined towards these features.
Spaces: This is where live audio conversations happen. They are like podcasts, except they are live and you can join them as a listener. Here speakers can start 'webinars' and anyone is free to join or leave. Once you join you can even make a request to the host to include you in the conversation. Once the space is 'live' it will feature on the top of any user's feed and they can click on it. The users need to be a follower of your Twitter handle and only then can they see the spaces on top of their feed.
This feature is currently still growing, and it seems many users cannot yet listen to a space once it has ended. Spaces can also be promoted in a promoted tweet. This can be done before the Spaces are live, in order to ensure more people are aware of the timings. For B2B brands we recommend keeping an eye out on this feature and using it to host their webinars in audio format on Twitter.
Newsletters: Twitter acquired Revue to make it easy for its users to start free newsletters. With Revue you can compose and schedule newsletters, import email lists, analyze engagement and earn money from paid subscribers.
For brands who do regular newsletters can think about opting in for Revue and using this as a medium to reach out to more loyal audiences.
Visual content: Posting more visual content like videos and photos would help on the channel. Prioritise videos, but photos should also suffice for the times when you don't have any other resources or have an image-oriented post. Link posts should be only when the sole purpose of the tweet is to drive traffic to the website.
Consistent posting: Always remember to be consistent. Just as any channel, inconsistent posting can prove harmful to the brand.
Hashtags: Create brand-relevant hashtags and use them frequently on the channel. In hashtags, it is not the quantity but the quality of hashtags that matter. Keep them a maximum of two to three hashtags per tweet.
Informative bio: Keep your bio informative enough, with a link to a website if possible. The audience should be able to understand what your brand does directly through the bio.
Twitter threads: Keep threads, but make sure you include calls to action in the first tweet. From our extensive research and experience, we have identified that CTAs in the first tweet always perform well in threads, as opposed to keeping the CTA in the last tweet of a thread.
Twitter threads perform very well when they hold longer information. Threads are more recommended for individual accounts. If a thread holds trivia or an excerpt of an article could deliver good results.
Mentions: Tag relevant brands, and individuals in your tweets. This could increase the discoverability of the tweet.
Avoid ignoring queries in mentions. Your brand should be able to answer customers as quickly as possible.
Don't post misinformation, this will get reported on the channel. Always verify facts, especially if the topic is sensitive.
Don't use irrelevant hashtags. For example, if a hashtag related to a news topic is trending, make sure your tweet is relevant. Don't use hashtags simply because they are 'trending'. The audience will be able to see through this and may report such tweets.
Never post without a hashtag. Keep a minimum of one hashtag in your tweet. Tweets without hashtags could receive lower reach.
Don't engage with trolls. Trolls on the channel have a higher reach than you can imagine. Sometimes engaging with them could cause a drop in your own page's reach and engagement.
If you want to learn more about how to maximise the potential of social media algorithms and tweak it to boost your own brand awareness, make sure to get in touch.