What Makes a Standout Programmatic Campaign?
With our session on how to use inspired creative across programmatic campaigns to really engage with audiences fast approaching, what better time to discuss my favourite campaign of all time.
The rollout for Narcos Season 3 is the one campaign that really stands out for me, and is sure to sweep all the awards.
It had it all…
The campaign piggybacked onto moments by connecting to the football transfer deadline day – which had everybody talking. By relating what the team were marketing to a real-life event of widespread interest, they achieved a truly engaging experience. Every footy or Narcos fan in the Tug office was talking about it and I still reference it to this day. It wasn't incredibly creative, but it was truly engaging.
A huge banner across The Guardian Sports section, kept a running tally of the money 'The Cartel' will make by the end of Deadline day. Spoof video interviews with the character of Pablo Escobar in a Sky Sports-style format appeared on Sports Bible. The brains behind the campaign knew where their audience would be, and created a way of ensuring engagement – genius!

They activated audiences across social media and engaged with them as if they were in character. One viewer posted: "anyone know how I could watch season 2 without Netflix? Thanks." To which Netflix replied: "stealing from Pablo is a bad idea." This type of response only created more comments and more hysteria.
How they connected online and offline really took the campaign to the next level. In the following weeks they would use Out of Home to deliver further truly engaging creatives. They transformed the Champs-Elysées avenue advertising columns into giant hourglasses filled with cocaine-resembling white powder, creating a physical count down for fans before the worldwide release. Bus stops that appeared to stockpile cash were seen across major cities. Even fake lines of cocaine appeared in bars and nightclub toilets. They took OOH to a whole new level.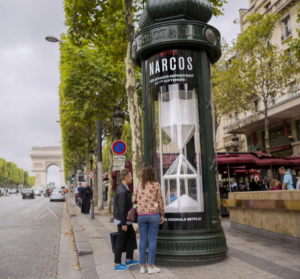 The campaign even teamed up with Babbel to offer UK viewers Spanish lessons, so they didn't have to read the subtitles! Literally no stone was left unturned.
The reason this campaign stands out is how they connected the dots between all the channels where their audiences would be. And due to the widespread popularity of the show, the audiences are everywhere!
Hats off to Netflix, I think I enjoyed the campaign more than the show!
If you want to understand how you can be behind the next campaign that has everybody talking, join us on 19th of October. Details of the event can be found here:
https://www.eventbrite.co.uk/e/display-day-bringing-back-the-magic-tickets-38034564406