Where's Google's SERP Heading?
January 2016 marked the 20th anniversary of the launch of Larry Page's and Sergey Brin's Stanford research project named "BackRub", which was later named Google and officially incorporated in September 1998. Over 17 years after we see what people call the Mega-SERP, a search results page packed with images, knowledge graphs, local results, news content, social media snippets & much more. With all of these possibilities, what's next for the search giant?
A Shift in Focus
Let's have a look at Google's main objective and how this has shifted focus over the past years.
Google's founders state on their official website:
"Google's mission is to organise the world's information and make it universally accessible and useful."
This basically translates into: whatever you search for, Google's trying to get you to the website that is most relevant, most authoritative and most likely to answer your question.
Local search, maps, universal search and Google Suggest all contributed to get users the results they were after and find them the most relevant websites for their queries.
What we have seen in the past years, however, is a shift from the above to Google taking more ownership of a user's journey from question to answer and actually answering their questions within their own SERP by pulling data from Wikipedia and other websites.
Enter rich snippets, answer boxes, carousel and knowledge graph. These features made it possible for users to retrieve answers to their questions directly in the SERP without having to click through to an actual website.
Google is even using their own search data to provide users with additional insights. A recently added feature to the knowledge graph, called "popular times," gives users insight into when a place is busiest: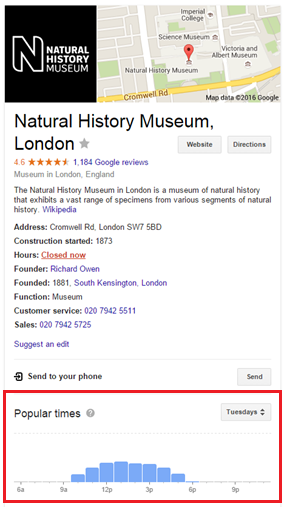 The steady rise of in-SERP conversions
Since the end of 2015 we can see an increase in another area: in-SERP conversions. As the name suggests, these are conversions facilitated in the SERPs, allowing the user to directly complete the purchase journey within the SERP without having to click through to a specific website.
Below shows an example of a call-only campaign, facilitating users to call a company directly from the SERP instead of having to click through to the website: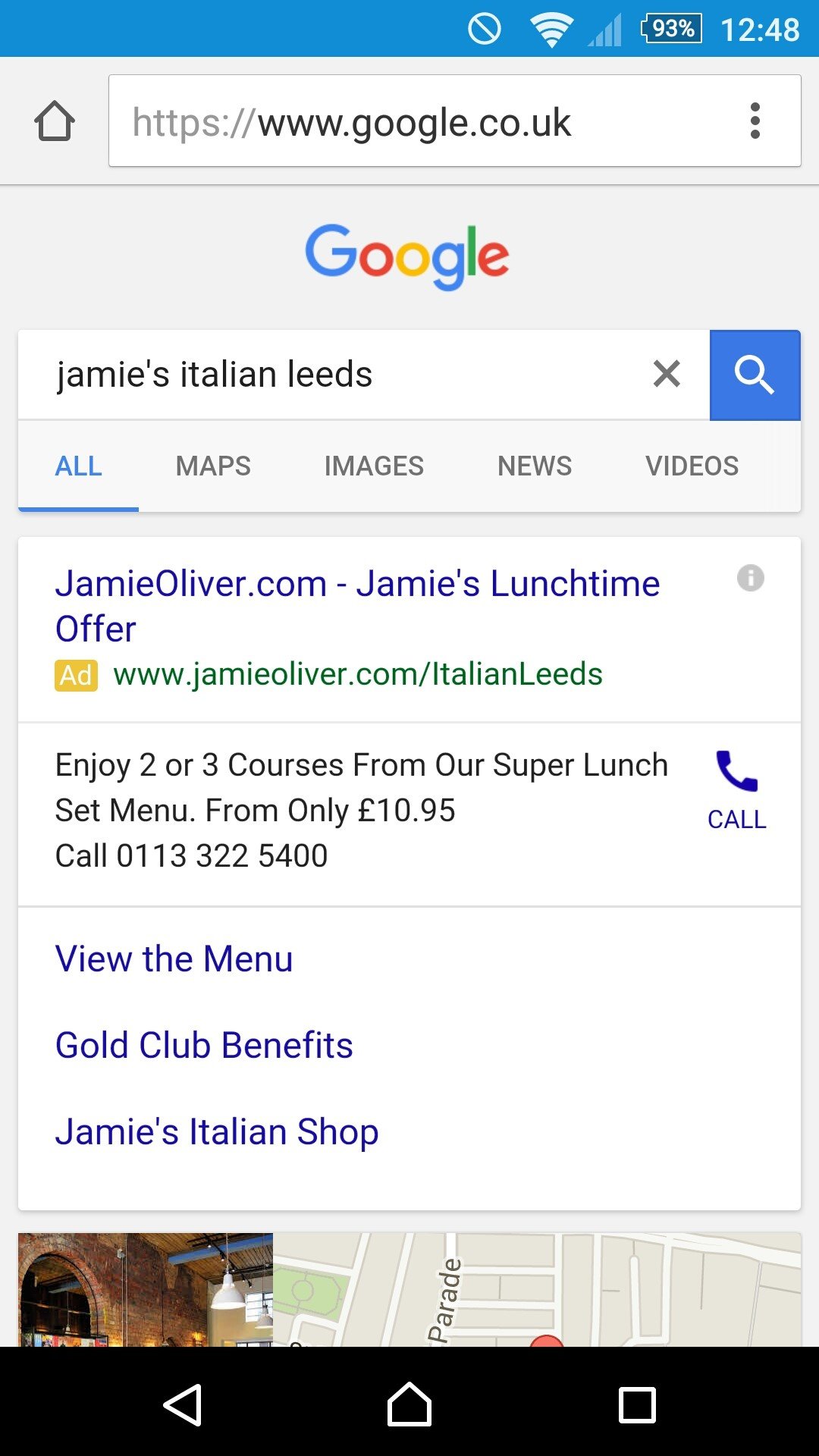 In addition to this, we have also seen click-to-call campaigns, another example of Google enabling users to convert in the SERP directly.
Another example of in-SERP conversions is Google's 'Book an appointment' function with the knowledge graph panel: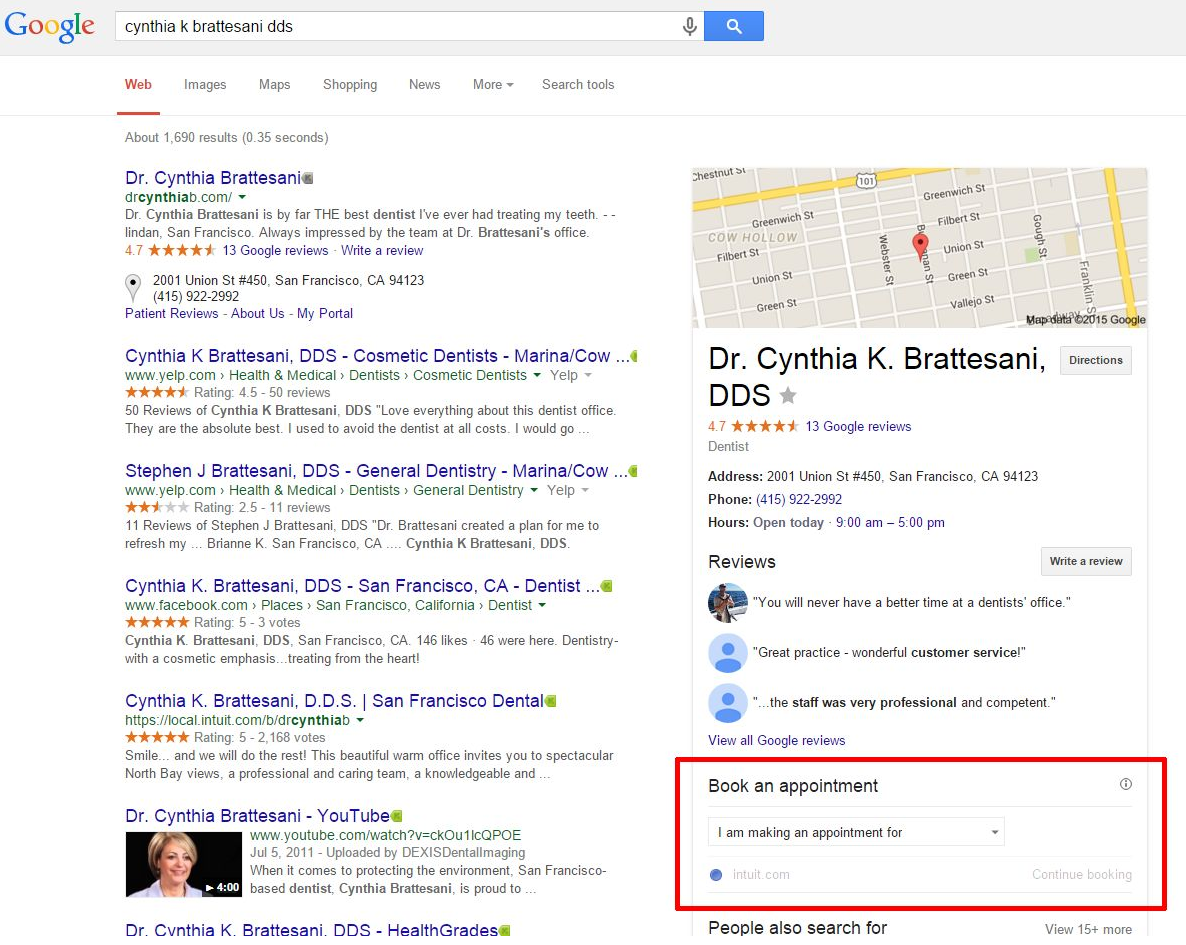 Source: Searchengineland.com
This new feature is what Google calls 'Place Actions' and "enables users to place orders, make appointments and complete reservations." It aims to provide users with the opportunity to engage directly with local businesses by deep-linking them to provider web landing pages or apps to complete their action with the business.
This is a great accomplishment in terms of user experience as it cuts out unnecessary steps in the purchase cycle – users don't have to navigate through a website to get to the page they are looking for; the desired page is presented in Google's SERP instead.
This, however, has potential disadvantages for the organic performance of websites. Naturally, organic traffic to a website is likely to decrease as a result of users clicking on deep links within the knowledge graph panel. Additionally, it becomes more and more difficult to analyse customer behaviour and track a user's steps from awareness to purchase.
It becomes an even bigger problem when the deep link provided in the knowledge graph panel doesn't link to the desired website but a 3rd party provider, as in the example of Pizza Express: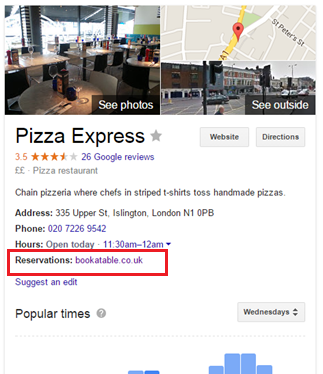 Instead of landing on Pizza Express' website and making a booking there, users are directed to Book a Table's website to complete the booking.
Again, this could have considerable disadvantage for Pizza Express: the business might experience issues retrieving data about the user's journey and tracking how visitors ended up making a booking.
TechCrunch last year reported on a new feature Google is currently testing with a selected number of retailers in the US called Purchases on Google: users with the intent to buy a product are taken from search to checkout to placing an order in 3 clicks.

To increase mobile conversions for their business, retailers will have to opt in to Purchases on Google. While Google hosts the product page and provides purchase protection for customers, retailers own the customer communication.
Where's Google Heading With All This & What Does This Mean for Organic Search?
We established that Google is taking more and more ownership of the customer journey, from search to purchase. Time to ask ourselves why?
Alan Coleman at MOZ suggests that Google is trying to safeguard their position as our gateway to the web. It does make sense: mobile has now officially overtaken desktop search, and we are steadily moving towards an app ecosystem. In short: Google is on a decline…
The above developments describe logical steps in order to stay in the game and – to go back to Google's original mission statement – provide users with the most relevant and useful information there is.
While this obviously benefits websites in terms of user experience, the main downside is that websites might see declines in organic traffic and experience difficulties tracking the entire customer journey. However, features such as Place Actions or Purchases on Google may initially be interesting to users who already know what they are after prior to buying. People who use Google to perform informational searches may still end up visiting a business's website prior to deciding to purchase.
Almost a year ago 'Mobilegeddon' kept the digital world on their feet as Google decided to hand out penalties to websites not being deemed as mobile-friendly, and just a few months ago, Google's John Mueller hinted that structured data mark-up might well become a ranking signal.
These developments and the ones described above prove once more how fast Google is moving and evolving on a continual basis, meaning search marketers as well as business owners have to stay on top of the game by embracing new features in order to maximise their conversions.