Using HubSpot As A Contact Database
Having access to a database of contacts that your agency has previously worked with is an extremely valuable asset when it comes to outreaching for SEO.
Being able to easily look up bloggers or journalists that someone has previously formed a relationship with can save valuable time when it comes to outreaching. We've been using HubSpot, an inbound marketing and sales platform, as our tool for creating a database of useful contacts.
Here are the benefits of using HubSpot:
Contact Information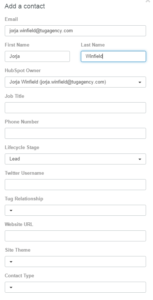 When adding contacts into HubSpot, the tool is particularly good for allowing you to include lots of information that's useful when assessing whether a contact meets the criteria for the campaign you're working on. It allows you to add in their site's URL, Twitter handle, website category and the status of the contact to name a few. You can also easily bulk import contacts, which is a major time saver.
Searching For Contacts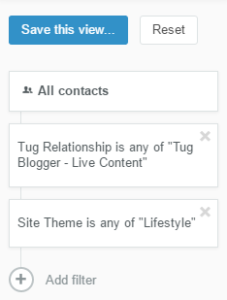 Once you have your contacts in the database, HubSpot makes it extremely easy to search through them to find the kind of site you are looking for. It allows you to search for specific types of contacts by adding multiple filters, for example: lifestyle blogs that you already have live content with (pictured above). It's also easy to add in or edit your own columns to contacts to suit your agency's needs.
Keeping A Record

Knowing what previous contact someone has had with a blogger is particularly handy when it comes to outreach, as you can get an idea of what that person is like to work with. HubSpot is really good for this as it allows you to leave detailed notes about a contact, as well as including links to previous live content and attaching any necessary documents.
Email Tracking
HubSpot also has a feature that allows you to keep track of the emails you are sending out to contacts. The add on, called Sidekick, is easy to download and synchronizes your email to HubSpot – meaning you can send emails from inside the tool itself – adding the thread onto your contacts's notes as a record. This feature means that you are able to see when and where a contact has opened your email and how many times.
Sidekick is a really useful tool when it comes to outreaching techniques. By being able to see which of your sent emails have been opened but not replied to can give you some insight into whether the wording or angle of your email needs adjusting to receive more responses. This is the same for viewing your emails that have not been opened – which suggests you may need to rethink the email subject to something more appealing or intriguing.

Conclusion
Overall, HubSpot is an extremely easy tool to get to grips with. Being able to add detailed notes and information about contacts is a great benefit when it comes to searching for bloggers we have previously worked with. The email tracker is a particularly useful tool for learning what works and what doesn't when it comes to outreach techniques – although a pop up every time someone opens you're email means you're in for a lot of notifications!
Struggling with outreaching people? Here are 6 tips from bloggers for better outreach.
Also check out Tug's 2017 digital PR & outreach trends.