AWR Cloud: Advanced Web Ranking Software Review
Effective SEO tools make it easy to gain insights into your website's performance and identify opportunities for improvement.
Tools can allow for huge amounts of data to be distilled into an easily digestible format, saving potentially hours of time in analysing things like fluctuations in traffic and user behaviour.
Today I'm going to share a review of a tool we've been testing here at Tug – Advanced Web Ranking Cloud. We have used the desktop version of the tool in the past and were keen to test out the new Cloud edition to see how browser-based rank management stacks up.
AWR Cloud is a robust tool for managing, tracking and reporting keyword rankings on major search engines. In addition to tracking keyword rankings, it has tools for competition research, keyword research and technical website audits.
What I really want from an all-in-one SEO tool is the ability to get a quick overview of important data for my client's website, along with the ability to drill down into specific subsets of that data. AWR Cloud aims to provide all this.
Having tested the tool, here are some of my favourite features:
1. Snapshot of Visibility
Having quick access to a snapshot view of my client's visibility is an extremely useful thing to have. I love how AWR Cloud can give me a quick summary view of a website's overall keyword visibility. Not only does this include an overall score, but also displays data such as the number of keywords in the top 2/5/10 search positions, average rankings, net gain/loss and estimated visits: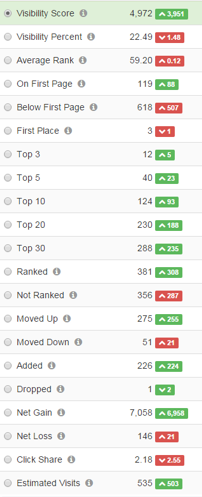 After using this is a starting point, I can then drill down in subsets of data. So for example, I can see exactly which keywords have moved into the Top 3 positions with just one click. This is very useful for investigating things like changes in organic traffic levels. By drilling down into data subsets, I can begin to understand if particular keyword sets have gained or lost visibility which has correlated with organic traffic changes for example.
2. Keyword Groups
AWR Cloud has a very good keyword grouping feature. It allows for tags to be applied to keywords so they can be analysed as a keyword set. This is great when targeting multiple keyword themes and landing pages. If I want a quick view of how a particular keyword group is ranking for one of my clients' websites, AWR Cloud gives me this information in a very easy to digest format. It also displays vital user metrics for each group so I can compare their performance against each other and previous dates.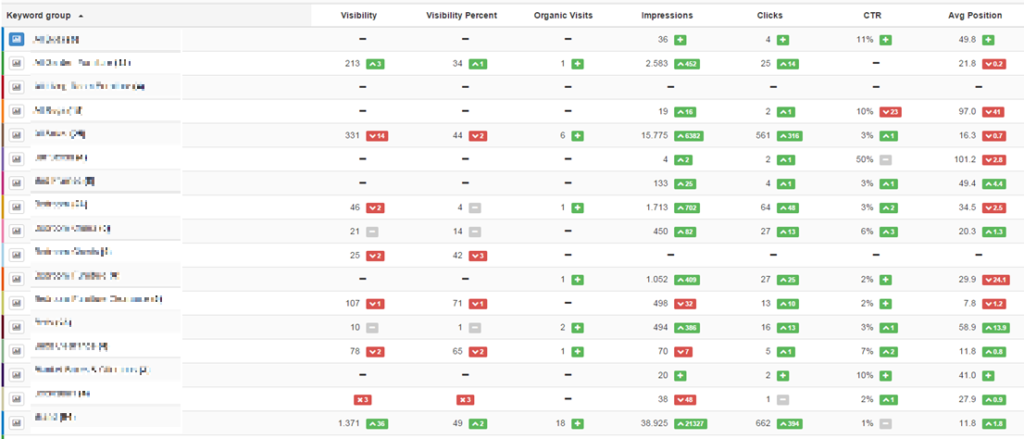 3. CTR Analysis
AWR Cloud integrates easily with Google Analytics and Google Search Console. It does a great job of presenting data from these platforms in a simple format which is more user-friendly than Google's tools themselves. Their Analytics module allows me to view impressions and click-through data for keywords side-by-side.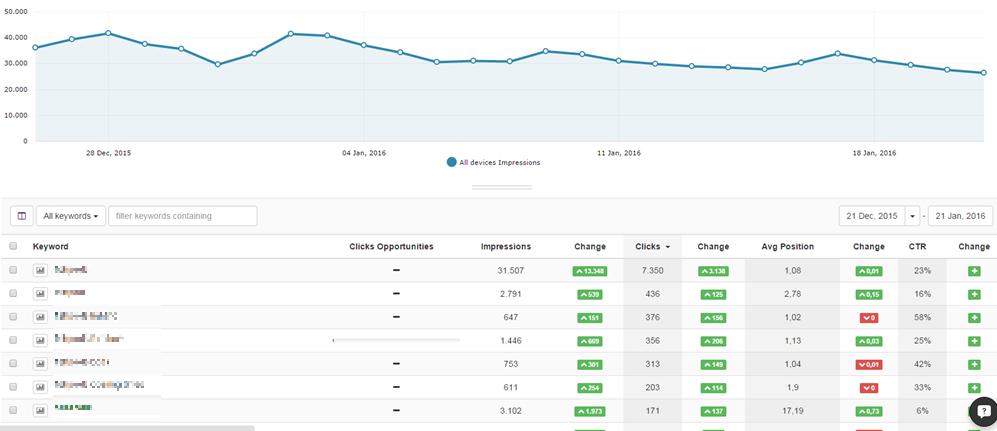 AWR Cloud makes it easy to quickly view the rate of change with its clear red and green arrows, with the ability to customise the date ranges.
4. Links
Two tools we use extensively here at Tug for analysing a website's external links are Open Site Explorer and Majestic SEO.
AWR Cloud is great at pulling information from these tools and displaying it in a simple and user-friendly view. In AWR Cloud, I can quickly see how the number of links to my site has grown or decreased over time, and I can see which landing pages are attracting the most links. This can help me easily identify which content on my client's site is attracting links and I can try and replicate this in future.
5. Visibility vs Traffic
Another great snapshot view of data I can get from AWR Cloud is whether changes in visibility correlate with changes in traffic. AWR Cloud's Visits Evolution graph plots its visibility score against changes in traffic for all traffic sources. Now I can quickly see how visibility changes correlate with traffic changes, as well as other metrics such as revenue, transactions and conversation rates.

AWR Cloud can present all the above information in customisable reports which can be exported within seconds. Its ability to give an overview of important data with the option of drilling down further into subsets of that data make it a very handy tool when beginning traffic analysis. I also find it one of the most user-friendly tools I have used.
Limitations
There are some aspects of the tool that have left me frustrated at times:
Inaccuracy of Ranking Results – On some occasions when manually checking the ranking data provided by AWR Cloud, I have seen big inaccuracies. In some instances, AWR Cloud has reported several keywords to be ranking on the first page of Google which in reality were nowhere to be seen at all. This ends up in a manual keyword data refresh being needed, which uses up credits.
Delays in Ranking Data – On some occasions when I have requested a keyword data refresh (which should take 24 hours) I have had to wait several more days for the refresh to complete. Very frustrating when you want up-to-date data ASAP.
Keyword Mapping – I mentioned keyword grouping above as a feature I like, however, there is no ability to map these groups to landing pages. It is possible to view the ranking for particular landing pages through filtered searches, but configuring this through keyword groups would be much more convenient.
Lacks Annotations – AWR Cloud allows for notes to be recorded in your account settings, but a feature I'd like to see is to have these notes annotated on a timeline similar to Google Analytics.
The SEO analysis possibilities with AWR Cloud are not as in-depth as other tools I have used, however its' excellent user interface, speed and reporting functions make it a very convenient tool to have in the chest.
Read more about our insight into Advanced Web Ranking.
You may find out more in Advanced Wed Ranking Cloud.