New Instagram update! How to get Instagram's chronological feed?
Instagram has finally rolled out a chronological order option on its platform. Much like Twitter, you can now control how the feed is designed for you. In the past, many users have complained about how the algorithm dictated your feed. People have become 'hooked' to the app because the algorithm kept plugging in content that was 'designed' for them to keep scrolling.
Recently the feed has also started adding in 'suggested content' which would be from people your account does not necessarily follow. This has made the feed look even more 'addictive'. This new feature, therefore, is a welcome change to the app. It is much awaited by users who genuinely want to declutter their feed.
How to change Instagram feed back to chronological?
Tap on the word 'Instagram' on top of your feed – just above the stories icons. There will be a drop-down menu that will show two options: Following and Favourites. You can choose 'following' for a chronological feed. Alternatively, you can choose favourites to see your top favourite channel. This is also a relatively new feature on the platform. You can add up to 50 accounts to the favourites list.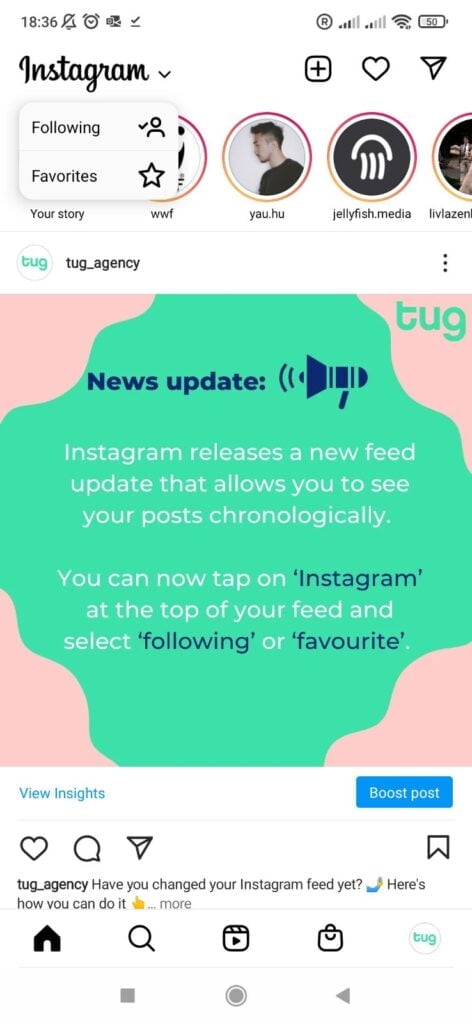 What does this mean for marketers?
It means that they have to become more consistent with regard to posting.
Will increasing your posting frequency help? Not necessarily. Unlike Twitter, the Instagram feed might dismiss people and pages who post too much. Individuals may unfollow pages and people who clutter their chronological timeline.
But, if you have been posting only a couple of times a week – you can amplify it to one post per two days and test overall performance.
Overall, this is a great new addition to give more power to the audience on what they wish to see on their feed.
Are you excited about this feature? Follow us on Instagram to get more updates on the world of Digital Marketing. And we promise to never clutter your feed.