3 TOP TIPS FOR GROWING YOUR AFFILIATE MARKETING NETWORK
3 Top Tips For Growing Your Affiliate Marketing Network
Over the past 10 years affiliate marketing has evolved within the digital ecosystem, graduating from a once voucher-dominated industry, and becoming an increasingly effective medium for brands to promote their products to the right audiences, at scale.
Given this recent evolution, it comes as no surprise that the popularity of affiliate marketing is increasing amongst advertisers and publishers alike. In fact according to the latest Awin report, an estimated $1.2 billion was spent on affiliate marketing in the UK alone in 2020, with a further $8.5 billion spent in the U.S. These figures are only projected to grow further in 2021.
So, what is affiliate marketing?
Affiliate marketing is a form of performance-based marketing whereby a 3rd party publisher earns commission for promoting products and services on behalf of an advertiser, or merchant.
Affiliate partners can be renumerated in a number of ways, including 'pay per sale', 'pay per lead', or 'pay per click', dependant on the agreement in place with the advertiser.
Anyone with an internet connection can become an affiliate, and it is this accessibility that has contributed to the rapid growth of the industry throughout the 2010s. Not only does affiliate marketing offer the opportunity for publishers of all sizes to make passive income through promoting brands they love, but it also presents the brands themselves with a cost-effective method of selling their products.
In 2016, a Forrester Consulting report commissioned by Rakuten Affiliate Network identified that 81% of advertisers, and 84% of publishers in the U.S. use affiliates as part of their overall marketing mix. Awin also cited a growth of 8.4% in the UK affiliate industry back in May 2020, once again highlighting its ever-increasing popularity in the digital world.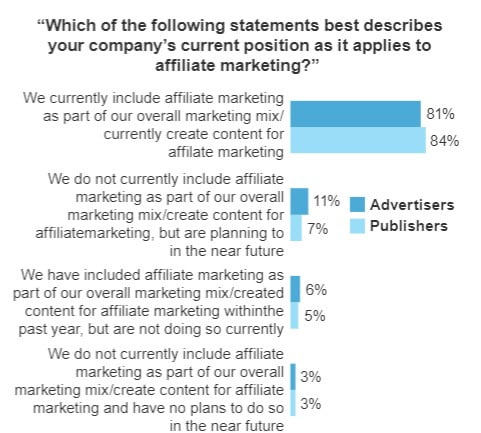 Source: Forrester
As the affiliate space continues to grow and evolve, running an affiliate programme has become more sophisticated, and subsequently the need for consistent management and optimisation has increased. Simply developing a programme is not enough, you also need a well-thought-out strategy. With this in mind, we have put together some top tips to help you effectively manage your affiliate programme and grow its revenue potential.
1 – Understand your niche
To allow your affiliate partners to put your brand's best foot forward, it is essential for you to first define who you are as a business and communicate that with them. If your affiliates don't know what you stand for, it makes building brand affinity very difficult.
Simple tactics such as communicating your brand values, your product USPs, and benchmarking against your competitors will prove to be invaluable to your affiliates when it comes to promoting.
Why not try carrying out a SWOT analysis? Identifying your strengths and understanding the threats to your business will also help to define how you would like your affiliates to promote your brand.
2 – Selecting the right publishers
There is a plethora of publisher types you can work with when building out your affiliate network. From Cashbacks, Discount, and Loyalty sites, to big publishing houses and small-time bloggers, there will always be a perfect fit for your brand. However, it is important to not rush your affiliate partner onboarding – this should be a carefully considered process.
When looking for new publishers to add to your network there is one key question you need to ask yourself – "Is this the right traffic source for me?"
Having defined your business niche, you will have a good idea of which consumers and demographics you want be visible to. Arranging a meeting or a phone call with a potential publisher to discuss and understand who their core audiences are will give you a clear indication as to whether they are right for your business.
Top tip: Handy tools such as Publisher Discovery can help when researching who you want to get in touch with!
3 – Communication is key
Perhaps one of the most important tactics you can employ when managing your affiliate network is simply communication. Behind it all, your affiliate partners are people.
Monthly newsletters containing product, business, and pricing updates are a minimum requirement to keep your publishers updated and informed, but don't stop there! Get to know your partners by picking up the phone, hold team huddles, and develop an onboarding journey for new publishers such as welcome packs and introductory video chats.
Keep your communications streamlined and simple, but above all else, personalise them! Getting to know your affiliates and understanding what they care about is the best way of keeping them engaged with your brand.
Top tip: Consider improving your tech stack to allow for more automation when it comes to weekly and monthly updates. This will free up more time for one-to-one conversations.
Deep rooted misconceptions about affiliate marketing, discount-led promotions, and the "race to the bottom" will persist, however the numbers over the past 10 years speak for themselves – this is an industry that continues to grow, and can play a key part in your marketing mix. There are no shortcuts, a good affiliate programme requires consistency and time – however through carefully curating your strategy, and building strong relationships with your partners, the results will speak for themselves.