Branded vs. unbranded content
It's happened to most content marketers. You create a content piece and attempt to outreach it only to be met with rejection and payment requests for placement.
There are usually a number of reasons as to why your content has not managed to succeed with outreach. It could be the timing, lack of a connection with the journalist, the manner in which it was sold in, a wrong choice of audience, a lack of wide appeal or even the way the content is branded.
Branded and unbranded content – what's the difference?
Branded content is clearly about your company, and is usually promotional or advertorial. Unbranded content isn't specifically about your company but is relevant to your industry or product in some way.
When it comes to branded and unbranded content in SEO outreach, branded outreach content could be a press release, while unbranded outreach content might be an infographic showing data relevant to your industry.
Blatant advertising
Branded content is often considered a pitfall when it comes to content marketing. Creating a piece that has been branded heavily can limit outreach potential. This is mainly down to the fact that most sites and publications view branded content as 'advertorial' or advertising, thus requiring, in their minds, payment for placement.
Most sites and blogs also have a very engaged audience and can monetize on this opportunity when working with other businesses. They are therefore more likely to request payment in order to feature branded content as they understand the value of the link that will direct traffic or brand awareness when being featured on their site.
Branded content can also be seen as product-driven, and is therefore less likely to be used by journalists or bloggers for referencing within their own content.
Successful unbranded content
So what does unbranded content look like? Minimal branded content that drives engagement (both organically and through proactive outreach) is usually expert-led, engaging, topical and most importantly, informative.
Good content will always strive to create a conversation, identify and solve problems and engage audiences.
Create a conversation
Online clothing start-up Wren tackled one of the most common marketing hurdles: creating a conversational piece on a low budget. However, they managed to pull it off (no pun intended).
They decided to create a short film called First Kiss, where 20 strangers got together to kiss one another for the first time. The film cost only $1,500 accumulating 110 million YouTube views, with over 1.1 million shares across Buzzfeed. The film saw a significant amount of media success too with coverage from The Guardian, the New York Times and CNN.
The reason the film worked so well was simply that the content you saw was what you got. It was all about the awkward first kiss, and less so about the actual clothing brand, even though the clothing featured in the film and a brief production title "Wren presents" at the beginning.
So did the film work in terms of a return on investment? Yes. And it worked very well.
1,400 percent increase in sales
15,000 percent increase in traffic
96 percent first-time visitors
Identify and discuss problems
Blinds specialist Hillarys set out to determine the effects of sleep loss and why many have issues with getting the recommended eight hours of sleep per night. Armed with research and data from the Sleep Foundation as well as unique research using survey data, it created the Lost Sleep Calculator where the user enters in their average hours of sleep per night and age to find out how much sleep they would lose on average every week, month year and lifetime.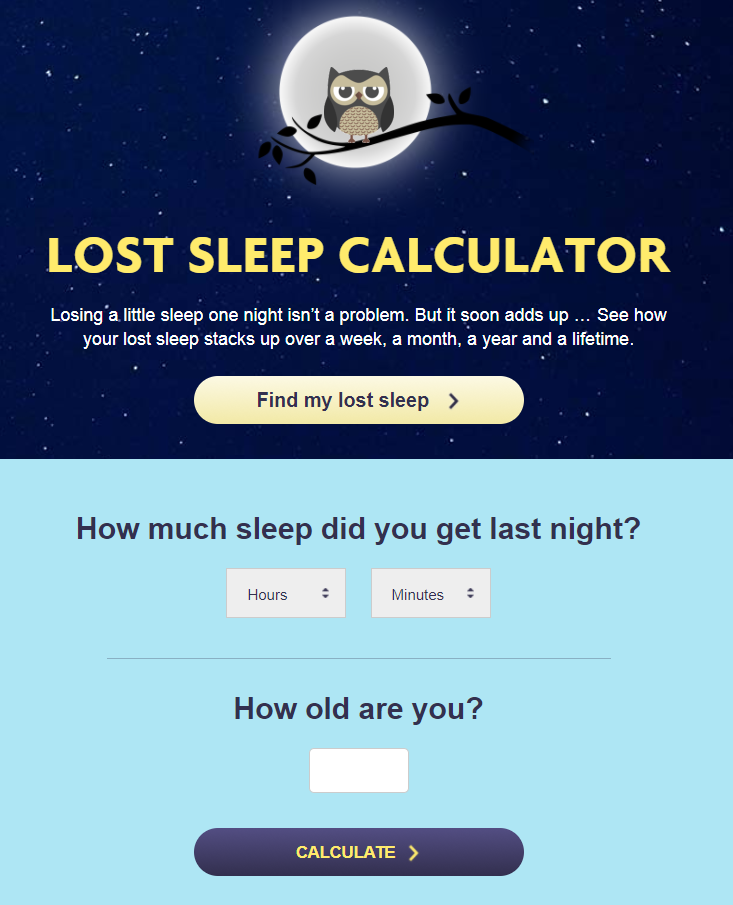 The tool was a success, by identifying and highlighting the issues around sleep loss, the tool garnered over 40 links and 500 shares across Facebook, Twitter and LinkedIn and all with minimal branding.
Engage your audience
Great content doesn't always have to be created online. Scandinavian voluntary missions board Frivillig created an emotional digital out of home campaign in Oslo.
The volunteer site designed the campaign to encourage people to spend time talking to lonely and isolated senior citizens through a webcam and screen set-up within a JC Decaux-managed transit shelter. It engaged commuters waiting at the bus shelter by striking up a conversation between them and the senior citizen live through the screen. While they talk and engage with the senior citizen, a coffee is poured, with the dispenser synced with the video-cam feed showing the man pouring. It truly is a unique and engaging campaign.
The campaign has accumulated over 5,000 views on YouTube receiving mentions from advertising press for its encouraging message and individuality.
Making unbranded content work
As more and more brands shift towards unbranded strategies we see a new and subtle take on creating brand awareness. This shift has allowed brands to connect with consumers on a new level, attempting to inform, speak to and engage with them.
When conceptualising a content campaign, take some time to consider the following:
Does it focus on the product too much?
How will the content create a conversation?
Will it add value to the viewer's life?
Is it informative?
Unbranded content should always try to place an emphasis on the content itself, the message and the audience.