5 Things To Check When Importing Google Ads Campaigns Into Microsoft Ads (Previously Named Bing Ads)
If you are already using Google Ads then importing your campaigns into Microsoft Ads (previously named Bing Ads) is a quick and effective way to increase your reach and potential to succeed in meeting your KPIs. The ability to import Google Ads campaigns into Microsoft Ads is one of the biggest advantages of the platform and Microsoft Ads have made it very easy to do so, however, there are some things that you need to watch out for and take into consideration when importing.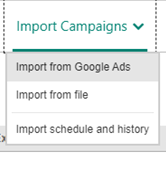 1. Audience Targeting
In order to bring in your "in-market" audiences from Google, you will need to follow a couple of additional steps when using the import from Google wizard:
What to import > Updates to existing items > Unhide advanced options > tick box for audiences in order to import in-market audiences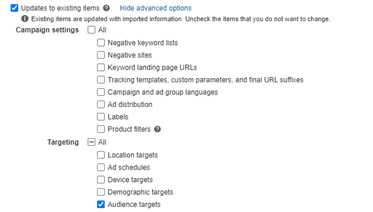 2. Be aware that the minimum CPC bid is higher in Microsoft Ads
In Google Ads, the lowest CPC bid is whatever the lowest denomination of the currency is – for example, £0.01 or $0.01, however, in Microsoft Ads, the minimum CPC bid is £0.05 and $0.05. It's something to be aware of but not to be afraid of as normally, I see lower CPAs (Cost per Acquisition) via Microsoft Ads.
3. Reduce campaign budgets to match overall investment
It's likely that the budget that you'll be allocating to Microsoft campaigns will be lower than Google Ads campaigns, so make sure that you change this when importing. There is a function to do this included in the import wizard, I recommend reducing campaign budgets by -50%:

4. Find and replace tracking templates
If you are using UTM tracking for Google Analytics (or other analytics platforms), then be sure to change the tracking to match the new source. There is a find and replace feature to do this easily in the Import from Google Ads step-by-step wizard: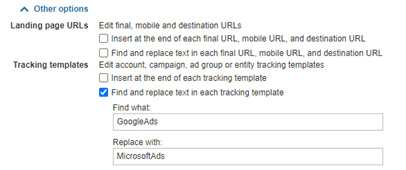 5. Locations targeting changes to highest if Microsoft Ads doesn't support it
Another thing that I always check when importing campaigns into Microsoft Ads is location targeting – as an exec, I had an issue whilst setting up campaigns which has kept me on my toes ever since! Please be careful and do some sense checking of locations, especially for any campaigns that target lower than city level. Microsoft Ads has improved their location targeting abilities; they now support postcodes in the UK (which is in line with Google Ads) and have included an option to "Do not expand unsupported location targets", so there are a lot fewer issues now.

Good luck importing your Google Ads campaigns into Microsoft Ads and let Tug know if you would like any help!