Brands & #BlackLivesMatter – how companies have navigated a shift in culture
Black Lives Matter is an incredibly important conversation playing out in social media at the moment, one that brands feel compelled to enter into. Which brands have done this thoughtfully and which have stumbled? I consider three companies' responses to #BLM and what we can learn from them.
Between March and May 2020 we have gone from being completely consumed by news of the rapidly spreading coronavirus crisis to being caught up in a wave of anger and protest after we witnessed George Floyd killed by a police officer on the streets of Minneapolis. That anger has now turned to a wider re-examination of much of the fabric of our society – unearthing the racism which exists in the structures – physical and intangible – around us.
Many brands have had to react to this movement. Our news feeds, newspapers and TV screens have been completely overtaken by BLM, mirroring the protests taking over our streets. And consumers have often demanded that their favourite brands take a stand either way.
Entering this sensitive and emotional conversation is fraught with difficulty for brands. Consumers want their brands to be activists. In a 2018 study 63% of global consumers said they want to purchase from purpose-driven brands. But people are increasingly aware of brands paying lip service to popular movements on social media without following up with real-world action.
I have looked at three brand responses to the BLM movement and considered what we can learn from them:
Wendy's: Making promises they haven't kept
There has been some anger directed at American fast food restaurant Wendy's for a tweet they posted on 4th June stating that they would be using their platform to amplify black voices: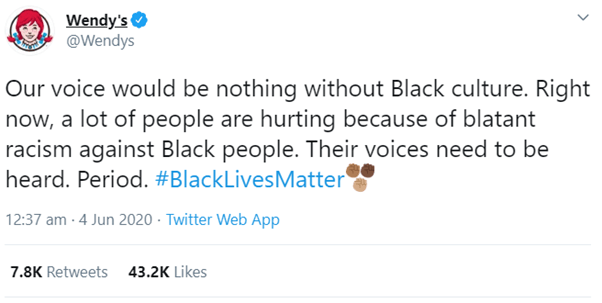 However, since these tweets were posted Wendy's – a once prolific Twitter account – has been silent.
Social media users talk a lot about 'receipts' – proof of actions to back up your words. And when your words are up for all to see, timestamped, retweeted and screenshot, you need to have a plan to back them up.
Many brands – ASOS was one here in the UK – stated their support for the BLM movement but also claimed they were taking time to discern how to support it properly and thoughtfully. Social media users won't forget these promises and timely follow ups are important. They followed up a few days later with a donation to the NAACP and have since made a concerted effort to feature many black creators, influencers and models in their content. They've also made further, stronger claims on the issue and stated their intentions to be an anti-racist organisation.
ASOS has managed to do what Wendy's failed badly at. Setting out a well-intentioned plan and then following through with it with energy and commitment.
Ben & Jerry's: Doubling down on their social justice roots
Ice cream brand Ben & Jerry's was famously started by two hippies in the 1970s and has campaigned for marriage equality and against climate change among many other issues.
They have stuck to their socially aware roots by being possibly the most vocal and hard-line supporter of BLM in the mainstream brand world. They posted a graphic reading 'WE MUST DISMANTLE WHITE SUPREMACY' on June 2nd 2020 and have given over their entire Instagram feed since then to posts about black and white achievement gaps in education, the inherent racism of the cash bail system and a slavery reparations discussion. In fact, ice cream has not been mentioned on their Instagram profile since May.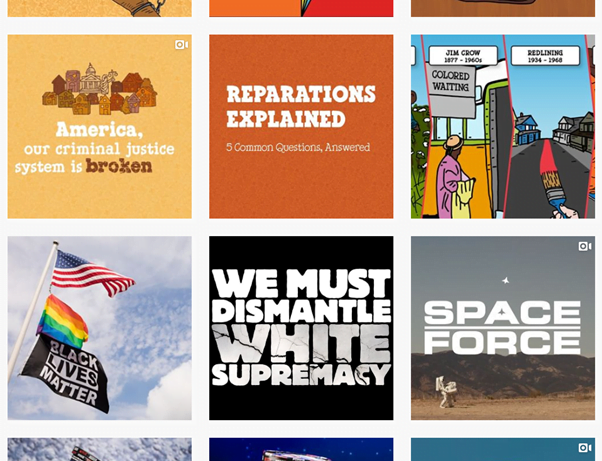 From a quick and informal survey of engagement numbers it would seem that Instagram users are responding well to this tactic. Their original BLM post achieved over 330k likes – up to 20 times more than many of the ice cream product posts immediately preceding it.
Of course, most brands would be very wary of alienating consumers with such a hard-line approach but the payoffs in terms of converting and instilling loyalty in people who are passionate about ending structural injustice can be huge.
The fact that Ben & Jerry's have a long history of campaigning for social and political issues has also given them a voice in this arena which many brands simply couldn't pull off.
L'Oréal: A major misstep – saved by a timely about-face
L'Oréal USA jumped on the BLM bandwagon on Twitter on the 1st of June with this tweet: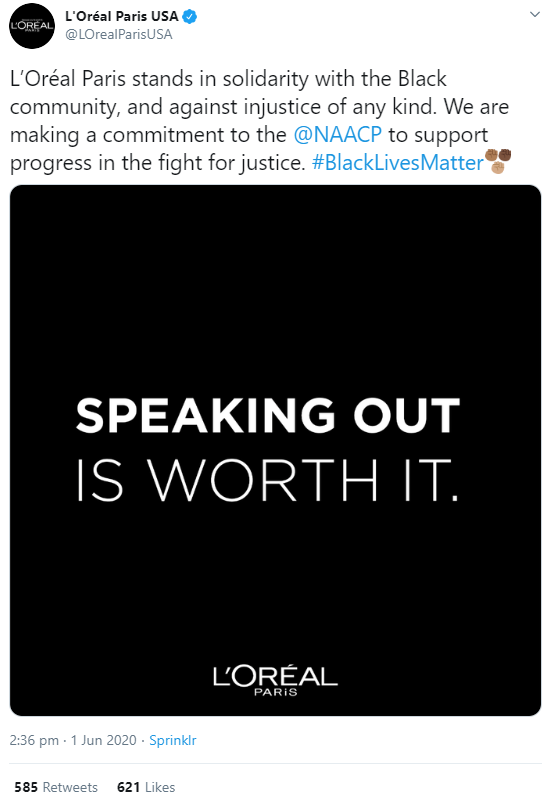 They were immediately taken to task over it due to their treatment of black trans model and influencer Munroe Bergdorf back in 2017. The cosmetic company dropped Bergdorf as their spokesperson after she spoke on Facebook about "the racial violence of white people," saying this kind of statement was contrary to their values. Social media users were quick to accuse the company of hollow, performative allyship when they tweeted their support for Black Lives Matter.
Munroe herself also put out a statement on Twitter: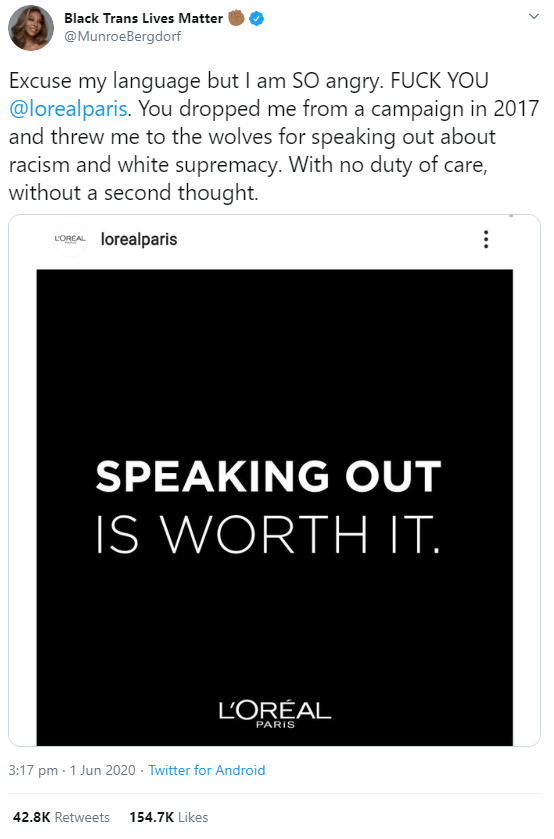 The negative reaction was so great in fact, that Bergdorf said L'Oréal Paris' new president Delphine Viguier approached and spoke to her, apologising for how the situation was handled in 2017. She has now been offered and accepted a consultancy role on L'Oréal's UK diversity board.
This is an example of what not to do – don't make hollow claims of support if they contradict the way your company acts behind the scenes. But it's also an example of how to turn a misstep around. Reflect, apologise and reach out. You can't support BLM with a tweet alone. You need to act, donate and change.
What can we learn from these three examples of brands engaging with Black Lives Matter?:
Don't make promises you can't keep. If you're going to declare an intention publicly then ensure you have approval and a plan to implement it
If you commit, commit 100%. Throw your full weight behind the cause
Be true to your roots – if you're a crusading brand then you have a better foothold in social debates. If you are not traditionally socially or politically active, then ensure you are making the necessary changes behind closed doors before you announce your new affiliations to the world