Staying positive through a crisis. Making a difference on Social Media.
The Coronavirus Outbreak Is Happening
People are panicking and stockpiling – but in many cases, they are coming together more than ever before and creating positive news stories with acts of care and generosity.
This is a dark and uncertain time for companies as well as individuals – but there are countless instances of people and collectives using their resources to help communities, pivoting their offerings to assist both staff and customers and just plain trying to stay positive and be a light in the dark for other.
Here are some positive stories which have arisen since the COVID-19 crisis.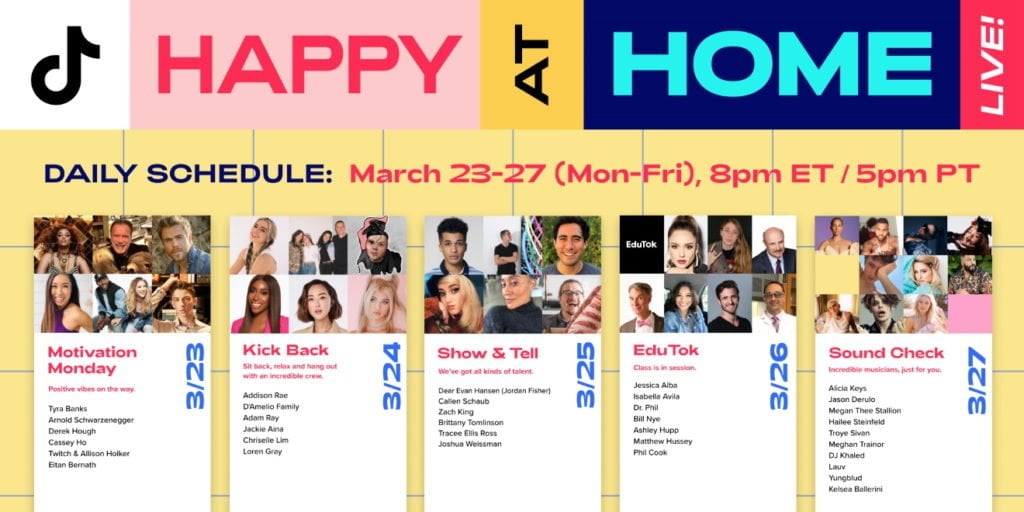 What is it? Social platform enlisting high profile influencers to create content for people at home
Critical Need Served: Entertainment, motivation, education – at a time when we most need it
Why It Works: Young people are already using TikTok – this harnesses the platform to send a positive message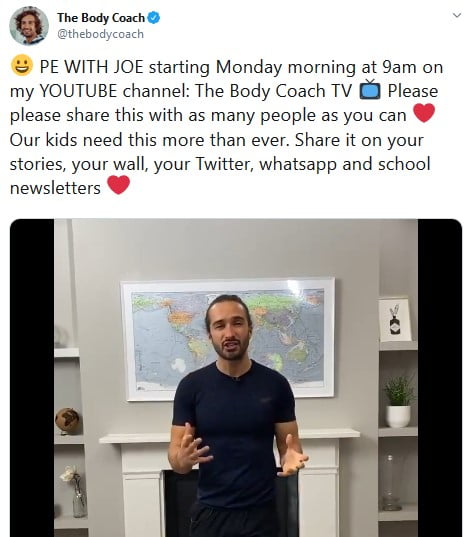 What is it? The Body Coach – a fitness influencer – is running free YouTube PE classes now schools close
Critical Need Served: Keeping kids healthy during school lockdown – and giving parents a break from homeschooling
Why It Works: Joe is using his skillset and fame altruistically – and parents are grateful. He's been trending in the UK for 2 days since launch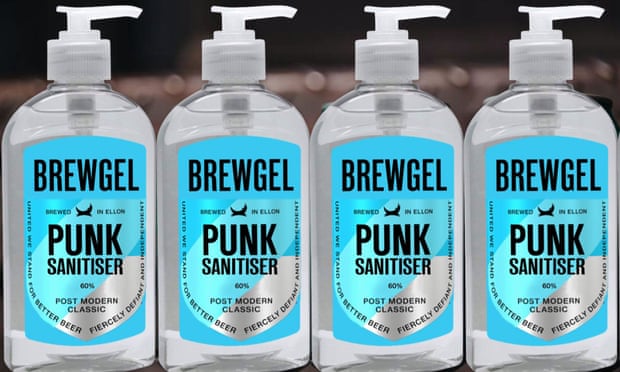 What is it? The Scottish brewery has taken up production of hand sanitiser using beer-making facilities
Critical Need Served: Hand sanitiser is in huge demand as panic buying has depleted supplies – Brewdog is helping get supplies to who needs it
Why It Works: Brewdog is not selling the product but rather giving it away to those who need it most – charity, using the resources they have
What is it? The World Health Organisation has launched a chatbot to educate people about COVID-19
Critical Need Served: Fake news is rife at times of crisis and people need the right info to make the right choices
Why It Works: WhatsApp has 1.5B active users in 180 countries – huge reach for an info campaign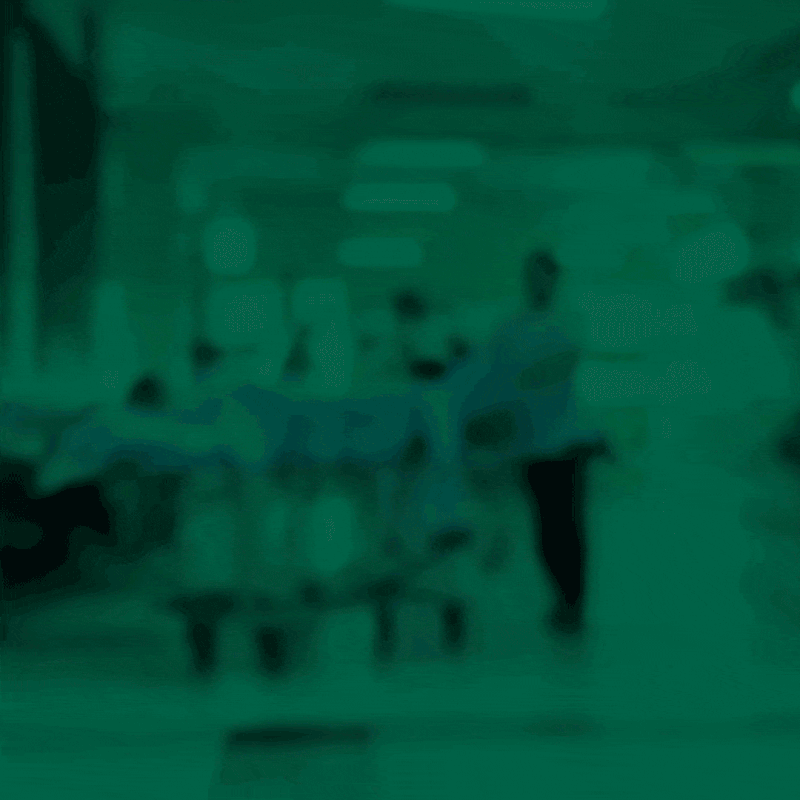 What is it? CBRE are actively seeking vacant properties which could house NHS workers
Critical Need Served: Many frontline health workers cannot risk families by living at home while exposed
Why It Works: Using access to property owners and developers to offer a service which could save lives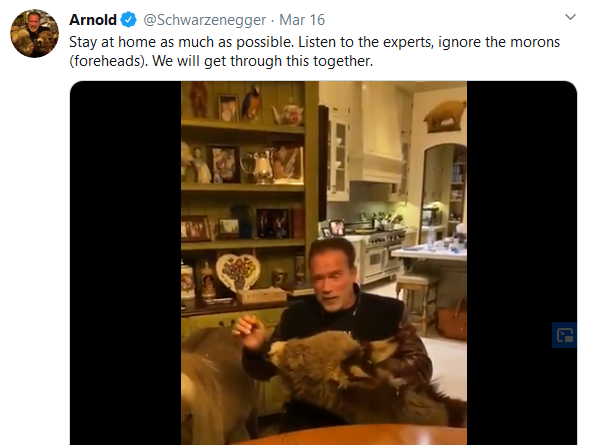 What is it? Arnie asks people to stay safe, stay home
Critical Need Served: Voice of positivity and calm in face of panic, ignoring advice
Why It Works: Well known celebrity and cute animals – a recipe for success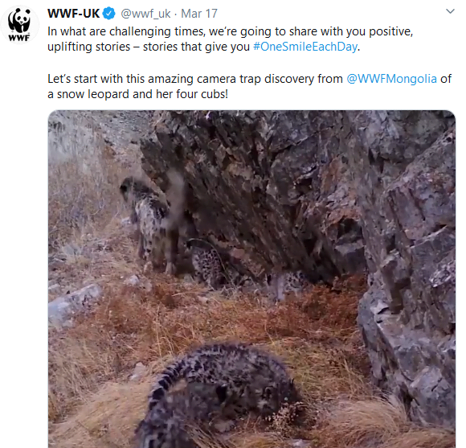 What is it? #OneSmileEachDay hashtag to share positive news
Critical Need Served: Good news in the face of deluge of negativity
Why It Works: Lifting spirits with positive stories from nature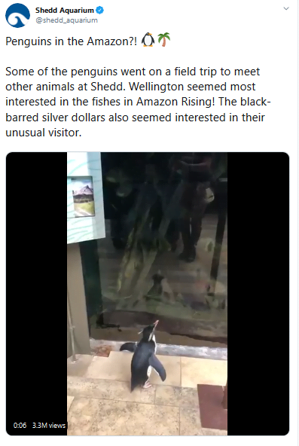 What is it? Aquarium shares penguins exploring
Critical Need Served: Light-hearted entertainment during crisis
Why It Works: Silver lining of mass closures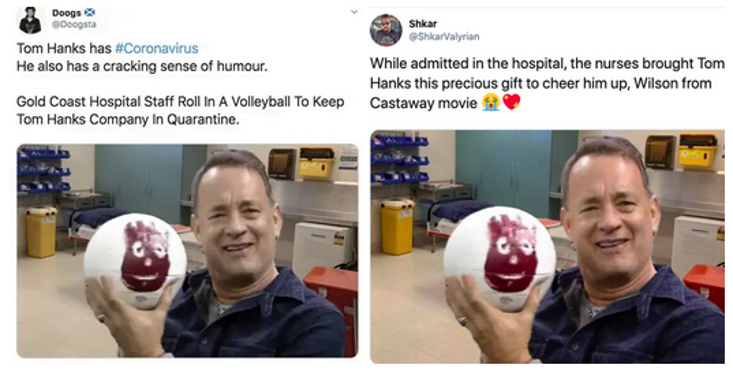 What is it?A hospital sent Tom Hanks a Wilson as company
Critical Need Served: A smile during a dark time
Why It Works: Humour in face of adversity, positive diagnosis
Sorry – this one was FAKE NEWS (which is rife during times of crisis)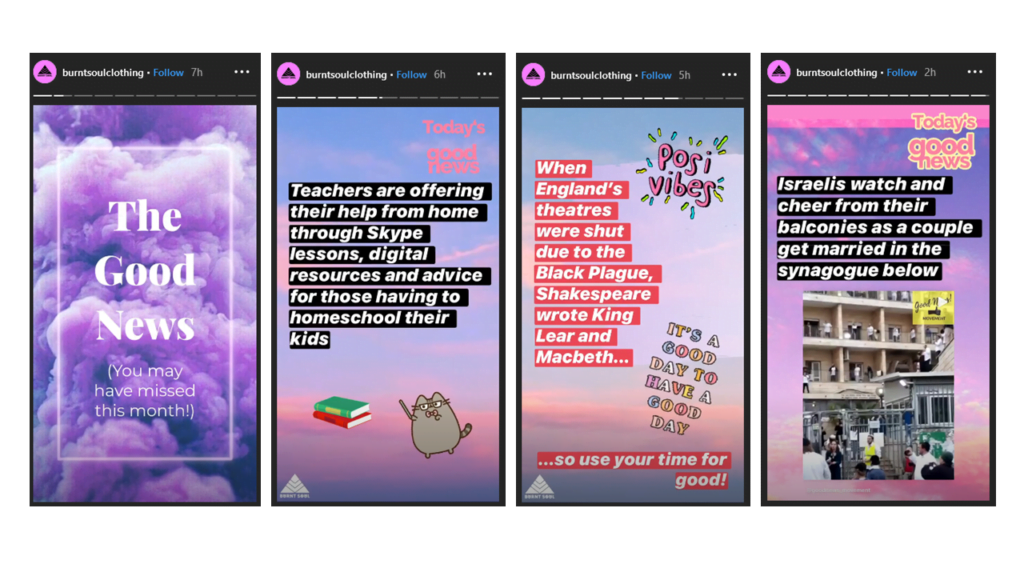 What is it? Good news Instagram Stories
Critical Need Served: Reminder there is still good news out there
Why It Works: Simple, quick, accessible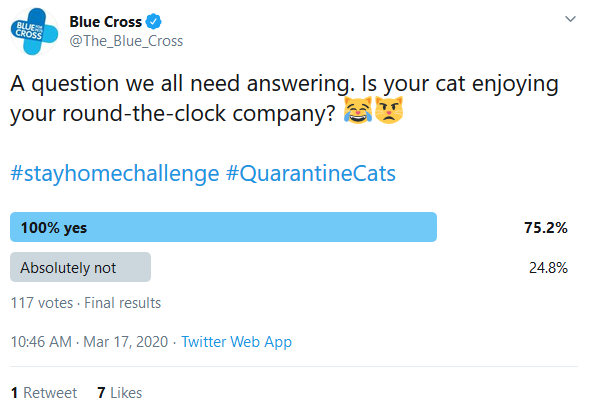 What is it? Twitter poll asking about cats enjoying new work habits
Critical Need Served: Twitter poll asking about cats enjoying new work habits
Why It Works: Light-hearted without being insensitive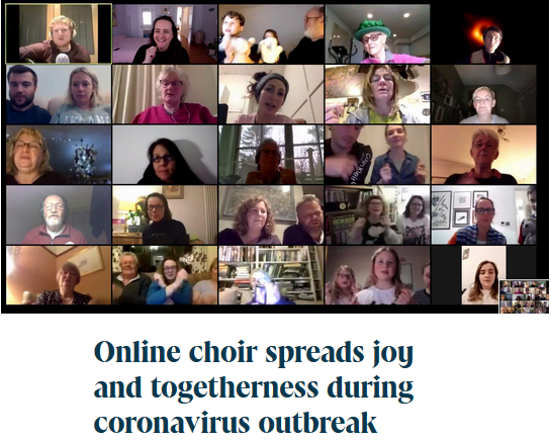 What is it? Online video choir launched
Critical Need Served: Tackling loneliness and boredom
Why It Works: Accessible for most with a laptop or phone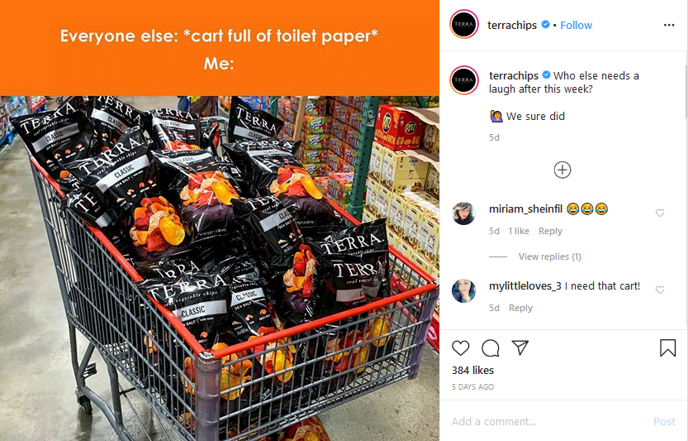 What is it? Gentle joke about stockpiling loo roll
Critical Need Served: Humour in dark times, poking fun at current madness
Why It Works: Gentle humour – not punching down or victimising any party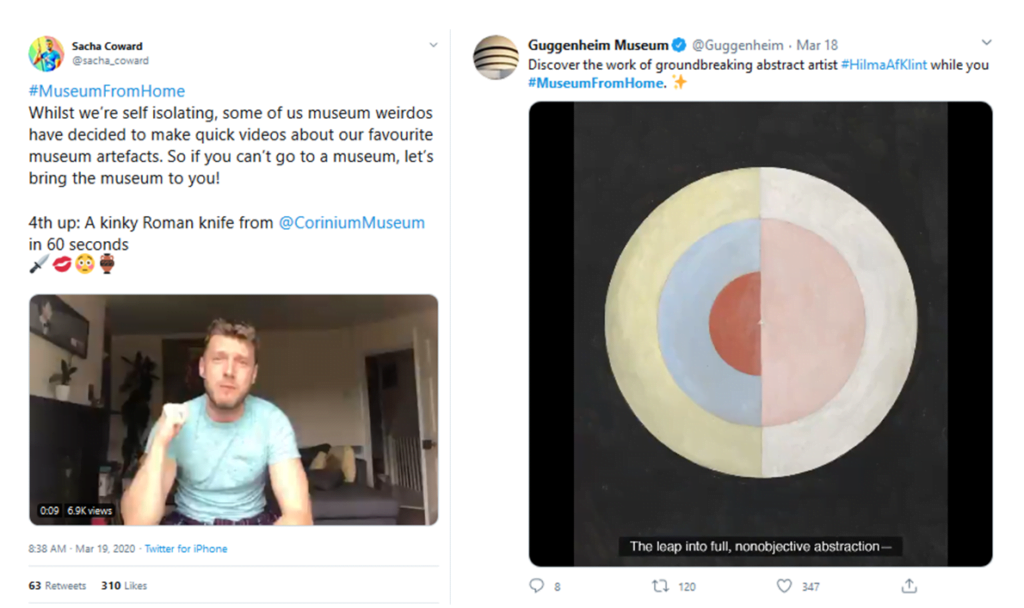 What is it? Bringing museum pieces to the public via Twitter
Critical Need Served: Relieving boredom, giving access to venues which are closed
Why It Works: Generosity of experts sharing their knowledge, easy to consume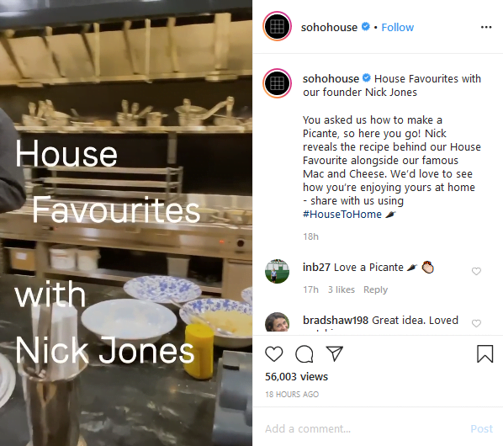 What is it? Cocktail recipe videos from founder of Soho House
Critical Need Served: Access to a much loved signature cocktail while in lock down
Why It Works: Ability to continue enjoying life despite quarantine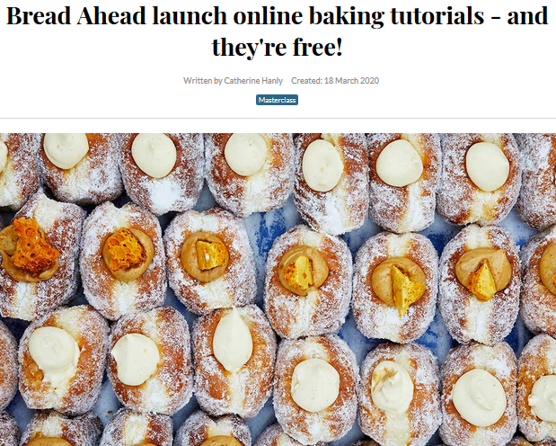 What is it? Online baking tutorials featuring favourite products
Critical Need Served: Put free time to use by learning a new skill
Why It Works: Accessible and educational for quarantined people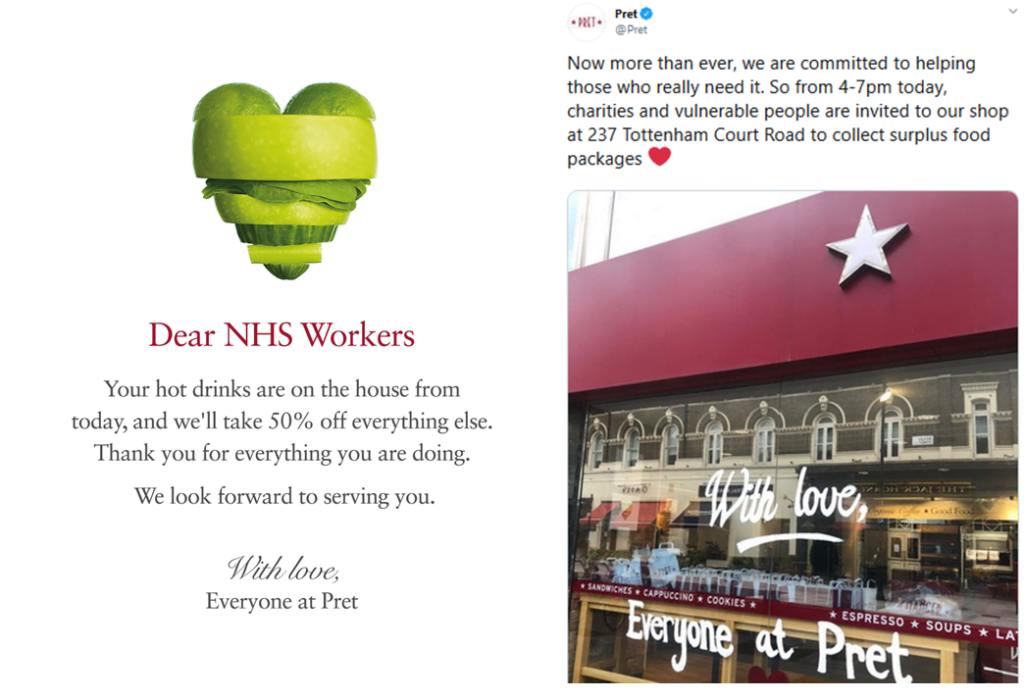 What is it? Pret helping in real terms by offering products for key workers, vulnerable
Critical Need Served: Food for those who urgently need comfort, support and care
Why It Works: Direct help for vulnerable people and front line workers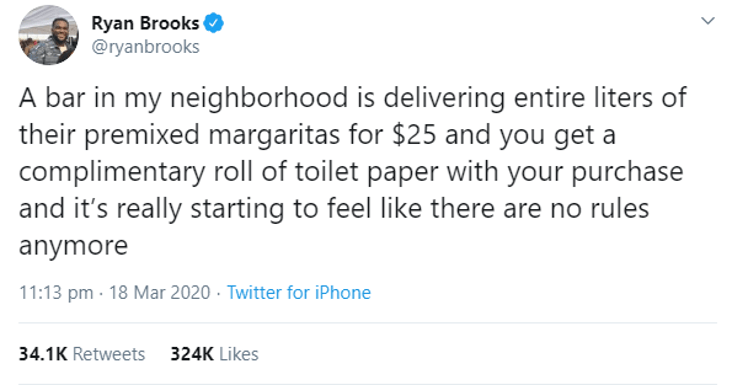 What is it? Bars pivoting their offerings to tailor to self-isolating customers
Critical Need Served: Ability to enjoy normal life from home – and access to scarce loo roll
Why It Works: Ability to support local business is a priority for many at the moment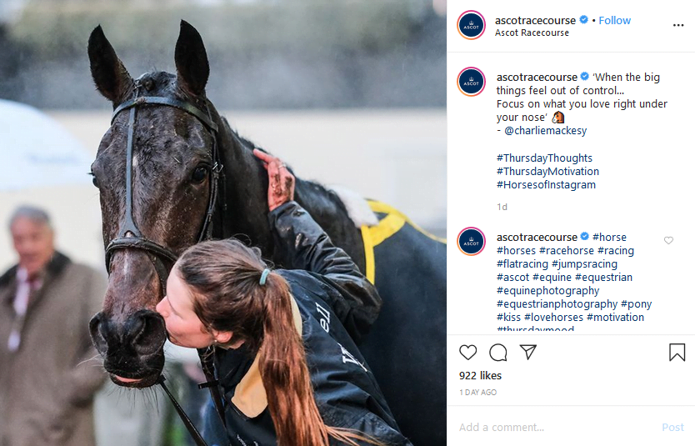 What is it? While racing suspended Ascot has switched social media to positive news
Critical Need Served: Uplifting messages at a difficult time
Why It Works: Positivity in the news feed is welcome at times of crisis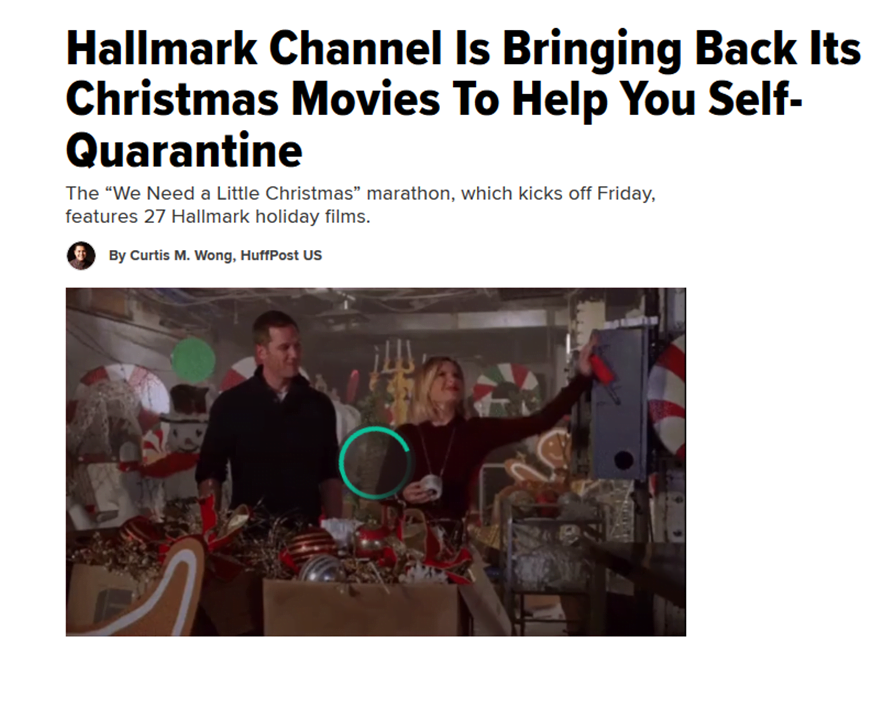 What is it? Cult Christmas movies being made accessible out of season
Critical Need Served: Escapist movies bring joy to many in difficult times
Why It Works: Recognition this is extraordinary time for dedicated fan-base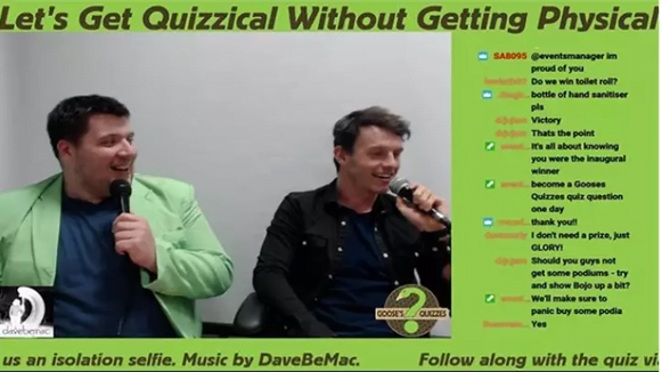 What is it? Pub quizzes move to live video streaming
Critical Need Served: Entertainment and normality during self-isolation
Why It Works: Continued employment for quizmasters and entertainment for quizzers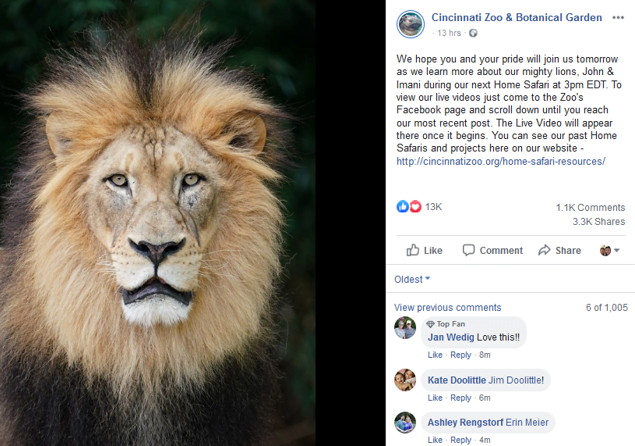 What is it? Live-streaming educational content for kids on Facebook
Critical Need Served: Access to the zoo and educational materials – plus a break for parents
Why It Works: Accessible, fun, educational, gives access to a closed facility