Why Ecommerce brands should be advertising on Amazon PPC
We believe that if you have something to sell on Amazon you should be selling it on there, alongside a paid search media campaign (PPC) to maximise visibility and sales.
Why Amazon?
Ecommerce clients are already spending significant budgets within Google and Facebook. Amazon PPC has been around since 2012, but it's still playing catch up with its older more established competitors. To look at this in terms of share of advertising spend we can see that Amazon is the only major channel growing vs the "Duopoly".
Amazon isn't going anywhere – it recently pushed Google and Apple off the top spots to become the world's most valuable brand. When it comes to where marketers are spending digitally, Amazon makes up 8.8% of the total digital ad spending (up from 6.8% last year), per eMarketer's estimates, while Google and Facebook account for 59.3%.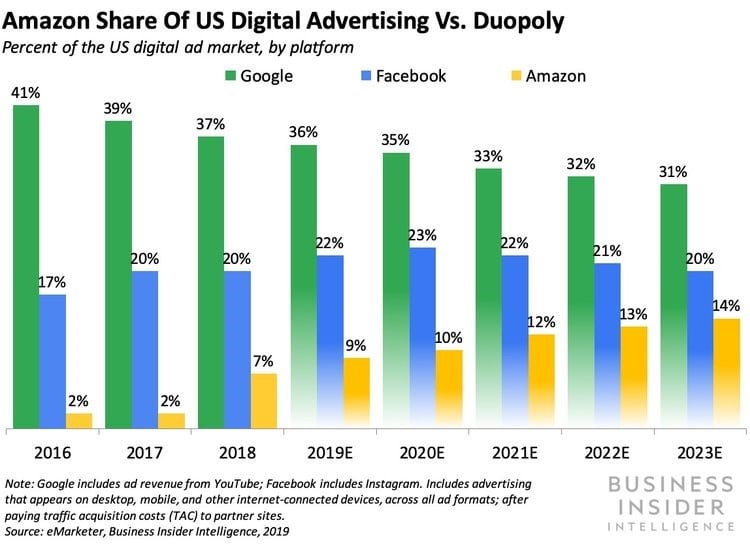 Despite slowing down in growth pace, Amazon Advertising revenue is still growing at a healthy pace with 37% year-on-year growth in the last quarter which comes on top of the 129% growth for the same period last year.
Why should you advertise on Amazon PPC?
If you're not utilising Amazon Sponsored Products and Amazon Sponsored Brands (Amazon PPC), you can be sure that your competitors are, and they will be hoovering up sales that could be yours.
Whilst it's an added marketing cost, research by Merkle reveals that sales revenue growth has continued to outpace spend growth, up 102% for Sponsored Products and 53% for Sponsored Brands. In other words – if you get your Amazon PPC Advertising right your sales growth will be bigger than the increase in what you pay.
What are the benefits of Amazon PPC compared to Google and Facebook?
Amazon has over 2.65 billion visitors every month at the bottom of the sales funnel ready to make a purchase. This means that typically Amazon PPC sees much higher conversion rates compared to Google Ads and Facebook ads.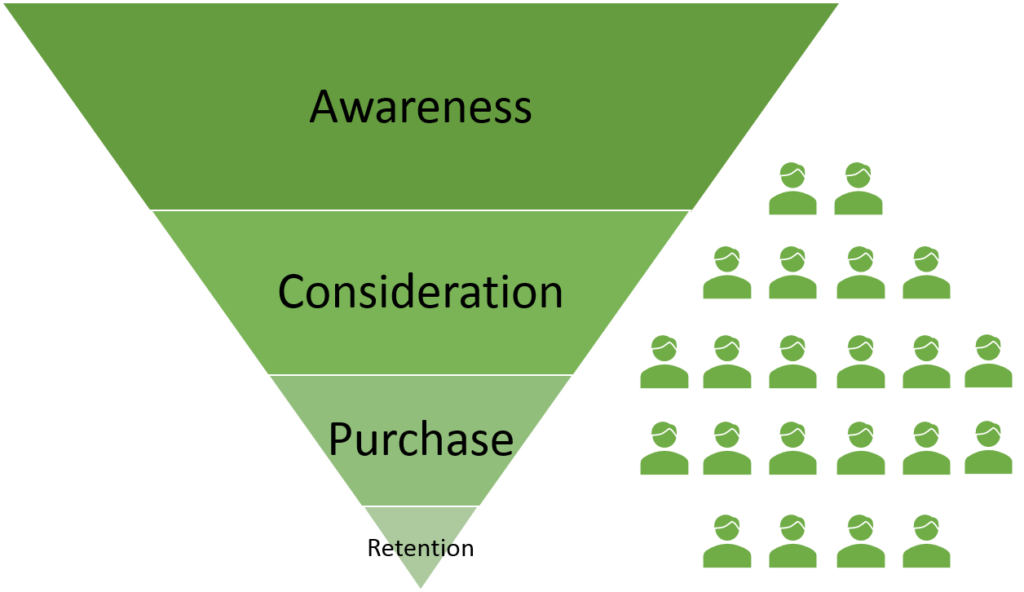 This is achieved mainly through Sponsored Product Ads which appear on the first page of search results and product pages, they help to increase visibility and sales of your products by displaying ads when shoppers are looking for products like yours, they have the highest conversion rate (around 8-12%).
If you aren't already advertising your products on Amazon, you should be. Give it a try or get in touch with Tug today to find out how we can help you develop an Amazon PPC strategy.