Data, creative, tech and professional sniffers on Tug Life IV day two
Data giants stalked day two of TugLife IV, discreetly brandishing massive numbers – the half a trillion digital moments Google processes each day, Spotify's 100bn daily data points, Twitter's 336m monthly active users. But so too did the threat of data disgrace, as former Cambridge Analytica lead psychologist Patrick Fagan gave his side of the company's downfall and set a couple of things straight.
Provoking laughter with the revelation that his old laptop was still in the hands of the Information Commissioner's Office, Fagan, who worked at Cambridge Analytica for six months, said the company was not involved in Brexit tampering as far as he knew, and compared the data analytics firm in its heyday to a strip club: "everybody wants to go, but nobody wants to be seen there."
Noting that liberal media such as The Guardian and Channel 4, along with most modern brands, engage in data mining of their own, Fagan disputed reports of the company's actual power. "Beware of the idea that Facebook ads can be effective enough to change the face of modern democracy," he said.
Elsewhere, in an opening session that questioned how brands can keep up with their audiences, some of the world's biggest data-aggregators took great pains to emphasise both the power of their data stocks and the responsibility with which they deploy them.
Twitter account strategist Ned Miles touted the platform as "the largest publically-available archive of human thought to have ever existed" and outlined the service's ability to track our preoccupations in real time, citing rising volumes of tweets about the environment, veganism and mental health. However, he stressed that Twitter would continue only to exploit the side of its data that is already publically visible – the tweets and their trends. "The public stays public with Twitter, and the private always stays private," said Miles.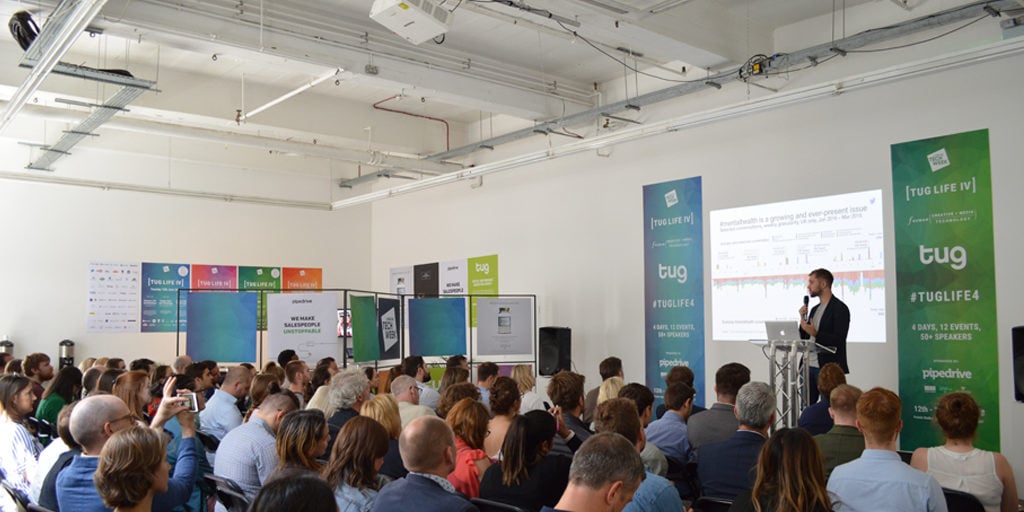 Revealing that streams of Bonnie Tyler's Total Eclipse Of The Heart shot up by 2,857% in August last year in response to the solar eclipse, Zuzanna Gierlinska, Spotify head of programmatic, Europe, posited the streaming service as a mirror of our emotional lives. "We have a saying that you are what you stream," she said.
Chris Grimsey of Google Analytics joined the dots between Google's advertising technologies and developments in natural language and machine learning such as Google Assistant, which famously proposes to make your phone calls for you.
"Over time, more and more of our users are going to be integrating and collaborating with technology to drive their own usage," said Grimsey, adding that we'll soon be able to use the same natural language technology to ask questions of Google's analytics platform.
Simon Moriarty, Mintel's director of trends EMEA, offered a world tour of sensitive data use: from Maserati dealerships in China who capture photos and driving interests through a video game and use facial recognition technology to recognise customers in-store; to Red Bull's Brazilian social tool to help kids connect with fellow musicians from other colleges and form bands.
"People want to be able to see and track their data, and they don't particularly mind giving up that data, as long as they can see a benefit to themselves for doing so," said Moriarty. "It's about not being creepy, it's about being unobtrusive. Trust is harder to earn and easier to lose than ever before."
The afternoon's first session tackled the role of creative in future marketing and drew out insights into augmented reality, programmatic and the rapid creativity of the best YouTube videos.
Brand consultant Phil Jackson, formerly of Mondelez, queried the pursuit of "bigness" as an everyday business goal, while giving credit to the strategies of exception-to-the-rule big guys Amazon, Facebook, Google and Apple. "For me, if big is your sole goal – to get bigger and bigger and take over everything – then I believe your brand and your business is heading towards a slow death," he said.
Chris Williams, chief architect, IBM Watson Europe, gave a history of artificial and augmented reality, and of the perfect storm of big data, cloud computing, business appetite and technological simplification that led to the current boom.
"Technology and creativity belong together: the right brain and the left brain," said Williams. "There is a role for everybody in this new future world, where machines are going to be alongside us helping with our jobs a lot more. We need to get everybody awake to the idea that if we are going to make this new type of world work, everybody has to have a role."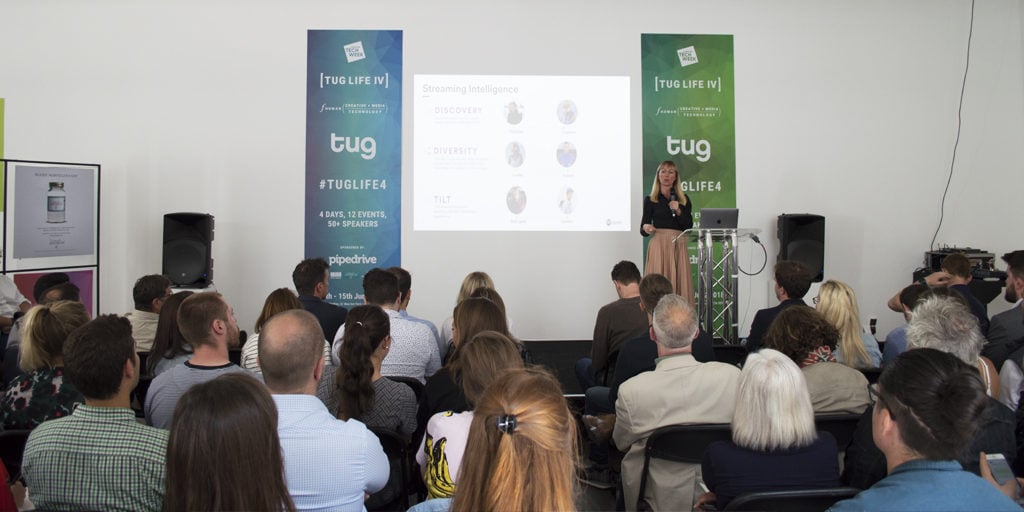 Emily Roberts, from The Guardian's programmatic team, pondered the road to creativity in programmatic advertising, touching on behavioural science, the importance of storytelling and scale, and the limitations of a one-size-fits-all mass-market approach.
Google independent agency manager David Murray Jones paid tribute to the creativity that drives YouTube's traffic, from Childish Gambino's This Is America video and the Laurel/Yanny phenomenon to the legions of spoofs and response videos that rapidly jump on trending content.
Citing figures as varied as David Bowie, heart surgeon Prof Martin Elliott and steam engine pioneer James Watt as genius copiers, herd behaviour expert and consultant Mark Earls talked of the essential role of copying in creativity. "Like Grayson Perry said, originality is for people with short memories," said Earls. "All great creative people use the stuff that's lying around."
The third session focused on technology, from smart speakers and TV convergence to digital out of home. The future disruptive role of smart speakers and voice control in retail and advertising were the focus of Tom Simpson of market research company Simpson Carpenter. Noting that 14% of device owners use their speakers to buy items, Simpson said: "People are buying by voice, and increasingly people will want to buy by voice. Think back 20 years, people thought the internet wouldn't be used for shopping online. Of course, quite a few people do now, and I think the same will be true for voice."
ITV online commercial director Faz Aftab discussed the way we are watching video, touching on voice control, the maturing of converged technology and the importance of ensuring British content is as easily discovered as the US-heavy offerings of Netflix and Amazon.
Adidas affiliate expert Jelle Oskam argued that the future of digital marketing shouldn't rest in the hands of Google and Facebook, calling their hegemony "an undesirable status quo for advertisers" and pointing to a growing role for affiliate marketing, outlining Adidas's Odyssey scheme, which measures the incremental value of affiliate partners.
"It's pretty strange that not just Adidas but many, many brands in the world spend 50-75% of their advertising budget on just these two dominant players and they give all their data to these companies – or not just give it, they take it," said Oskam.
"If you want to have an alternative, you have to come up with some other good ideas, and that's true for the display industry, the affiliate industry or influencers. You have to prove you can deliver the same quality traffic as Google or Facebook."
Matt Marlow, head of global digital activation for German-based Nivea owner Beiersdorf, spoke of the company's philosophy and innovation and how tech-driven testing – including Bluetooth-enabled, sweat-detecting T-shirts which report to an app – helps to build the business case for new products internally and externally.
Later, Hirsch & Mann creative director Katrin Baumgarten talked through highly creative ads and installations for clients including Red Stripe and Google, while Clear Channel's Jonathan Acton made the case for the innovative properties of out-of home.