Dynamic Travel Re-targeting
Everyone scrolls down their Facebook feed at least once a day and is stalked by something on their wish-list that they are secretly lusting over. For weak-willed shopaholics, the cycle of window shopping, being bombarded by social media reminders, and caving in sounds all too familiar.
Now Facebook is cleverly re-targeting users who are checking flights online for a specific date, but don't actually book, or those who research hotels for an upcoming holiday and don't reserve on their first visit. These ads can be shown across Facebook, Instagram and the Audience Network to users who are likely to take a trip. How does Facebook know this? By using a pixel placed on the site.
Dynamic re-marketing for travel will help travel clients grow their businesses. This ad format can help hotel and airline brands complete bookings with people who have expressed an interest: they'll then advertise complementary offers and convert travel intent into a sale. Travel advertising has never been more powerful.
Already, there has been multiple success stories such as Cathay Pacific Airways. Dynamic travel remarketing has helped lower the cost per booking by 10% and increased booking volume by a factor of 16. Another example is Meliá Hotels International, Spain's leading hotel chain, which has seen a 6.7x increase in return on ad spend and a 79% decrease in overall cost per booking.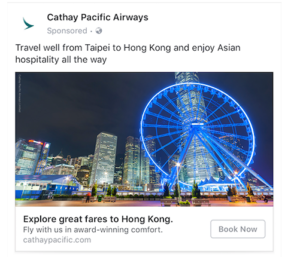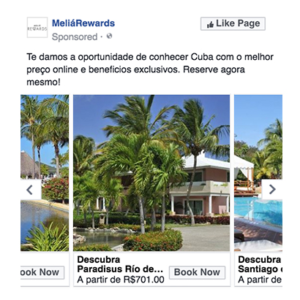 Intrigued? Well, all you need to run these ads is to implement the Facebook pixel, upload your travel catalogue, and create a template for your ads. Soon you'll be using Facebook to win over your travellers.