The Skinny on Voice Search
Voice search originated in 2002, with the initial release of Google Voice search. 10 years later, Google released a new Google Search app for iOS, which featured an enhanced Google Voice Search function, aimed to compete with Apple's voice assistant Siri.
Since Apple's Siri emerged in 2011, voice activated search has evolved from a fun new gadget to "a top priority in 7% of marketer's marketing plans," based on a report conducted by ClickZ and Marin Software.
With voice assistant usage on the rise, companies such as Amazon, Google, and Apple to name a few, saw an opportunity and capitalized on it by introducing a new product that aims to invite voice search into the home.
Amazon Echo – on the market the longest, operates with Bing (first released 6th November 2014)
Google Home – operates with, surprise…GOOGLE (first released in the US 4th November 2016)
Apple HomePod, – will have the original voice assistant guru Siri, integrated into the device. (due out in December 2017)
As AI grows its capabilities, it becomes clearer that we're moving in the direction of voice-led search.  ComScore has predicted that by 2020, 50% of all searches will be by voice. This can be contributed to the year-on-year improvement of voice-word accuracy rates, along with the convenience in situations where hands and vision are restricted.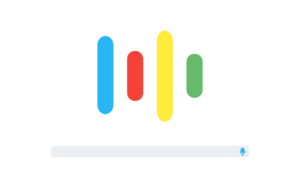 How voice search is being used
Consumers seem to be really embracing this new technology, and getting used to the idea of interacting with technology on a more personal level. While it may never compare to the relationship that Theodore, played by Joaquin Phoenix, experiences with operating system 'Samantha' (Scarlett Johansson) in the Hollywood drama Her, consumers are at the very least "excited" about the speed and efficiency voice search provides for everyday tasks.
The KPCB 2016 Internet Trends study reveals that 61% of users like the convenience and utility of voice search when their hands or vision are occupied. As voice search continues to rise in popularity, the way in which consumers phrase queries is also shifting. Customers no longer need to insert key terms; they can ask questions using full sentences to express exactly what they're looking for. This will undoubtedly impact optimization strategies as brands strive to be the most relevant.
The way individuals conduct searches through voice is vastly different from the way they type a query within a search box. Because search queries are more conversational when spoken, they tend to be lengthier, more unique and reveal a much greater intent. For example, a user might type in keywords "laptop repair near me," but might tell a voice assistant: "my laptop just went unresponsive and my monitor went black and can't get it to respond."
What does this mean for marketers?
Voice assistants are now part of the multi-channel consumer experience. When used properly, they are effective and effortless, further closing the gap between consumer and brand.
Marketers are still dipping their toe in when considering how smart hubs can be implemented into marketing plans.  We often avoid answering our front door when we know someone is there selling something, so consumers may be timid when it comes to "opening the door" to advertisers and brands within their personal space.
Issues undoubtedly will surface, and its difficult to predict what strategies might work best for marketers until we see more data behind how people will utilize the technology.
While voice search isn't likely to replace existing screen-based search, there will be incremental change as businesses understand how to be found by voice search. After all, 50% is a big piece of the pie.