A Career in TV & The Future of the Industry: Jonathan Pearce at TugTalks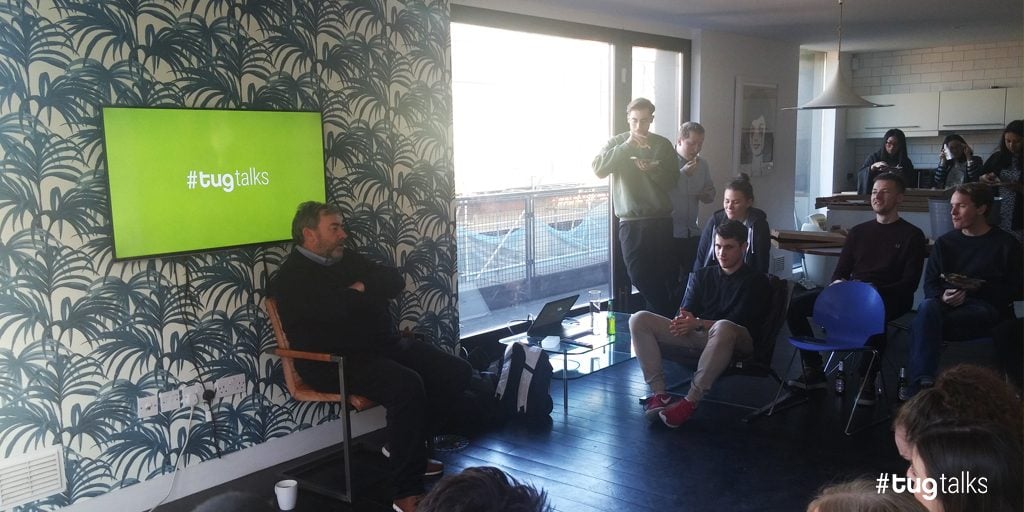 "As an industry, I don't think we fully understand it; how to grasp it yet:" Jonathan on the implications that social media has had on the broadcast industry to date, a theme discussed on Friday.
Tug Talks 2017 was launched by legendary sport and entertainment broadcaster, Jonathan Pearce. Joining us fresh from the Robot Wars studios, Jonathan took us on a journey through his career as well as notable and significant changes to the modern television industry.
Jonathan charmed us with brilliant anecdotes about his time spent amongst the England set-up at the 1990 World Cup in Italy. He also had plenty of stories about the players and managers he's met throughout the years, including the late World Cup-winning captain Bobby Moore – which was a real touching moment.
But it's his journey into television commentary where Jonathan began to experience the industry's biggest changes, most notably the growth of social media and it's impact on modern broadcasting. "We are coming to an era now where social media is so strong, is so incredibly powerful", Pearce referenced in discussion of social media's often brutal and unforgiving nature to those in the public eye. "At the moment a lot of TV chiefs shape their programmes to fit in with the mood of social media."
Match of the Day now uses tweets from players within their broadcast, often featured to spark discussion amongst the show's pundits. "For years and years and years you wouldn't hear from players really, you would hear a banal media coached sound bite which is rubbish, it doesn't tell you anything." Social media has allowed the stars of the sporting world to communicate with their fans and the media in a new way, which has started to be utilised regularly in modern sport and entertainment broadcasting.
There's no question that social media has had the greatest impact on the way in which broadcasters and journalists operate today, as millions of users can now be utilised as sources for stories and content. "Those sources need to be utilised but they also need to be policed. They need to be checked as all sources do."
Originally from Cornwall, Jonathan and his family moved to Bristol where his career in sports broadcasting would later begin, "the biggest dream living in Cornwall back then was getting away from Cornwall."
In 1972, Jonathan was introduced to the club's video analysis system, which helped the club to examine overall team performances and tactics – the first of its kind anywhere in Europe. "I was exposed to gantries, TV techniques, filming and editing, falling in love with the game tactically" – later leading to his debut broadcasting position at BBC Radio Bristol in 1980, whilst at university. "I started covering all of their matches and travelling around the country," – His first professional opportunity as a broadcaster. He then worked at Radio West before working for Southern Sound, later returning to Radio West before working at BBC Radio Two.
Jonathan was later approached by Matthew Bannister to work for radio start-up Capital Radio Sport, which later became Capital Radio Gold. "I thought that this is where I can really do what I want to do," Pearce explains as he aimed to use this opportunity to bring a fresh feel to the delivery of sports reporting. This is where Jonathan's career began to excel and evolve, as he travelled around the globe to World Cup finals and European Championships.
We would like to thank Jonathan for taking the time out his schedule and joining us for the first Tug Talks of 2017, one that will live long in the memory for the team here at Tug.