Facebook Maketplace Launch – Social Media's New Shop
In the beginning of October, Facebook launched its new product – Marketplace – in the US, UK, Australia and New Zealand. It was described by them as "a convenient destination to discover, buy and sell items with people in your community".
Since then already 30% of the US Facebook users declare than they turn to social media when they are researching products online.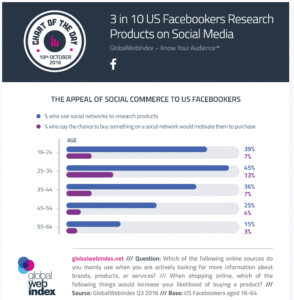 (The graph is a courtesy of Global Web Index http://bit.ly/2dZsx5S)
Since its launch in the beginning of October, Facebook marketplace has already been called "friendlier Craigslist" and caused trouble to Facebook, forcing it to apologise publicly. The reason behind being the fact that for couple of hours the system failed to filter out all illicit offers. You can imagine what was put out for sale.
But Marketplace is not only just another step in Facebook's never ending journey in increasing its influence; it can be the first tool to bridge the gap between research and purchase on social media.
The platform does not yet support a native transaction system, and only 6% say that being able to purchase directly via social media would encourage them to buy online; however, 8 in 10 US Facebook users say they have purchased a product online last month, making it very clear why Facebook has decided to move in the direction of social commerce.
At the moment Marketplace is only available as mobile app for Android and iOS, although Facebook has already announced that they will make it available for the web shortly.