Time Spent Online in Britain
I recently attended one of the IAB search council sessions, where several members of the industry get together to discuss new trends and behavior within the search landscape.
One of the areas that has been discussed throughout last year has been around consumer behavior and time spent online- this has been a big area of discussion within the industry and a lot of studies and theories have been put forward on the matter.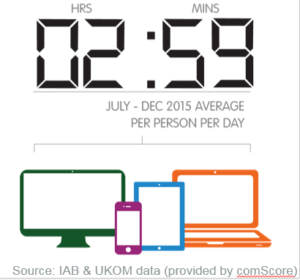 The IAB UK, in conjunction with the UKOM, commissioned a study to 'remove any confusion around the conflicting sources claiming to measure time online and have come up with a definite figure of how long people actively spend online each day' (IBAUK.net).
The study revealed that the average Briton spends 2h59 minutes online per day, actively using the internet at home or work- this figure relates to the last 6 months of 2015.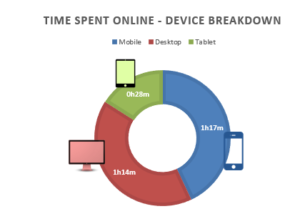 The study takes into account desktop, mobile and tablet, focusing mainly on iOS and Android devices. The split between devices is also quite interesting with mobile overtaking desktop (not by much, but I suspect this will only grow higher moving forward). Tablet, unsurprisingly, was found to be the device where the least time is spent (28minutes)
The study is scheduled to be revisited every 6 months, so that a new figure can be released and measured against time.
I suspect this figure will continue to increase with time, with a bigger weight towards mobile devices. Let's wait and see!