Target Branded Keywords Effectively
As SEOs, we spend lots of time targeting generic keywords to gain more traffic to our websites. Sometimes though we should look towards branded terms to draw in potential customers. If a user searches for information about a brand and can't find a search result providing specific details about the aspect of the business they are interested in, they could be a customer we've missed out on.
I recently worked with a tourist attraction who offer gift cards, aaa and military discounts, but users who searched for these offers were not able find any information about them. My best guess is many of them ended up not clicking through to the website or visiting the venue.
So, how do we ensure that potential customers aren't left hanging and are able to find the information they are looking for?
Find out What Branded Queries People are Searching For
First off, we need to gather a list of keywords that users are searching for regularly. There are a few different methods and tools for this:
Internal Searches – monitor the phrases users type into the internal search box on your website. This will reveal what is important to your visitors.
Scrape Google Instant – when you start typing phrases into Google, automatic suggestions appear, like so: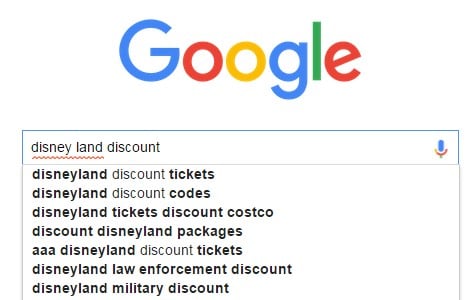 This is a great way to find out what people are searching for in relation to your brand. Tools such as Ubersuggest, Answer the Public and Keywordtool.io  can scrape all the results from Google Instant and provide you with a huge list of branded search terms.
Google/Bing tools – Goole Search Console provides a good list of search terms that give your site impression and clicks, a large portion of which will be branded. Google and Bing Analytics tools will also have some data you can check, albeit limited.
Optimize Pages Correctly
Once we have our list of branded keywords that people search for, it's time to check which phrases are not answered correctly, then prioritize and fix.
We will need to either create new pages for certain phrases, or amend current pages. Keywords should be prioritized based on the following factors:
How much traffic is being received for the keyword
How much traffic the landing page is already receiving
Search volume of the keyword
Estimated traffic for the keyword
Ensure Click-throughs with Meta Data
When optimizing your pages for branded terms, meta data is crucial for boosting click-through rates and ensuring you don't lose potential customers.
Ensure your page's meta title and description provide a direct answer to the query being search for. So in a fictional example, if someone searches for Music World Student discount, the following would be optimal:

Direct Users to the Money Page
If your landing page is related to a product that can be purchased online, make sure that the page directs users to the section of the site where they can buy the product.
Example – click here to view the full range.
The Bottom Line
Optimizing branded keywords is a crucial step which is often overlooked. It is especially important to carry out after a site redesign, migration or new site launch.
Optimising correctly for branded terms can improve conversions and customer retention, so make sure to check your branded keyword queries at least once a year.