Social Media Week London: the data
Hooray!
It's that time of year again where thousands of people descend on central London for Social Media Week. I made a personal stand not to attend this year's events as I wanted to track the whole thing via… well… social media.
I began pulling data on certain hashtags used throughout the event around one week ago. So, rather than fighting my way through crowds of skinny jeans and Ray Bans, my skinny jeans, Ray Bans and I can consume this content from the comfort of my own home… or office.
Sessions began on Tuesday (15th September) and #SMWLDN has already seen over 12,000 Tweets dedicated to it. That's a pretty decent amount of Tweets being published right? Let's bear in mind that these 12,000 Tweets were produced by 3,193 people, so as expected, we're seeing the same people Tweet multiple times with only 67% coming from mobile. This is in part due to journalists publishing content from laptops.
Through my data I'm able to see what the big talking points are. That's pretty handy given the fact that every year I sacrifice one session to go to another only to find out that the one I missed was the greatest and most insightful hour in the history of humanity.
So, what are people chatting about?
Pinterest. Yep, you heard me, Pinterest. It appears a session given by Zoe Pearson (@Convo_Pieces) got the fingers tapping as the audience rushed to Tweet that Pinterest now receives 80% of visitors through mobile. As a slight caveat, mobile becomes a bigger part of SMWLDN every year. It's not to be overlooked though is it? It's a big point. If mobile consumption continue to rise, that totally effects the execution of our strategies from a format, content, search and media point of view. Zoe also told us that two thirds of pins actually come from brands.
It's always interesting to see which platforms and publishers get tongues wagging at social media events. With thousands of social professionals walking through the door aiming to find that latest piece of insight to take back into their office, these conferences can actually help to shape the future of the industry.
To that point, it's interesting to see that Social Media Week's opening day saw over 600 people talking about Buzzfeed. Buzzfeed's Director of Brand Partnership's, Jonathan Davies, is giving a master class (as I type this very article) about how to speak the language of emojis. I know right. I hate to say it but it's quite a timely talk. Over the past few months, brands have had to make a decision whether or not to include emojis in their tone of voice.
"All the kids are using them"
"Are we 'cool' enough to do that"?
"Why would we ever need to Tweet an Aubergine"?
Taking it to its upper limit, Chevrolet's media release for their new model, 'the Cruz' was 'written' entirely in emojis. Decipher this one kids: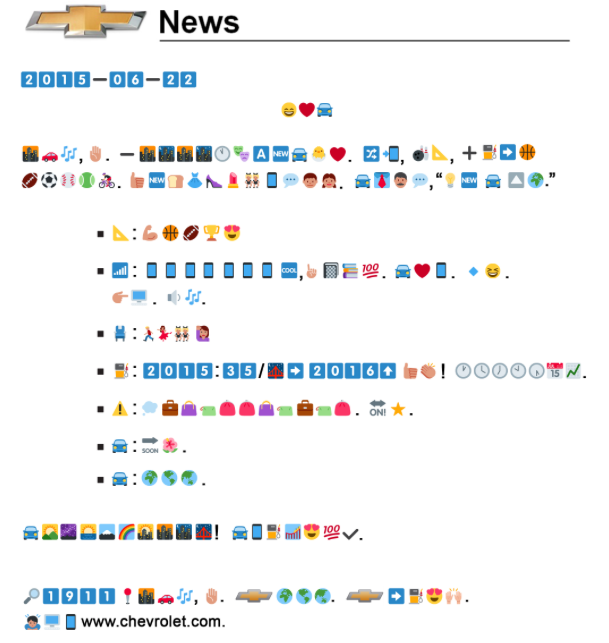 Nope, me neither.
Looking through more data led me down a fairly strange route. One of the most commonly used words was 'science'. Not exactly the first thing you associate with the skinny jean brigade. However, looking into this, you discover that (in my opinion) for the first time during SMWLDN brands are getting heavily involved. Particularly, the National Gallery.
We know from previous events hosted by Twitter they have a strong relationship with not just the National Gallery, but a good number of UK museums. Ultimately, this was born out of there Museum Week initiative which encourages these attractions to give a behind the scenes glimpse into their activity and exhibitions through Twitter. This is pretty refreshing. When agencies and freelancers dominate the conversation, you usually end up with very opinionated content surrounding the event, but seeing brands leveraging the activity is great to see.
Finally, two of the most commonly Tweeted words during the opening day of Social Media Week are 'people' and 'Periscope'. I couldn't have put it better myself; two big areas in social media at the moment.
People. I'm not going to bore you with the standard gubbins about the importance of people on social, but what I will say is there needs to be a bigger focus on 'the person'. People is a collective term and for far too long, brands have been focusing on people / audience as a collective term rather than the individuals that make up that group. We've even began trying to plot the total audience of our clients on a map to begin to see the location of individuals across different geographical segments; how do users in the North differ form those in the South? Do their passion points change? Different users engage with content and messaging in different ways. You can't win them all every time, but you can continually evaluate available data to assess what worked well, where and with who.
Periscope. Rather than focusing singularly on the tool, the concept of Periscope is an interesting one.; one which I feel is a major area at the moment. There is an increasing demand for content on the move; content that can be consumed at any time with little effort on the behalf of the user – immediately accessible content. That's exactly what these tools are providing, instant content. For years, we've spent hours building content calendars and planning creative, but are we on the verge of moving towards the mindset of a publication like Buzzfeed or The Economist's Espresso App? Providing users with relevant, real-time content at mass volume?