The Google Quality Update & What This Means
Google have recently released a quality update which affects website rankings – Tug dug deeper in order to find out what this might mean for SEOs.
Since the beginning of May a growing number of webmasters and SEOs reported to have noticed some significant changes in their search rankings. Despite Google denying any algorithm updates, the search giant has confirmed a change in how they assess quality which effectively results in ranking changes.
What's the background to the speculations?
One of the first to report on these changes was Barry Schwartz who received many enquiries by people asking whether there has been an update: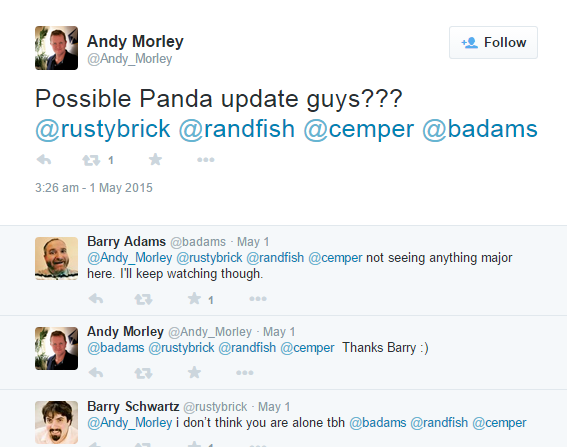 Back in the beginning of May Barry wrote:
"Meaning, I am seeing a lot of people asking and claiming there was an update. Some are saying it looks like Panda. But we are not at a point where I would put this down as a real update. It might be something Google rolled out specifically impacting some sites that may have bought links in a specific network? It may be a limited update? Or it might be a bug."
The following weekend saw further developments that suggested a Google update which many believed to be related to Panda.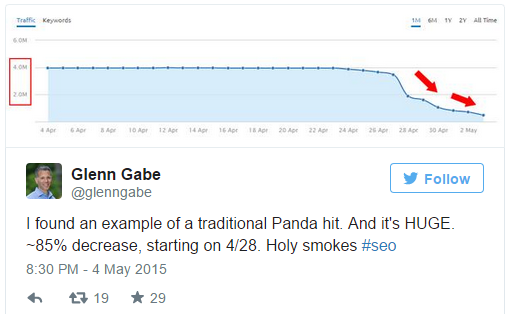 Google denied any updates
Search Engine Land reported on May 5th that they have asked Google whether there was in fact an update and the company responded by claiming that no update happened over the weekend. They emphasised that an update did not happen only regarding Panda, but also regarding any other previous updates.
Discussions went on and on, with many webmasters and SEOs still being certain that something must have happened at Google:

Many of them saw huge changes across many sites in terms of ranking and traffic. So what is going on?
The "Phantom Update"
GSQi's Glenn Gabe reported similar developments back in 2013 with many webmasters complaining about significant drops in traffic overnight. Google then also denied an upcoming update which Gabe dubbed as the "Phantom Update".
Gabe initially thought the update might be in relation to the anticipated Penguin 2.0 update and therefore be focussed on unnatural links, but after digging deeper, he found that it was all about content quality and not links.
Now, almost 2 years after "Phantom 1", Gabe suggests that what he calls "Phantom 2" also seems to focus on content quality problems.
His analysis of some pages previously hit by Panda, revolves around the following issues:
Tag Pages Ranking: Many tag pages that were ranking well for competitive keywords prior to the update
Thin, Click-Bait Articles, Low Quality Supplementary Content:  Many of the top landing pages from organic search that dropped revealed horrible click-bait articles. The pages were thin, the articles were only a few paragraphs, and the primary content was surrounded by a ton of low quality supplementary content.
Navigational Queries, Poor Design, and Low Quality User Generated Content
Content Farms, Thin Content, Popups, and Knowledge Graph: The pages are relatively thin, don't heavily cover the content at hand, and have ads all over the place. In addition, the user experience gets interrupted by horrible popups, there's low quality supplementary content, ads that blend with the results, and low quality user-generated content.
Driving Users To Heavy Ad Pages, Spider Trap
Directories: Disorganized content, thin content, and low quality supplementary content. Deceiving ads that blended way too much with the content, which could cause users to mistakenly click those ads and be driven off the site (deception). Pages indexed that should never be indexed.
Gabe believes the update to be focussed on quality issues, not on links and points out that we saw Penguin 2.0 roll out just weeks after "Phantom 1" occurred which might be an indicator for a major upcoming update.
Google confirmed the quality update
Barry Schwartz has reported on 19th May 2015 that Google in fact has confirmed an update, dubbed the "Quality Update". The company told Search Engine Land that while no spam-related update had happened, there were changes to its core ranking algorithm in terms of how it processes quality signals.
Although some webmasters and reports suggest that Google was going after particular sites with this update, Schwartz reports that he has seen reports from a wide array of sites such as credit loan and news sites that have reported by declining and gaining visibility.
This suggests that the update didn't go after any particular class of sites or any particular sites and was an update to the overall ranking algorithm itself.
What's next?
Unfortunately, Google hasn't specifically given any detailed information or advice on the update but if you feel that your or your client's website has been hit by the update, it might be worth checking your site for any quality content issues by carrying out an audit and thinking about ways to improve the site's content.
Following the conversation around the update in the past weeks, it currently is hard to say which sites will be affected by this update and opinions widely vary. There hasn't been any major developments since Google confirmed the update which might suggest that the update won't be a major one. However, in order to avoid negative surprises, it might be worth reviewing your content and making sure it complies with Google's quality guidelines.
As such, Google suggests to make sure your website is:
Useful and informative:If you're launching a site for a restaurant, you can include the location, hours of operation, contact information, menu and a blog to share upcoming events.
More valuable and useful than other sites: If you write about how to train a dog, make sure your article provides more value or a different perspective than the numerous articles on the web on dog training.
Credible: Show your site's credibility by using original research, citations, links, reviews and testimonials. An author biography or testimonials from real customers can help boost your site's trustworthiness and reputation.
High quality: Your site's content should be unique, specific and high quality. It should not be mass-produced or outsourced on a large number of other sites. Keep in mind that your content should be created primarily to give visitors a good user experience, not to rank well in search engines.
Engaging: Bring color and life to your site by adding images of your products, your team, or yourself. Make sure visitors are not distracted by spelling, stylistic, and factual errors. An excessive amount of ads can also be distracting for visitors. Engage visitors by interacting with them through regular updates, comment boxes, or social media widgets.
Additionally, there are a few things that might affect your side negatively:
Errors such as broken links or wrong information
Grammar or spelling mistakes
Excessive amount of ads
Spam such as comment or forum spam
As previously mentioned, it is not yet confirmed what exact changes Google have made and which sites might be heavily affected but from looking at the current discussion around the update, focusing on building out a better web site, aimed at your users and overall quality, might be a safe bet for this update.
What's your experience with the "Quality Update"?