A Taste of Digital Competition with House of Fraser and Estrella Damm
Tonight TUG opens its doors to some of the best food bloggers our capital has to offer as we host an evening of digital talks and networking.
We have talks from Eoin O'Neil, our SEO Director, and Simon Jenkins, our Social Media Director, as well as a special guest appearance from Ed Loftus, Executive Pastry Chef for Jamie Oliver.
All slides from our presenters will be available on Slideshare after the event.
Our event is also kindly sponsored by Estrella Damm and House of Fraser, who have helped us launch this amazing competition for all attendees! We are asking all our wonderful attendees to write up a review for the event in order to win some pretty incredible prizes. All the competition details are below. Get your entries in now and GOOD LUCK!
DEADLINE: FRIDAY 12TH JUNE 2015 AT 5 PM 
How to Enter:
1. To enter you will need to write a review up of the event. This doesn't have to be super long and detailed, but please include anything you found useful, anything you would like to see next time, etc.
2. Please include any pictures you have.
3. There is no limit on the size of the post but the more detail the better, as we will use this to help formulate the next event! We are trying to improve upon every event and make it better for our guests, so this will help us loads!
4. You will need to add the following badge onto the bottom of your post to seal the entry. You can do this by simply copying and pasting the embed code provided below onto your post. This will be how we gather the entrants applicable to win the prize.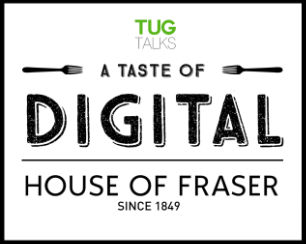 Share this Image On Your Site
What Will I Win?
Try your hand at some Ed Loftus recipes with a 6-piece pastry bag set and a macaroon making kit! We also have some amazing Linea bakeware in the form of a muffin tray, heart cake tin and a loaf tin as well as a Cuisinart mini food processor.
We also have an amazing exclusive ticket to the Estrella Damm Gastronomy Congress. This event will have 3 Michelin–starred chefs discussing the changing face of modern gastronomy as well as incredible live cooking demonstrations from some culinary icons. This event will be held on the 29th of June from 2pm – 6pm.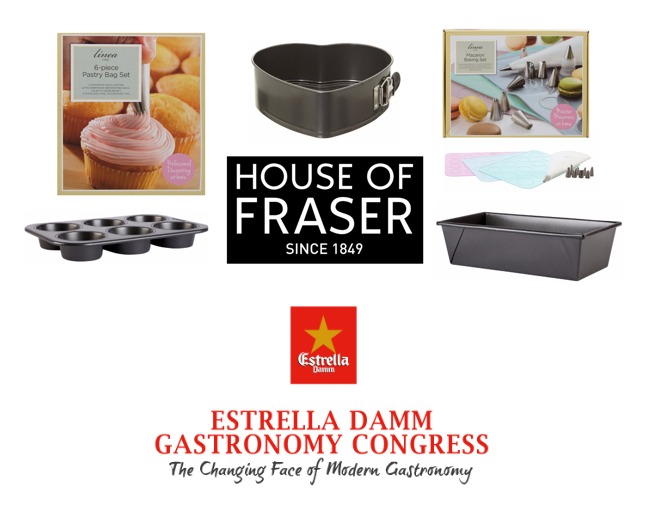 How is the Winner Selected?
The winner will be selected at random out from all entries. All entries must be posted by 5 PM on 5th June 2015 to be eligible.
T&Cs
• All entries must have a UK address for products to be sent out to
• Tug reserve the right to change products if stock levels run out to an equivalent.
• All entries must include the logo with exact embed code provided, failure to do so will result in disqualification
• If a winner is not available for the gastronomy conference date, the ticket will go to another entry who is available on that date.