Moz vs. Majestic – which is the better tool?
Simply put: both Moz and Majestic are great tools for SEO. However, during my research, I tried to look at different aspects of SEO and realised that both tools have advantages over the other when used for different tasks in your day-to-day SEO activity.
Majestic SEO
Majestic SEO is one of the classic SEO tools that most people who have been in SEO for many years will be familiar with. Majestic gives a good overview of all important site metrics such as a backlink break down, anchor text distribution and more.
To determine the quality of a site, Majestic uses its own scoring system featuring its own metrics called topical trust flow and citation flow. Citation Flow determines how influential a site is while trust flow determines how trustworthy a site is in terms of its neighbourhood as well as outgoing links and other metrics.
Majestic holds data going back 5 years, which gives a great overview in terms of a site's past. Another feature I really liked about Majestic is the detailed anchor text distribution tab. This will help you determine whether your client's link profile is healthy with varied anchor text distribution.
A problem with Majestic is the lack of social metrics. With SEO and Social Media coming together more and more, this is a negative aspect I found about Majestic. Social metrics are another important factor to determine how influential a site is.
Moz
Moz started in 2004 as an SEO agency. In 2007, they launched the SEOMoz app, rebranding the company as Moz in 2013. Moz offers a slick interface that is easy to navigate, something that Majestic hasn't quite mastered yet as the interface is a bit cluttered.  The great thing about Moz is that the social metrics of the input URL are shown straight away. The 'Just discovered'-tab shows any recent links to a URL which is useful for citation link-building.
Moz uses its own PageRank metric and Domain Authority as metrics to determine the quality of a site. Google announced at the end of the year that they will not update their own PageRank metric anymore.
The biggest reason why I am a Moz advocate is however that they really understand how social metrics affect a site's value. Followerwonk is an app developed by Moz that scores how influential Twitter users are by your topic/keyword of choice. Particularly for outreach, this is a tool that cannot be ignored.  Moz has a 2-3 week crawl period to update its metrics such as PageRank and Domain Authority.
Summary 
Both tools have immense value for different tasks so below you will find a summary of which task I feel one tool is more useful for than the other: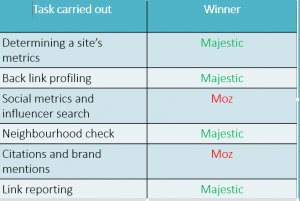 1, Site Metrics 
Majestic is the better tool to determine a site's metrics. The tool gives more insight into backlink types and anchor text distribution.
2. Backlink profiling
Majestic is also a better tool to look into backlinks in more detail. It is interesting to see where backlinks are coming from in terms of topics which is something that Moz does not offer.
3. Social metrics and influencer search
Moz wins this hands down. Followerwonk is an incredibly useful tool to find influencers your brand can work with to get better exposure.
4. Neighbourhood Check
Majestic has a neighbourhood check feature which is something that Moz does not offer. Bad neighbourhoods impact a site's quality.
5. Citations and brand mentions
Moz offers a date features which would enable a user to do reactive citation link building. As soon as a citation shows up in Moz, you have the chance to approach the original writer of the article to request a link back to a client. This is very valuable because it enables you to react instantly.
6. Link reporting
Based on the fact that Majestic offers more insight into the origin of a link, you could argue that Majestic is the better link reporting tool.
Check our software review on AWR Cloud here.