Can an Individual Catch a Specific Companies Eye?
The advertising world is renowned for being hard to crack. Creative individuals (who wish to join this industry) are constantly looking for new, eye catching and talent flaunting ways to just get an interview at these creative businesses!
In the past social media billboards seemed to be the most favoured: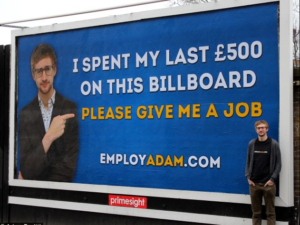 This may still work, yet doesn't target direct industries, costs at least £500 and you have no way of tracking who has looked at your ad!
The hashtag phenomenon has got a little crazy lately. Recently, a hashtag take over has taken place… and I think it's pretty innovative!
A Dutch student created different Instagram accounts which allowed him to post a mosaic of images on different advertising agencies feeds to form the name of the website that the user must visit: wehaveyourhashtag.com. By visiting, the company can save their hashtag from being electrocuted, grilled or dumped into shark-infested waters! All they have to do is invite this Dutch student for a cuppa… pretty simple!
Casestudy – Wehaveyourhashtag from wehaveyourhashtag on Vimeo.
Instagram has recently allowed advertisers to post adverts (as long as the image is the most stunning image ever created). However, if you were allowed to create an advert mosaic, as the Dutch student did, then your advert could cover a larger area, target people specifically looking at that hashtag and potentially track which users have visited your website!
Although it is unclear whether this Dutch student has received his desired cup of tea! What can be concluded is that he has had a great idea and executed it very well!