How Important Are Nofollow Links Really to your Linkbuilding Campaign?
Any SEO who's worked on a link building campaign for a client certainly has experienced the following at some point:
You found this awesome site and you secured a partnership with the blogger who agreed to publish your content including a link back to your client's website. YEEESSSS!!! You are checking your emails about a hundred times a day to see if the link has gone live yet. And then finally the moment arrives when the content has been published! Eagerly you are checking the tag on the link (Surely it's dofollow but just to make sure!) and that's the moment when your whole world is being destroyed, the tag says…. rel=nofollow….
A horror-scenario that we SEOs don't even wish on our worst enemy. Or is it…? Couldn't there actually be value in a nofollow link and help our client's website in a different way than purely for the sake of rankings?!
Well, I dug deeper and found some interesting insights.
Do more nofollow links lead to higher rankings?
The annual ranking report by Searchmetrics shows some interesting statistics on the development of nofollow links in companies' backlink profile: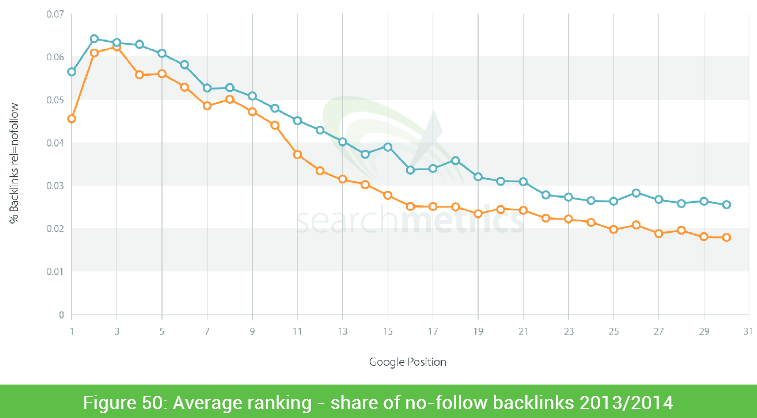 Source: Searchmetrics
The graph shows that the higher ranking websites in Google have a higher percentage of nofollow links in their link profile. And this trend seems to grow year-on-year. The question now is whether this is correlation or causation.
Personally, I think that it might be a bit of both as the popularity of a brand can have an influence on the creation of more nofollow links than a relatively unknown brand. People are more likely to share content of a brand that they are aware of which then leads to more links (dofollow and nofollow). On the other hand, the curve is quite steady and it seems that there is a direct correlation between the position and the percentage of nofollow links. This might suggest that a healthy and balanced backlink profile at the same time improves rankings over time.
Links build awareness
Links placed on an authoritative website – no matter if dofollow or nofollow – can still raise awareness for a brand. Look at the following example: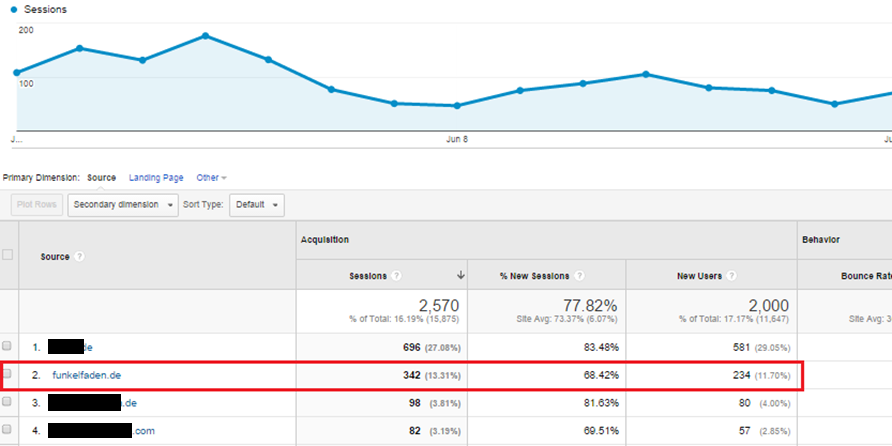 Source: Tug
The website highlighted in red drove over 340 visitors to the website which made up over 13% of all referrals to the site. Two-thirds of these referrals were people who visited the client's website for the first time. Without the link on the blogger's website which leads to my client's website the visitors maybe would have never known about my client! To summarise, this link raised the awareness of my client's brand and grabbed the attention of 342 readers who are all potential customers.
One of the first things I learned in my marketing course at university was to understand the consumer purchase journey: a consumer becomes aware of a product or service. He considers different options and finally makes a purchase which then may lead to repeat purchases and loyalty. In its simplest form it looks something like this: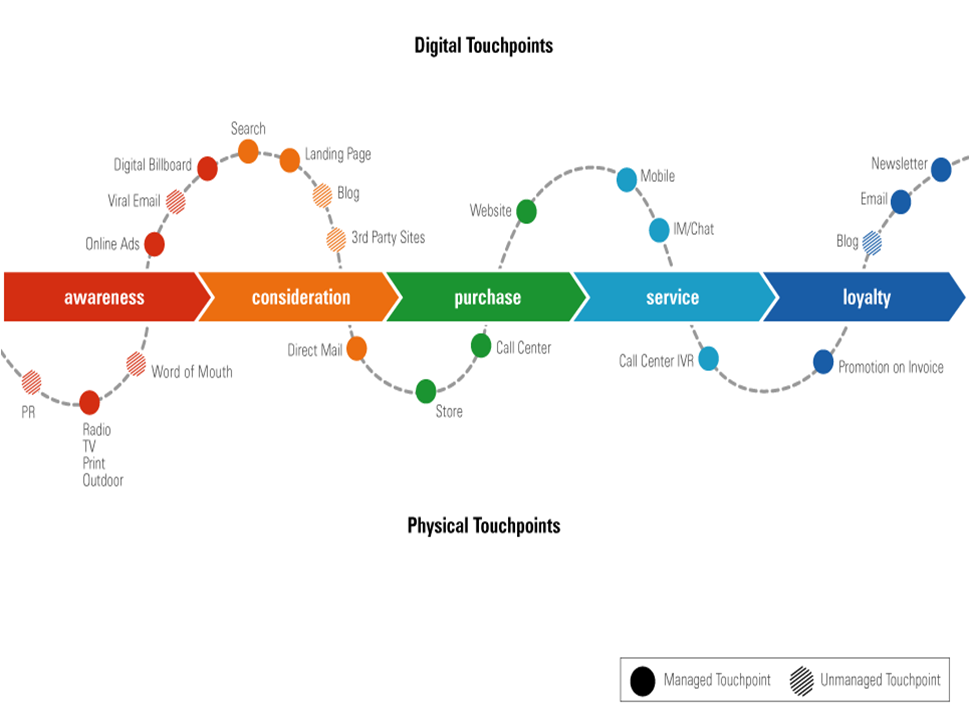 We all know that consumers get more sophisticated and demanding as more and more options are available to us. Therefore, marketers have adapted this basic model and have added a few more stages to the process.
However, my point was that a potential customer must be aware of a brand first in order to make a purchase.
The link in the previous example has done a decent job. With a nofollow link.
Links lead to profit
A nofollow link can also directly lead to someone spending money on your company's products or services. If you consistently create awareness and engage with people, those nofollow links may earn you way more than domain authority.
Nicole Kohler from WebpageFX gives a good personal example of how this ideally could look like:
• I became aware of Buffer through someone else's Twitter link
• I followed Buffer on Twitter
• I engaged with their content
• I tried, subscribed, and ended up forking over $10 a month
Links lead to more links
Have you ever seen a piece of content go viral and wondered: "Hmmm, I wonder whether this was from a dofollow or nofollow link…"??? No? Me neither.
Anything that goes viral – might it be people who post pictures of themselves without make-up, a cat wearing a shark costume and cleaning the kitchen on a Roomba or a picture of several first class celebrities taken at a very prestigious annual film award by its host – will automatically create more links. Some of them dofollow, some of them nofollow. But the bottom line is (again!) that all it takes for the piece of content to go viral is one link – and that link might as well be nofollow.
What is the general opinion on nofollow links?
From reading this post, you might have realised that personally, I feel that nofollow links can be of great value for every link building campaign. But what do other SEOs think?
Barry Schwartz has polled his readers which may give us an idea of what industry professionals think. He asked: "Should Google retire the nofollow attribute?". Over 300 people answered and the result is as follows: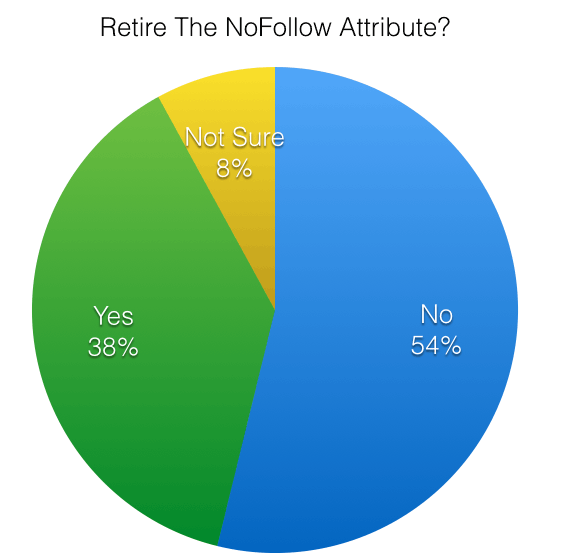 Source: Seoroundtable
It seems as if people are split over this topic, however, the majority has expressed not to retire the nofollow attribute. Some people mentioned the very important topic of spamming which is prevented through the use of nofollow links. This adds another reason for the use of nofollow to my list.
Main takeaways
• Every website should have a healthy and as natural as possible backlink profile, consisting of nofollow, dofollow, branded and non-branded anchor text links.
• Although nofollow links don't pass link juice and SEO value, they are still of value if your campaign is focussed on raising brand awareness and driving CTR & conversions. Placed on an authoritative website, a nofollow link can help a brand improve upon those areas.
• One nofollow link can have a massive impact and create loads and loads of dofollow links in turn.
• Today's search engines, including Google, are seeking more than just PageRank: they want to see backlinks from social media, blogs, reviews, Facebook and more. This is what boosts rankings today – not just some form of linking points.     Branding is important, and the linking strategy, both outbound and inbound, can promote a brand big-time.