9 SEO tips for the social media profiles of your business
Aligning on-page elements of your social media profiles with your overall content strategy is important for SEO. Google uses signals from your social media profiles for the ranking algorithm so your social media profiles need to be optimised in much of the same way as the homepage of your business. Below are some SEO tips for your social media profiles:
#1 Be careful when choosing a social media handle or name for your social media page. Assuming you own a company called 'Smith Plumbing', using the Twitter handle @SmithPlumbing would be a lot more efficient than @PlumbingCo because diluting your brand name and not fully displaying it would have a negative impact on the visibility of your social media profile. Brand names should be kept the same on all of your social media profiles unless the handle is taken.

#2  The 'About'-section of your social media profile acts as a meta description. On Twitter, this is the bio section on your profile, on Facebook, it is the tagline in the 'About'-section. Make sure it is fully visible in search results and does not get cut off. You can add keywords and hashtags in this section  but less is more, do not overdo this. An example of a cut-off Twitter bio can be found below: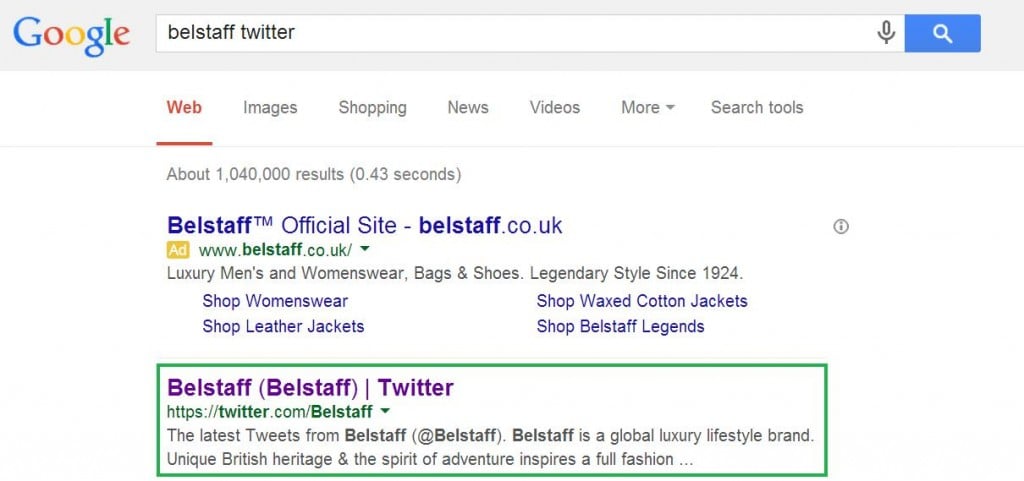 #3 Make sure there are links to all of your social media profiles from your company's website. Also check whether all of your other social media profiles are referenced correctly on each social media profile.
#4 It is important to use the description fields of picture-driven social media platforms such as Instagram and use relevant hashtags and keywords to improve your content's visibility.
#5 Unless video content is strictly brand-related, the title does not have to state the name of the brand. Especially for How-to videos, it is ok to not mention the brand name in the video title.
#6 Make sure your social media profiles are updated regularly and do not neglect sections that can be filled with content. The 'Notes'-section on Facebook for example is an often underused section that leaves a lot of room to share interesting content or news about your business.
#7 Make sure your contact details are displayed on your social media profiles. The more information you are willing to share about your business, the more valuable your business will look to search engines.
#8 Google+ is an often neglected social media platform with immense value for SEO. If you have not set up a Google+ account for your business, you should! Google+ works like an entire blogging platform and leaves your content fully editable at all times which allows you to add keywords and hashtags even at a later date. 
#9 Use the Google Analytics dashboard for social media insights. This will help you to monitor the performance of your content and see what works best for future content optimisation.