How Callout Extensions Provide Value
The term "Callout Extensions" refers to another line of text in between your description lines and your site links. Ok but how can they benefit me?! Although they can't be clicked, they do allow you to provide more valuable information about your product or service in an ad. Callout Extensions essentially give your ad more real estate on the search results page and allow you to push your competitors further down the rankings. This is a great new feature as it sometimes can be hard to get across the valuable information in the ad text as it is so limited on space.
In some ways Callout Extensions are very similar to sitelinks within an ad but with a notable difference – You can customise the text up to 25 characters.
To explain the difference between callout extensions and sitelinks, callout extensions exist to maximise the intrige of the ad with key words/USPs whereas sitelinks are links within the ad to direct a potential customer to other web pages on a site which could also be of interest to them.
So to get the best from your callout extensions, keep the following in mind:
1) It's best to keep the callout extensions short and direct, perhaps 1 – 3 words per callout.
2) Keep the text relevant to the ad and family friendly.
The real benefit of callout extensions is to create interest and draw more attention to an ad. For example your ad could be – 'Host Fast & Secure Online Meetings'. And within your callout extensions you would like to include 'Host Unlimited Meetings' 'Collaborate Anywhere' 'Work Face To Face' as seen below: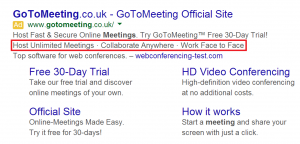 The extra points of information provided by a callout extension will hopefully be that defining factor in receiving a higher click through rate and landing more conversions.
Until next time.