Review Extensions: Top of Mind Awareness in the Generic Ad Space
I often wonder how as humans, more of us don't spontaneously combust as a result of total sensory overload. When we aren't subconsciously consuming advertising messages through our surroundings such as our morning breakfast cereal box or our ad-plastered subway commute, we [voluntarily] plug into what is arguably the largest advertising mechanism out there: the internet.
While much of what's out there is either so subtle or such rubbish that we never fully process it, a truly powerful advertising message can completely shape the decision making process.
Here enters Google Review Extensions. I would even wager to say that this is one of the more commanding extensions that Google has to offer.
As a PPC Specialist, you likely already have some compelling ad copy endeavoring to lure an unsuspecting searcher to your page. As a PPC Specialist, you also likely know that is not quite as simple as it sounds.
With the subtle power of third-party [positive] reviews, you can convert a generic, bottom of the buying cycle query into a top of mind, brand aware conversion.
The image below illustrates the fight for that top spot to own the generic space.
The 1st rank winner is cleverly using social annotations to occupy more SERP real estate, the 2nd has no extensions whatsoever, and the 3rd is commanding space with a simple to implement review extension.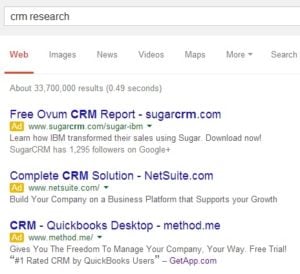 I am pretty sure we have all struggled with cramming proper branding, a call to action, and a key benefit into 95 characters – Google now offers the opportunity to strengthen this initial message with an additional 67 characters in the form of an exact quote or paraphrased content, including the name of the source.
In the effort to drive traffic in an over saturated marketplace, Review Extensions offer an opportunity to reinforce brand identity and stand out in the hyper-clutter of online advertising. Thanks Google!
For a guide on best practices and how to implement Review Extensions, visit: https://support.google.com/adwords/answer/3236114?hl=en