They think it's all over…
Yesterday marked the 48th anniversary since the England team, led by Bobby Moore lifted the World Cup on home soil in 1966. It seems tragic to think that this is the only slice of World Cup pie we can feed on, despite the fact it happened 22 years before I was born. Oh well, chin up old chap… there's always cricket!
To mark the occasion, @WembleyStadium ran a great campaign on Twitter, which detailed the game as if it were in real time all those years ago. For a twenty-something like myself, who is so used to following football on Social (last night for example following my beloved Liverpool against Manchester's second worst team from the comfort of my own bed), this was a great opportunity to get at least a flavour of what is was like.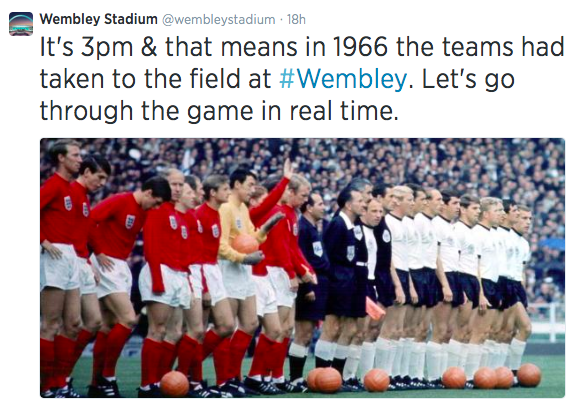 The danger when running a campaign like this of course is that you painstakingly Tweet every tiny detail, flooding people's timelines with essentially worthless content. That's where I thought Wembley Stadium did a great job. They chose six key moments of the game and accompanied them with some iconic imagery. There's a fine balance between keeping your audience interested and boring them to death with "throw in to England" or "there's a pass". Although let's be honest, I seem to remember cheering an England corner in this year's festering disaster of a tournament.
A campaign of this sort is far from new. There are dedicated accounts that employ this retrospective real-time publishing of content (the incredible 'live-tweeting' of World War Two and the Titanic voyage). In my opinion the reason these campaigns work is due to the immersive nature of the content. It gives the user a rare opportunity to become part of a moment they may not even have been alive during. I think also it's the juxtaposition of old versus new; the idea that we can observe the destruction, grit and despair of the Second World War… from an iPhone. Of course, real-time publishing isn't exclusive to historical events. Think of users that live-Tweet an event such as a trade show. It's the same theory; content that immerses the user into an occasion they are not physically part of.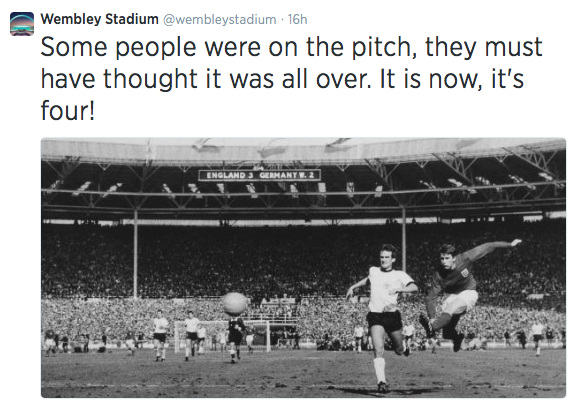 I was quite surprised to see that Wembley Stadium has little over 90,000 followers. This seems a relatively small number considering the capacity of the venue itself is 90,000. A campaign such as yesterday's warrants some paid media; get it in front of people. It's interesting content. Over the last year, Twitter has put a real emphasis on creative content; content that sits outside the "read our latest blog" or "just about to make an omelet" spectrum (in the words of David O'Doherty).
There seems to be a real hunger for 'past' content. My Social timelines are constantly full of 'time-hops' and '#TBT' (throw back Thursday). I guess to some extent it's because Social Media is now of an age where we can look back at old content.
They think it's all over…
Nah, too obvious.