Expedia launch new SM campaign – ' Travel Yourself Interesting'
For many summertime is a chance to pack your bags, travel to a foreign land and begin a new adventure. It's the perfect time to explore the world and become a little more 'cultured'. Playing on this idea Expedia have recently launched a new Facebook campaign, which celebrates the notion that each time you travel your life becomes a little more interesting. And who can say that's not true?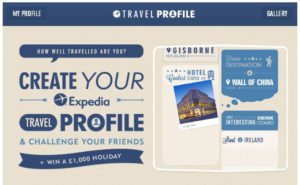 I've managed to tally up a number of ridiculous stories which include; getting on the wrong flight (yes that's actually possible), nearly losing a fellow traveller under a train, side stepping to the top of a black slope with a nose bleed to try and rescue a friend (this seems to be an occurring theme) and finally going to a young, single Mormon mixer, which was a new experience to say the least! So, yes I think Expedia have a good point.
But how does the app work?
The app itself is somewhat of a game as users are able to challenge, compare and impress their friends by sharing their travel life infographic online.
Facebook scans the users Facebook profile for travel related information including your locations, destinations, photo tags etc in order to create a unique infographic travel profile.
Once this step is complete users are able to edit and customise their profile as they wish before sharing and submitting their profile to the travel gallery. Each profile is then rated and given a score according to how interesting your profile is. The incentive here is a £1000 Expedia holiday voucher for the profile with the most points. So why not?
Check out and create your own Travel infographic using this link.
Or have a nosey at mine here.