Brand New Foursquare, coming to a Smartphone near you!
As a loyal Foursquare user with over 5,000 check-ins under my belt, I have been through a lot with the location based social network and local search app.
But it's not just the heated battles to be mayor of the office, or the competitions with strangers to be mayor of the local pub; Foursquare has given me so much over the years. I can always rely on Foursquare to find me somewhere to go, from discovering new places to go in my local area, or popular suggestions when I am in a new city.
I especially like the anniversary compliments given out by the app. "Four years ago today you joined Foursquare and you still look just as beautiful as the day we met." Awwww shucks, thanks Foursquare.
The app contains a huge amount of data, and it can be harnessed to do some pretty cool things, like this visualisation of all check-ins in cities around the world. Have a look at a day in the life of London, in Foursquare check-ins.
Foursquare have grown over the years to a 50,000,000 strong community and it's been quite a journey for us early adopters. But now, Foursquare has announced they are rolling out a brand spanking new version of the app. Check out the new logo: Oooh shiny! It's supposed to look like a cross between a map pin and a superhero to symbolise how Foursquare can be your hero in finding stuff to do in your local area.

The new version of the app will be all about you, with recommendations and suggestions of places that match your tastes. Check in at the pub a lot? Here's a new bar you might like to try. Coffee addict? Everyone raves about this place around the corner, you might like to check it out. Thanks, I will.
Foursquare split into two a couple of months ago with all recommendations remaining on the old app and check-ins moving into a separate app, Swarm, and from last week, all check-ins have moved there.

Swarm is great for keeping up and meeting up with friends and seeing who's out nearby for you to meet up with, great for all the social butterflies out there. Now for my two cents I don't really like how Swarm works but I guess I'll get used to that. However the new Foursquare app genuinely looks super exciting.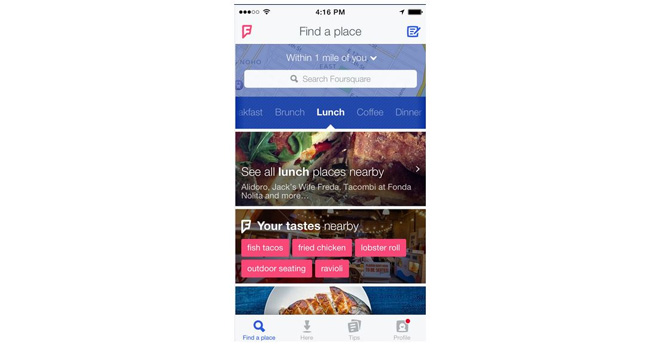 From the screenshot, it seems you can search locally based on your favourite tastes and discover places to go, like finding the best chicken wing joint nearby, or the closest pub with a beer garden, essential on these hot summer nights. A true innovation in personalised social search.
Cheers Foursquare, can't wait to meet the new you. You still look as beautiful as the day we met.
For more info, check out the official post on the Foursquare Blog.