Social Media and TV… it's a bit good isn't it?
In April 2013 I attended (the now legendary… mainly for the drinks afterwards) Twitter4Brands event in South London. For those of you that don't know it, it's an event held by Twitter where some of their top guys (Bruce Daisley – UK MD, Oli Snoddy – Head of Planning, Tony Wang – VP) give selected brands and agencies an idea of what's hot in the world of Twitter using some in-house data.
Last year really opened my eyes to the ways in which Twitter & TV worked together. I remember sitting there as Bruce Daisley showed a graph of Twitter engagement during Prime Minister's Questions and thinking… wow, this could be big! Traffic on Twitter was directly associated to those moments on contention / humour / dismay.
I wrote at the time about how this marriage of Twitter and TV was the first genuinely exciting thing to happen in the industry in months. I still stand by it, because like all good ideas, they have evolved into great ideas.
I remember chatting with other 'quiffed' people at the event about how Social is going to 'replace TV advertising'. I never subscribed to those particular thoughts. Some of my clients have launched TV campaigns that have massively complemented our Social offerings, though they couldn't replace it per se.
I was sat down the other night watching the new series of Derek, the beautifully created sitcom by Ricky Gervais. There was one particular scene where a character mentioned that she should set Derek up on Twitter and Tweet his thoughts, the first of which being 'I loves toast'. She then mumbled the Twitter handle and the scene moved on. My girlfriend (who also works in Social Media) and I looked at each other with an almost childlike excitement. They haven't? Have they? We both scrambled for our phones and sure enough there it was…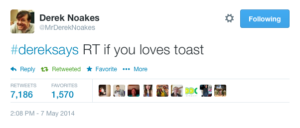 … posted 4 seconds ago! "That's a bit good isn't it"?
Twitter was right. Social & TV is a really interesting and exciting area. It ranges from the simple advertising of a hashtag on TV to seemingly live Tweeting from a TV show recorded some months previous.
We've seen other such groupings of Social and TV. I believe it was BT that gave viewers the chance to vote for a particular story strand their adverts explored a couple of years back? Genuinely exciting stuff.
I think it's because perhaps we traditionally see TV as a very much planned media. Social can be anything but and when the two are combined, it seems somewhat implausible. Channel 4's 'Million Pound Drop' used it nicely asking viewers to Tweet their answers from home and they'd display results… but then again, that was a live show.
Without getting too romantic about the whole thing, it is great to see exciting concepts / uses / examples happening within the industry. If you've got any great examples of Social & TV working well together, then let me know.
Twitter: @simonjenkins09