Tug crashes London Coffee Festival 2014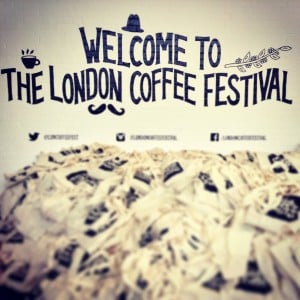 Flicking through the metro this week I came across an ad for The London Coffee Festival and as a recent coffee convert (due to the impressive array of boutique coffee shops in the EC2 area) I deemed it an un-missable event. The festival was only a 10 minute walk from Tug HQ, so a group of us popped down to check it out on our lunch break.
As a fairly new employee I've relished working in Shoreditch, and an event willingly offering me free high quality coffee (and chocolate) unsurprisingly filled me with sheer joy.
So what did I learn on my lunch break today? Well, first of all, it turns out coffee is cool. The baristas appear to have adopted this new rock 'n' roll status. They were young, suitably inked and had the sort of swagger you would associate with flaring cocktail barman. The Cravendale stand was host to some sort of 'coffee off' similar to Eminem's rap battle in 8 mile, but with latte art. It was as intense as Alma de Cuba's rich roast I'd sampled on arrival.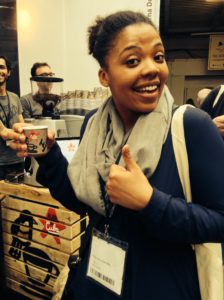 What else? Well, I've seen the future and it's looking pretty chilled… We all love a good iced coffee; but generally the attention to flavour all but goes out the window. Fear not coffee lovers! Once the world meets Goodbean's Cold Brew Coffee, this opinion will all cease to exist. They brew their coffee in a particular way, producing smoother, less acidic coffee. In other words, it tastes rather marvellous when cold. Look out for these guys, they're creating a cold coffee revolution!
With coffee coming out of my ears it was time to pin-point that perfect accompaniment and the London coffee festival really exceeded itself with this one. I came across the Mission Cookie's colourful stand and instantly fell in love. These buttery, melt-in-the-mouth biscuits have found their way onto my list of outstanding baked goods. I have their card and I will be making an order within the week.
So be sure to pay the London Coffee festival a visit this weekend, I highly suspect you'll reach coffee nirvana, or at the very least, leave with a new found love of this caffeinated treat. Alternatively have a wonder around Shoreditch any day of the week and check out amazing coffee shops such as Fix or Allpress coffee house. Honestly, it's pretty much a coffee festival every day of the week around here.