Repurposing Videos for your Outreach
Recently Rand Fishkin wrote an article about promoting websites brands without content. Good post and great insights as usual. However, many brands use interesting content such as videos as valuable assets to engage with online communities and improve off-site online visibility.
If you haven't already, look at a branded YouTube channel and see what's to see what you can use in social media conversations or link building activities. Let's focus on how you can use video content in your content marketing outreach activities…
How can you identify kick ass content?
It's thought that you are an artist if collectors buy your work. Similarly, kick ass content is valuable if it appeals to specific online communities. It's a good sign if publishers such as bloggers and online magazines want to share these YouTube videos. This is content that works!
By matching YouTube videos to possible target audiences, you can see if the content can sit in other sites thus amplifying the message to more communities. You could also search for the video title in Google and find out if some publishers have already embedded the content. If the content has already been picked up naturally by a certain niche, you can build up a longer outreach list in that space to increase the visibility of the content.
Alternatively you could search for similar videos produced by a competitor to find out if it's been picked up.
Often YouTube channels presents a mix of promotional, funny and informative content and the last two types are often more effective in the outreach.
When you discover a video that could be of interest for a set of online communities, it's time to test.
Pro tips:
– Take into account how the publishers interests could clash with the messages expressed in the video.
– Avoid focusing on over promotional content. A great video with a sale slogan at the end could prevent many leads.
Basic requirements for video outreach
Not all YouTube videos can be used for outreach and placement. In fact, YouTube admin must choose the option to let users embed a videos. If this option isn't available you won't be able to use the video in your off-site content marketing activities.
Video content can be shared on other websites with embed codes. YouTube provides the options below  (see image). Videos also must be credited with the source, this provides you with the chance to get a do-follow link to the producer website.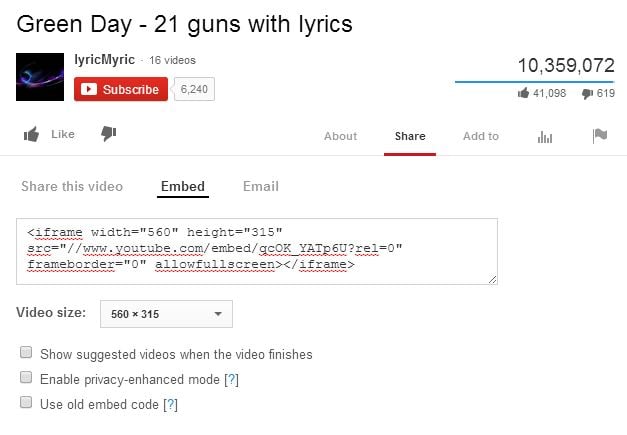 Create an outreach contact list
As previously stated, select a YouTube video to test for outreach in the identified online communities. Try to think of a variety of different prospects. For example, a tutorial on creating a LEGO eastern eggs would appeal to prospects including:
– lego bloggers
– mum bloggers
– parenting websites
– kids activities/creative play websites
– entertainment websites for kids
– school blogs
– crafty-DIY bloggers
– bloggers that have already shared LEGO related videos
– toy bloggers or a blog of a toy shop
– mums associations
You can find those websites with Google searches like "mum blogs", "top mum blogs", "list of mum blog", "mum blog awards", "mummy bloggers", and so on. Your contact should be organised in Excel with the following information: the name of the blog, URL, e-mail and contact name.
Pro Tip:
– Test online communities where you have more chances to publish your videos before spending time compiling a long list of failing targets.
Create an outreach e-mail
You want to contact publishers saying you have a video that may be worth sharing. The e-mail outreach should contains the following information:
– who you are and you are working for
– what video you are offering
– why this is of interest for their readers/visitors
– suggest that the content is there to be shared
In the first video outreach e-mail, include a link to the video and ask the publisher to get back if they want to have the embed codes. This will make your content marketing activities more easy to track. You could be kind and ask if they want a particular size to fit with their content management system. Below is an example of an outreach email.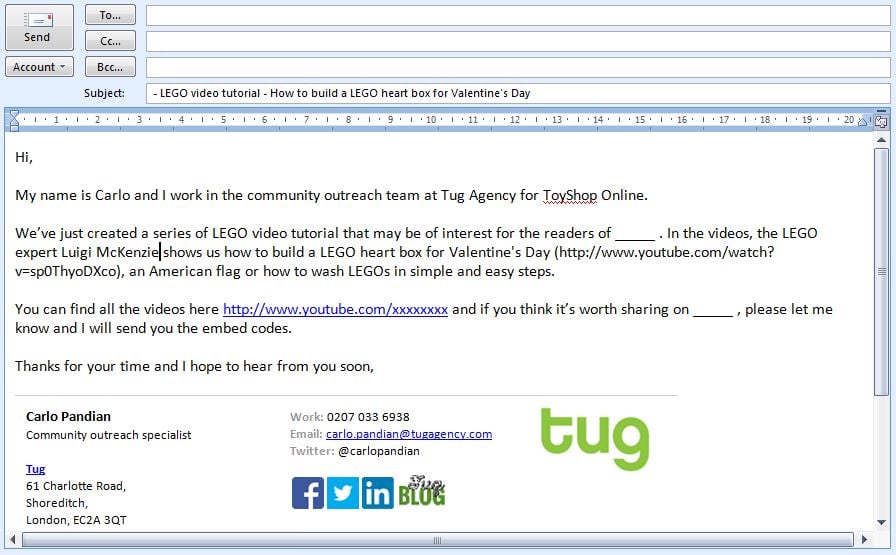 Reply to interested parties
Video outreach is a great way to build links that work similarly to infographic outreach. What you want to make sure is that your video is credited with a link so include a credit section in the embed code you will send over. Below is an example of video outreach email reply.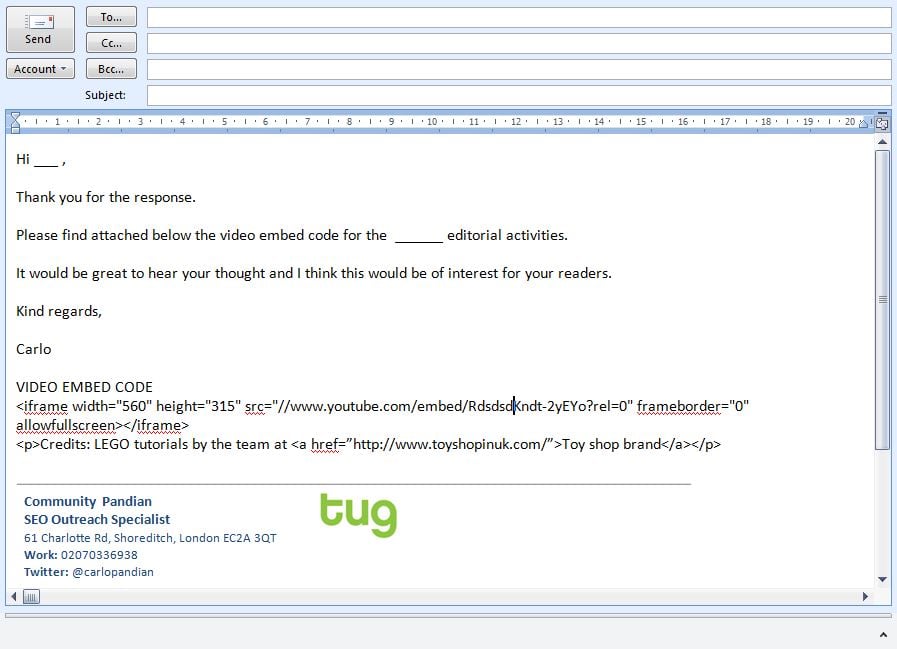 Track results
Often publishers will embed the videos without any notification. You can see who has embedded the code in the YouTube Analytics embedding section or by looking at the recent google results (search tools > date) for related keywords.
Extra pro tips:
– Show the willingness to promote the published videos on the creators social media profiles
– Don't forget the plethora of video websites that are publish video content for specific niches – for LEGO for example you can embed on MOOC sites
– Don't forget social bookmarking in StumbleUpon, Digg or Reddit to increase content visibility