Gap shows support to the Sikh community via Social Media
Brands are now using social media more and more. The competition between brands across all social media platforms is also forever increasing; they are 'chasing' more followers, more fans, more likes or more retweets. Above all brands want to engage with their audience and target market, and especially to leave a positive feeling about themselves in people's minds.
Therefore, the challenge is to be original whilst attracting attention from the public. Gap seems to accomplish this perfectly, unarguably doing this with their recent tackle on racism.
In New York, a recent ad for Gap featuring a Sikh model had been vandalized with racist messages like: Make 'Bombs' instead of 'Love', and "Please stop driving taxis'. After an editor at The Islamic Monthly tweeted a photo of the defaced ad, Gap responded with a tweet asking for the exact location of the ad. They also added the ad in question as their background image on Twitter, thus increasing their support for the Sikh community.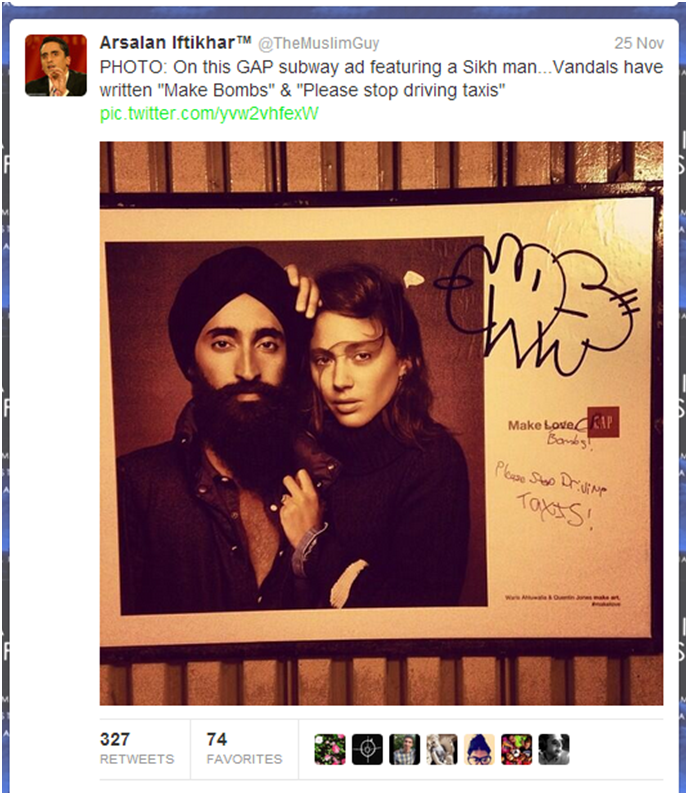 People on Twitter and Facebook, as well as the press praised and congratulated the brand for their smart act. Gap's followers on Twitter increased from 312k to 319k in 4 days, from the 25th of November until today. Besides, a Facebook page is now dedicated to their 'Make Love' campaign, and has already over 4k fans (see below).
Social Media is the perfect tool for brands to show their identity and personality, and Gap shows well how this can be possible.