Airbus new marketing campaign: 'It's the seat'
Airbus has launched a marketing campaign promoting the unique comfort  that their passengers now benefit from. They have seats set to a minimum standard of 18 inches. Airbus is also calling on the aviation industry to set  a minimum of 18 inches standard for the width of economy seats on  long-haul travel.  They support their campaign with tweets like: "Passenger sleep quality is up to 53% better in 18 inch wide seats compared to 17 inch wide seats".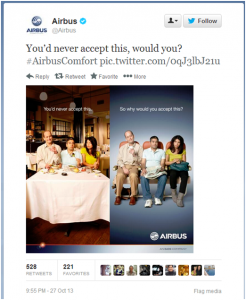 The hashtag #Airbuscomfort was promoted leading to some negative mentions, but also to some humorous Tweets. The marketing activity was launched on Twitter on Sunday night, and continued the following day. This coincided  in the UK with the mini storm 'St Jude'. That was probably not the best time to launch the campaign, as can be seen from tweets which show the UK audience's bewilderment.
Added to that Airbus's accompanying illustration was fairly criticised too. It didn't appear coherent with the topic, as an image of a rather slim woman was used to support the theme of wider seats.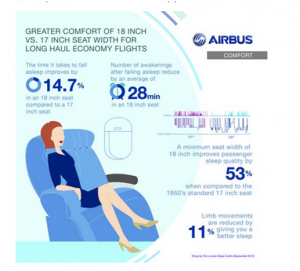 What do you think of the campaign? Is it a clever move by Airbus to lean to their apparent competitive advantage in terms of comfort? It seems quite successful and engaging,  with now over 600 retweets of their first tweet sent on Sunday 27th. At least, the campaign was talked about and  led also to some other witty tweets such as: