RIP – SEO Keyword Traffic Reports

As many in the SEO and wider marketing world will be aware, the last week or so has seen a more definite nail in the coffin for organic keyword traffic reporting with the number of so called '(not provided)' organic visits increasing rapidly. To the extent that some are predicting most sites will see 100% not provided organic keyword reports by Dec 2013.
What is it about?
The term '(not provided)' basically refers to the way that Google Analytics reports visits to a site where there was no referring keyword information attached to that header request (it can be called something different depending on your analytics package). This would occur where a search engine 'passes' over the keyword that was used to refer a user to a site via that request for the content of a particular URL.
This information can then be used to provide a keyword level report for organic traffic to a site in reporting tools such as Google Analytics and others.
The reason this keyword referral information started to become more significantly not provided, was that Google introduced encryption of search for users logged into a Google account within their browser (2011). This then extended as a standard on a number of browsers over time and was also encouraged as part of the experience within Google's Chrome browser.
We have been able to measure the impact of this on many of our clients. Just taking the average of three clients that we work with over three sample periods we can see the pattern form clearly: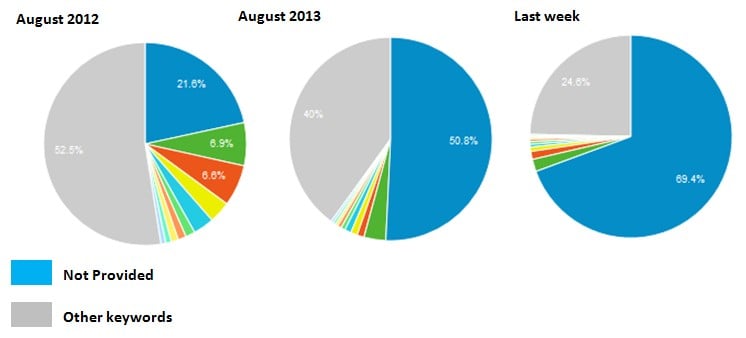 To make this a fair sample all these clients experience on average over 1M monthly visits each from a global audience and deal with divergent markets and content themes.
Why could this have happened?
As with any major change in the SEO world this has been followed by excited speculation, endless tweeting and commenting on what the 'real' reasons are for this happening, from Edward Snowden and the NSA, to Google (a publicly listed company) trying to make more money.
It has been suggested that the timing draws a connection with NSA and prism revelations, whilst the decision to not pass the keyword information for organic traffic but to continue to do this for paid search ad clicks suggests an attempt to encourage paid search investment and improve Google revenues.
Whatever! So what has this changed?
Regardless of the reasons for the decision by Google, it is important for us as an agency to make sense of these changes for our clients and get the perspective that is sometimes lacking in these situations.
This change clearly means certain aspects of SEO reporting will stop providing any meaningful insight. Keyword level insights on organic traffic will stop being possible entirely, such as bounce rate per keyword as well as user behaviour by keyword.
As outlined before this sudden increase follows a longer period of increased levels of not provided organic search traffic. However if we delve further into some of the statistics we gathered in the client case studies we performed other patterns emerge:
Browsers
Not provided traffic by browser YOY

Mobile
Mobile Visits – Aug 2013 VS Aug 2012
Across all three clients mobile visits were up +108% on average
Mobile Visits Not Provided – Aug 2013 VS Aug 2013
Across all three clients mobile visits were up + 2,467,584% on average
Conclusion
This change has been coming for a while regardless of how much Google has been more rapidly pushing in this direction.
The rise of Smartphone use and in particular Smartphone browsing has seen an astronomic rise in the levels of encrypted search visits from mobile for our clients. A shift in browser use and default encryption of search has also contributed to this increase over time.
For what we may lose in keyword level organic insight, we have gained through tools such as Google Analytics in other areas of insight, such as user behaviour and engagement metrics and more pertinently the measurement and optimisation of mobile experiences.
The key to this all is to understand the value of all channels as part of a wider marketing mix rather than simply as part of an isolated focus on what keyword drove what level of traffic each month. For all the granular detail that online digital reporting can provide, it is sometimes easy to ignore the wider picture.
Top 5 things to be more concerned about:
Do you have an integrated content strategy across your site, social and SEO?
Who are the key online influencers in your industry and have they seen your content?
When was the last time you carried out an SEO audit on your site? Have you fixed everything since the last one?
Do you have a mobile optimised experience for your users?
Do you clearly understand how each channel contributes to your conversions?