Airbnb embraces Vine
Last week Airbnb launched a six-day long social campaign encouraging Vine users to submit a video in order to be selected to feature in a full-length movie using the moniker "Hollywood Vines".  This is an interesting twist in using the new social network to promote individuals as a wider part of a film's production.
This campaign was monitored via Airbnb's Twitter account, where ten tweets were posted daily with instructions to shoot the scenes. The full movie will then be produced for a September release on the Sundance channel. Wired  reported a slow start to the campaign, but this picked up due to a number of online influencers including Ashton Kutcher (see photo).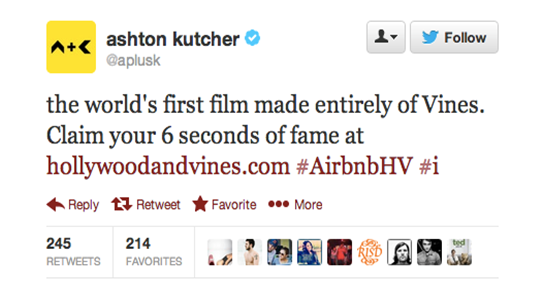 The campaign seems particularly challenging. We can assume that the tight timescale of six days, made it difficult to secure enough footage, as well the possibility of users finding it difficult to follow scene instructions.These could be factors that make the compilation of the final video problematic.
If you are curious about Airbnb's accommodation, you can browse some Vine videos via the website Seenive.com. When searching for the Vine videos with the #airbnb hashtag, you will find both happy and unhappy customers providing reviews.
Airbnb has a proactive social media strategy, trying to engage with its community in a fun way. The full movie will be available on the 13th of September, good luck to Airbnb!