Burberry leading the way in digital retail….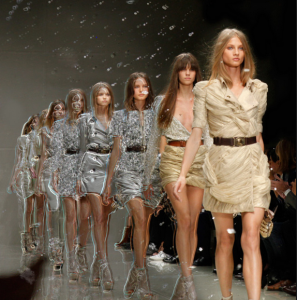 Burberry is championing the digital and mobile technology in retail and innovation. They are the first to live-stream their catwalk shows to their fans worldwide via social platforms. Burberry recently launched a new made-to-order facility that can be used live at the catwalk with "smart personalisation" allowing customers to order bespoke pieces straight from the autumn/winter 2013/14 collection. There was an added incentive of having the option to have your name engraved into a metal coat tag or on the bag plate. Pretty cool, right? Well… it gets better, you can also pass your phone over an item unlocking a product video to show its journey from design sketches to pattern cuttings. This test proved successful and was introduced into their omni-channel strategy with the technology being rolled out to the new Burberry regent Street store.
Continuing to lead the way, Burberry has collaborated with Google to take place in the 'Art, copy and code' project which looks at how the web in the modern age is drawn into advertising. The project being taken forward is… "Burberry Kisses"
This experimental marketing project can be found at kisses.burberry.com. It uses special "kiss-detection technology" via your computer, tablet or smart phone.  All you have to do is pose with a kiss and and click. Once the kiss is captured you can then choose different shades of their Burberry lipstick range, add a short message to go along with the kiss and then send it onto someone on your Google+ friends list or via email. Once sent you will receive a special 3D animation of the kiss' journey from your location to your recipients, fly from your city to the receiver's destination across a 3D landscape, which also incorporates Google Street-View images.
The objective of the campaign was to create a campaign which millions could relate to and to reach consumers in a non-intrusive way and ultimately increase sales.
A clear message to all of us then – think creatively!