Social Networks: Who's the next MySpace?
 When I started using Twitter, Facebook and other social networks in 2007, I did not envisage for a second that it would one day become my full time job!
The rapid growth of these social networks and their position in society today, where they have become a powerful and popular communication tool, has been to say the least, unexpected.
Who remembers MySpace? That was the first social network I joined! It was the most popular social media platform from 2005 to 2008 and has declined with the arrival of Facebook, which gained huge popularity in 2008. What makes a social network last? Will the 'MySpace story' be one shared by another social network in the future?
Facebook, Twitter, LinkedIn, Pinterest, Instagram and Google+ are now the most used social networking services worldwide and continue to increase their user base.
At the moment Pinterest is flourishing; according to Nielsen in their 2012 Social Media Report it is the fastest-growing social network.  Its audience is huge in the US and Pinterest pushes international growth, adapting its site to local countries (its first non-English website was launched in France in June 2013).
Will this growth slow down over time? Some articles have already pointed this out (Mashable, BusinessInsider).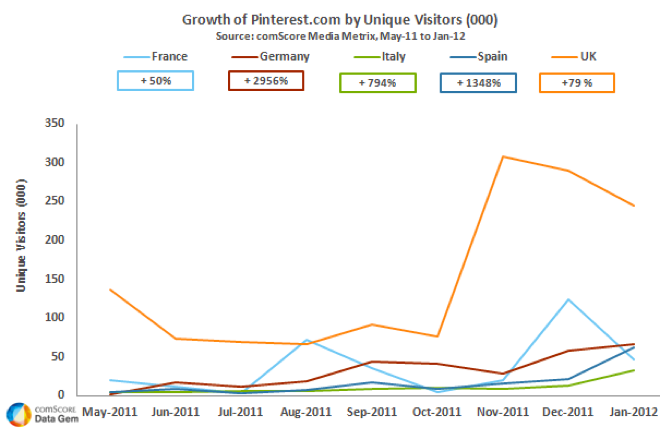 In 2008, when MySpace surpassed Google as the most visited website in the United States, it would have been absurd to think that today it is not even the top 200 of most visited sites.
MySpace's decline can be attributed to a number of reasons, with a key one being failing to understand their own identity. They have recently relaunched with a strong focus on music in order to create a niche for itself in the hotly competitive social media market. It can also be said that MySpace failed in the innovation of their product, take Facebook for instance, they have never stopped in their willingness to change and improve their product (Facebook chat in 2008, the iconic Like button in 2009, the Timeline in 2011, etc.).
Social Media is forever growing and it is a big challenge to predict which network will evolve and flourish and which will collapse. What's your guess?