Bye Bye Google Affiliate Network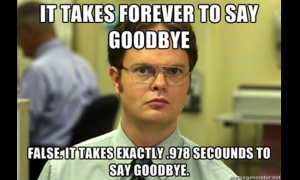 Some of you may recall my excited blog post welcoming Google into the UK affiliate space just over a year ago and it's with a heavy heart that I write this post today, detailing their demise – Google will be discontinuing their affiliate network worldwide to 'focus on other products'.
The network has been live in the US since 2008 but has never really lived up to the potential and now sits alongside a host of other Google 'also-ran' products that have been shuttered indefinitely. This philosophy of 'try anything once' appears to be at the heart of the tech giant's strategy: If you throw enough at the wall…
Unfortunately their Affiliate offering just didn't cut it. JJ Hirschle, Head of the Google Affiliate Network had this to say:
"We're constantly evaluating our products to ensure that we're focused on the services that will have the biggest impact for our advertisers and publishers."
"To that end, we've made the difficult decision to retire Google Affiliate Network and focus on other products that are driving great results for clients. We'll continue to support our customers as we wind down the product over the next few months."
Personally I'm quite sad to see them go. I previously talked about the legitimacy that a big name like Google lends to the entire industry and it's just sad in general to see any company leaving the space.
However, I also think that they may have seriously underestimated the UK market. This is arguably the most competitive, professional, established affiliate market in the world and it looks to me like Google needed a considerable slice of that to prop up the network globally.
The general reaction to Google's announcement seems to be characterised by apathy. Not many people in the industry are particularly surprised that Google are closing their network, which says a lot to me about the impact they've had in the previous 12 months.