Google+ overtakes Twitter – a closer look
Twitter is currently the fastest growing social network, but The Global Web Index  reported earlier in the week that Google+ has actually overtaken Twitter as the 2nd most active Social Network in users.  The news brushes away the common misconception that Google+ is  inhabited by ghost dwellers, and should reinforce the fact that if you're not on it – then get on it (both you and your brand)!
While the morality of Google's strategy to increase its social activity can be debated – it's clearly working. Consequently, the GWI decided to take a closer look at Google+ and the behaviour of its users. Here are some notable points:
42% of Google+ users post an update on their daily activity, compared to Twitter (51%) and Facebook (62%)
45% of Google + users share links to blogs, more than Facebook and Twitter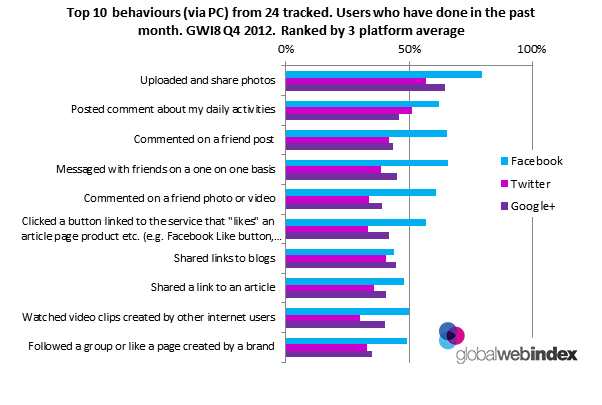 While I like to tell people to "get on Google+", it's important to stress  that jumping onto a new social channel and throwing the kitchen sink at it in terms of content 
just isn't the right way
. If you're considering using Google+, then I strongly recommend reading our 
Audit white paper
 (free to download) to understand your approach.
Before I head off I'll leave you with this thought provoking GWI  forecast on the uses of social channels in 2013: " Social platforms are unlikely to be the points of transaction, but rather the source of discovery for products and content that are fulfilled off site" – GWI
Find more views and insights on our Facebook page!