Google+ Communities vs Facebook Groups
I seem to be writing quite frequently about Google, and that's probably a credit to them for being so busy. In fact, they've just introduced 18 new features to their G+ platform, worthy of its own post.
However, it's been nearly a week now since Google launched its Communities and I've decided to have a quick look at their numbers to see how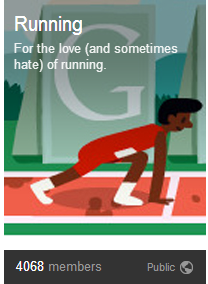 well they're doing in comparison to Facebook.
Rather than plough through all of the communities, I've decided  to look at one single popular hobby to see how well they're doing on Facebook and Google+: Running.
On Google+, it's accumulated a healthy 4068 members with considerably high activity, between 9- 12 posts a day currently on a single one of its discussion sections (it has 12 in total).
This is where it gets tricky. Facebook actually has its own community pages, but many have labelled Google+'s introduction as an answer to Facebook groups. Well, let's have a look at a running group.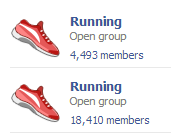 Not impressed? Neither was I. What's worse is that the groups are predominantly Greek or Italian, rather than representative of a global community. The activity on both is also low, in comparison to Google+'s page.But if we have a look at Facebook's
community page
below… we see big numbers, yet no activity. You can't actually do
anything
on the page. Starting up discussions about your favourite trainers, running routes or routines just isn't possible on Facebook's "community" page.

As one final test I decided to see just how well integrated Google+ communities is with Google search. To my surprise, I couldn't actually find the Running community (with its 4000+ members) by typing in "Google+ Running Community" and "Google+ "Running" Community. I stopped looking for it after
SERP 4
. (Though searching for the Android community resulted in it being the first result, so it clearly varies).Ultimately, this is a single sample of one, and it should not be viewed as representative of all communities and groups on each network. Nevertheless, there are a number of interesting points we can take away from this:
Google+ Communities should not be directly compared to Facebook groups like for like due to page/group ambiguity
Facebook community pages leave a lot to be desired in terms of interaction and discussion (what's a community without either?).
Google+ communities are showing considerable activity, possibly due to launch hype (can it continue?)
Not all Google+ communities have been optimised with Google Search yet
Liked this post? Why not like us on Facebook?