Banners Broker – Ponzi scheme accusations intensify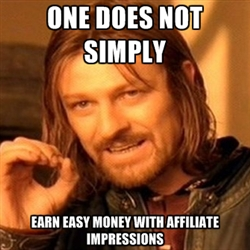 The affiliate industry is based on win/win partnerships. According to the annual AIB / PwC adspend figures, the sector was worth £47 million in the first half of 2012. Every so often though, it gets mired in controversy.
Banners Broker has been getting an increasing amount of negative press recently regarding its incredible claims of generating automatic profit for affiliates using one of the most contrived and hard to understand business models imaginable.
I have been working in the affiliate industry for four years – publisher side, advertiser side and now at Tug Agency. I am completely at a loss to understand how their methods work.
The general idea seems to be that it's a type of display network where you can earn money as both a publisher and an advertiser at the same time (?!). A truly revolutionary idea as I'm sure you'll agree.
Just invest in one of their rainbow coloured packages and watch the money roll in. It's that simple.
But what about those talented professional affiliates who spend years perfecting their skills set to include SEO, PPC, display, coding and design, along with intangible skills like relationship building or negotiating? Instead of all that hard work, they should have pumped a few grand into Banners Broker and retired to Thailand…
If only it was that easy… It's probably best if I let their promotional video explain it to you, if explain is even a word you can use to describe this:
Most people with experience in the industry have a rudimentary BS detector developed from countless spammy emails and sales people offering 'too good to be true' opportunities such as this.
The reason I am now writing about Banners Broker is that yesterday things took a very sinister turn in my opinion and lends further credence to the Ponzi scheme accusations.
My Dad called me yesterday and asked 'have you ever heard of a company called Banners Broker?' I'm sure anyone who works in any type of online marketing will understand that it can be difficult to explain what exactly we do to our friends and family. So I was quite surprised by the question, but also delighted that my Dad understands the difference between what I do and what companies like Banners Broker do.
He told me to listen to an Irish radio show called Liveline as people were talking about them. (You can download the podcast here). Liveline is an Irish institution at this stage. It's a phone in radio show on the state broadcaster's serious station. Topics covered usually include politics, healthcare, the economy and various other things that people want to bring to public attention.
Yesterday, the show covered Banners Broker and I could not believe what I was hearing.
Even though they have been active in Ireland for quite a while, it seems the official launch was yesterday.
The first thing that really struck me as odd, was that the majority of people calling in had absolutely no idea how online marketing works, let alone how Banners Broker could be generating profit for them. That in itself seems suspicious to me, as they seem to be targeting the regular man on the street and offering an easy money making option. The second alarm bell should be the 'sales credits' you earn by referring others to use the system. Hmmm… Listening to these people fumble over meaningless jargon in a desperate attempt to justify their investment is heartbreaking.
In times of severe economic crisis, there is opportunity. I found it incredibly sad to hear people chasing refunds of their savings and talking about one thousand impressions that somehow will make them money, because they are earning as both a publisher and an advertiser on a 'blind' network using the 'red' panels.
The blame can't just lie with Banners Broker and I would urge anyone with a couple of grand for investment, to fully explore all their options instead of taking a punt on a business they know absolutely nothing about. Surely the first step when investing in an online opportunity is to 'Google it'. A quick search results in plenty of warnings from past victims. Promoting this to inexperienced people and encouraging them to invest their savings is reckless and irresponsible in my opinion. For someone in the industry, it can be a calculated risk. For someone risking their savings, it can have a devastating impact on their lives.
For further reading I recommend this excellent blog post on finchsells.com which goes into much more detail regarding this company.