Google game Ingress captures user data
The world around you
is not what it seems
The slogan for Google's new augmented reality game Ingress released for Android rings true, as it captures user data about the environment around them.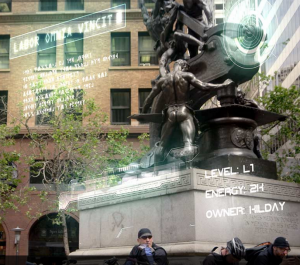 "A user must physically go to a location and check in to play this game. Additional energy is available by travelling specific walking paths, bike paths, and inner-city routes dictated by the company, all while the user's Android device is transmitting GPS and accelerometer data. In some cases, the user will be required to photograph locations or objects along these routes" –  Michael Carney at PandoDaily explained.
This data is particularly interesting to Google and advertisers on the network as it is basically a game that collects environmental data such as photographs, location data and speech patterns.
Crowd sourcing using open projects and games has been a commonly used tactic for gathering user data, but is proving to be controversial. With Android Google has placed tracking devices into a huge number of people's pockets. Ingress is the key next part of that approach, collecting mobile and locational data and graphing locations as well as search terms.