Apple Releases iPad Mini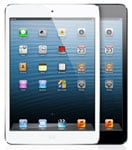 The worst kept secret in the technology industry is finally out of the bag, last night Apple released the eagerly awaited iPad Mini to the public. What many hoped to be a solid competitor versus Google's Nexus 7 tablet and Amazon's Kindle Fire HD has turned out to be a flop. The launch started well with a nice looking product, perfect to go alongside the likes of the iPad and iPhone5 but beyond the looks there's not a whole lot more to be desired…. To start with the resolution is a paltry 1024×768, which in comparison to their own standards is pretty shocking. The current generation iPad is a massive 2048×1536 and their direct competitors have resolutions of 1,280 x 800 and above.
Next up is the processor, Apple have decided to go with the older generation Dual-core A5 which is half the speed of the Nexus 7 and also missing the graphics chip which you can find in the iPad 3. Add these glaring omissions to the bizarre 4:3 screen ratio and you have a questionable product at best. The one saving grace of Apple's newest tablet in comparison to their competitors has to be the slightly larger screen, if you choose an iPad Mini over a Nexus 7, you will end up getting 0.9″ more of a screen.
Probably the biggest shock of the event had to be the price, the cheapest option is their entry 16gb model – this will set you back £369…this is £100 more than the Kindle Fire HD and Nexus 7. So given all this…will it be a success – ofcourse it will. Apple have built what is one of the best fan bases on the planet and they will be buying it regardless. If you're in the market for a 7″ tablet, my personal recommendation has to go to the Nexus 7.