Tesco targets Amazon audience as it buys e-book website in £4.5m deal
Tesco is set to lead the race in dominating the electronic books market after striking a £4.5million deal with Bravo Two Zero author Andy McNab.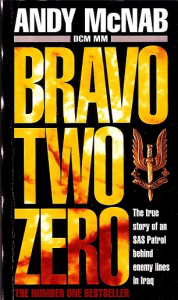 Andy McNab (former-SAS man ) founded the online download site Mobcast where customers can buy and download electronic books onto mobile phones and tablet computers in 2007 along with the company's boss, Tony Lynch. Mobcast already has a number of agreements with major publishers creating a back-catalogue of 130,000+ titles.
The deal is set to make McNab a cool £1m and until now, Tesco has used a third party to provide its e-books under their own branding.
Other brands large retailers are not lying down on the entertainment fight with John Lewis securing exclusive rights to sell Barnes & Noble's reading device (the Nook) in the UK and Sainsbury's buying HMV's Anobii for £1.
Mr McNab's 1993 bestseller Bravo Two Zero
Watch this space is my advice… as with Tesco making a number of recent buy-ups in online retailing, from TV streaming service blinkbox to Internet radio service WE7 we could be finding every little helps a lot!