UK Paid Search worth more than £4bn!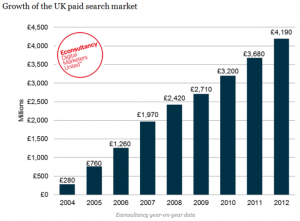 It was announced on Econsultancy yesterday that, despite the current gloomy economic outlook,  the UK Paid Search market is expected to reach a value of £4.19bn by the end of 2012. This is up 14% from 2011 when the market was valued at £3.68bn.
This year on year growth is likely due to the accountability and transparency of PPC, that enables to companies to track exactly where their money is being spent and what their precise ROI is – a luxury other marketing channels find hard to replicate.
For more on this and other paid industry reports click here