Facebook tests "Highlight" pay to reach more friends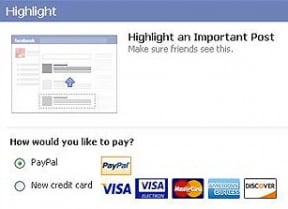 Facebook is testing a new way of promoting your status updates to friends called "Highlight" that allows you to reach more of the people you've befriended. On average, your status updates on Facebook reach 12% of your friends – using Highlight and paying a few dollars will allow you to reach many more who ordinarily don't get your updates.
This is currently not available and a tiny percentile of the Facebook user population in New Zealand is currently testing this, but if it proves to be successful it could roll out across the whole network.
Highlight could show Facebook's willingness to try more aggressive ways of making money, which should delight potential investors in the run up to its stock market floatation. But the service has always been free for users, and a feature such as this that allows promotional updates to feature in users feeds could be a huge turn off, especially to its younger and less financially equipped users who couldn't afford this kind of narcissism.
Harmless "Highlight" updates showing a friends car for sale, or proud parents of a new born seem like one thing, but endless spam and referral codes are quite another which have the potential to ruin the user experience on the network.