Easter, SEO and traffic peaks
If your sales are affected by specific time period during the year, you are affected by what marketers call 'seasonality'. One of the main events that helps to increase profits is Easter – a time when even my expenses increase:
–          travelling home
–           buying easter eggs for my little cousins
–          reserving a good bottle of wine for me and my family.
If your company sells anything Easter related, it would be great if you could open a page dedicated to Easter and start capitalizing on the related keywords.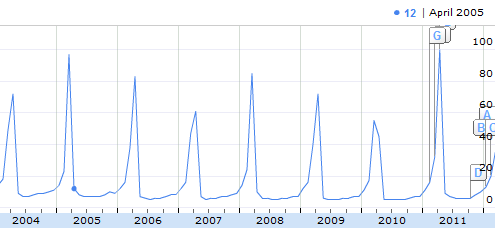 The three main countries in terms of Easter related searches are United States, followed by United Kingdom and then Australia. Most of the search terms are connected to the year, such as "Easter 2011" and "Easter 2012" followed closely by "Easter egg" and "Easter eggs".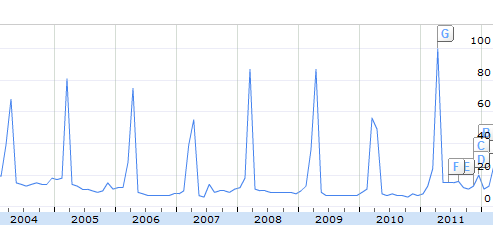 If your business is related to travel and entertainment you can benefit from targeted traffic related to keywords such as "Easter holiday + location" or "Easter Weekend + location".
Having a look at London related keywords you can see how the top search is "Easter in London", followed by "Easter holiday London" and "Easter Sunday London". According to the Google Adwords Keyword Tool the first and third terms are low for competition. In particular the keyword "Easter in London" had 74,000 searches during March 2011.
Whenever you are located in a smaller city, the peak of traffic due to seasonality can positively affect you. In March 2011, 1,300 Google visitors have searched for "Easter in Brighton" compared to 8,100 that have performed the same search in April.
How to benefit from seasonality seems pretty straight forward in terms of strategy but it takes time in terms of execution. Here's the two actions to start getting visitors from Easter related keywords:
1)      Open a new Easter page targeting the Easter keywords related to your business.
2)      Begin link building for these keywords.
If you would like to know more about SEO and how to capitalise on half terms, Olympic Games and the Queen's Birthday, drop us a tweet @tugagency